Tottenham attacker Dele Alli says he will not take his nasty streak out of his game and is 'never going to say sorry' for his approach. The 20-year-old has been involved in a couple of unsavoury incidents during his career so far but sees no issue with his aggression, though he believes he has mellowed in recent months.
Alli came in for criticism last month after being sent off for a horror tackle during Tottenham's Europa League clash with Gent and was also hit with disciplinary action last season for punching West Bromwich Albion's Claudio Yacob.
The former MK Dons starlet is aware that his actions during those incidents were wrong and revealed that he has held talks with Tottenham boss Mauricio Pochettino regarding his attitude towards matches, but he insists he is 'not going to change'.
"I think I've definitely calmed down a bit but it's important, I'm never going to take that out of my game," the Tottenham star told Sky Sports. "I'm never going to say sorry for wanting to win or trying as hard as I can but things happen and you have to learn from them. I always want to win.
"The manager knows that's who I am. He knows I'm not going to change no matter what. We've had a few talks and he's been very supportive so it's nice to have a manager that backs you like he does.
"I'm still young, I'm 20 years old, there will always be lots of up and downs in football, that's the way it is. But when things don't go my way I've just got to try to learn from them and keep improving."
Alli has scored four goals and provided two assists in his last four matches and stepped into the shoes of Harry Kane as he netted a penalty in Tottenham's 2-1 victory over Southampton on Sunday (19 March).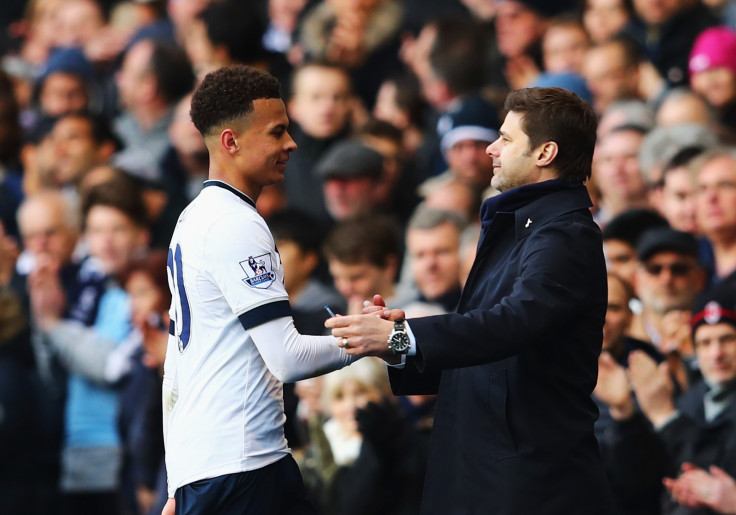 The England international thinks he and the rest of his Tottenham teammates 'feel extra responsibility' because of Kane's absence and has highlighted the importance of spreading the goal burden while his partner in crime recovers.
"I think all the boys feel extra responsibility," added Alli. "He is a fantastic striker who can get a goal from nothing, so as soon as he got injured we knew it was important we all stepped up and chipped in with the goals."