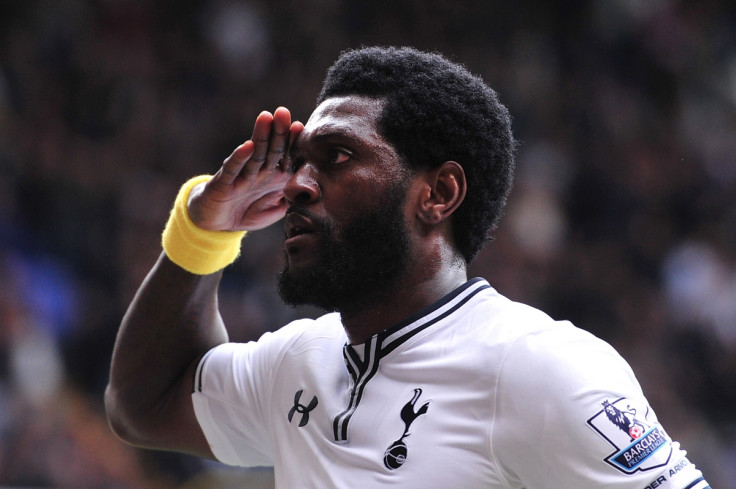 Tottenham Hotspur manager Mauricio Pochettino has no concerns over Emmanuel Adebayor despite the striker's efforts to leave the club on transfer deadline day.
The former Arsenal and Manchester City striker was poised to join West Ham United on loan before Spurs chairman Daniel Levy intervened and blocked the move.
Adebayor is one of several Tottenham players who were made available in the final days of the transfer window, with Younes Kaboul and Etienne Capoue also remaining at White Hart Lane despite being told they were free to leave.
But ahead of the crucial north London derby against Arsenal on Saturday 7 February, Pochettino insists he is confident Adebayor will give his all for the club.
"We are happy that he stays here because I think he is a very important player," Pochettino told a press conference, ESPN report. "We need to provide him with the tools to improve his game and try to help the team to reach their objective.
"I have confidence in him, like in other players. After he tries to show on the pitch but, yes, we are confident."
Likewise, the Tottenham manager has no worries over Capoue and Kaboul, despite being told they were no longer needed at the end of January.
Capoue reportedly turned down the chance to join West Bromwich Albion while Kaboul was one of eight players West Ham failed to sign on the final day of the window.
"They are focusing on our club, on Tottenham," Pochettino continued. "Always when the window arrives always different situations and different things happen, but now is good because it's finished and we all need to be focused to try to help the team.
"The players are focused and try to help. I am very happy. We have a very good squad."
Tottenham can move above Arsenal should their beat their arch rivals on Saturday evening and could potentially move into the top four should Southampton stumble when they take on Queens Park Rangers.