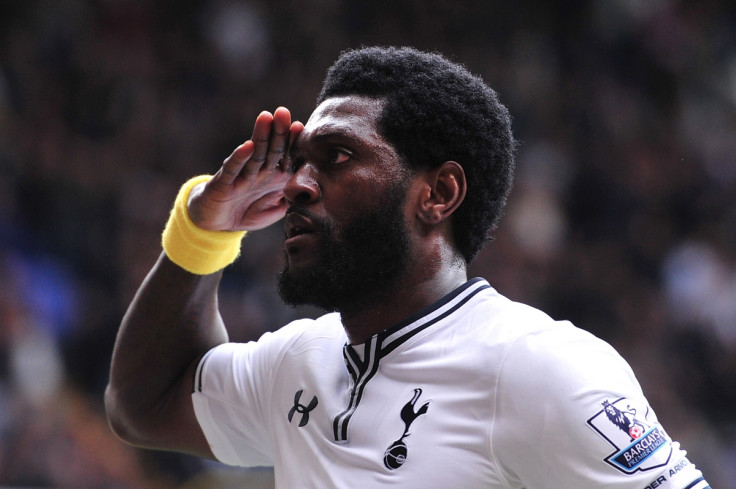 Tottenham Hotspur manager Mauricio Pochettino has confirmed Emmanuel Adebayor still has a future at White Hart Lane even though the Togo striker was left out of the squad during the FA Cup victory over Burnley on Wednesday 14 January.
Having being Spurs' key player during the second part of last season under ex-manager Tim Sherwood, scoring 11 goals in 21 appearances, the 30-year-old has failed to replicate his best form during the current campaign.
The former Arsenal hitman started the season ahead of both Harry Kane and Roberto Soldado but he has only scored two Premier League goals and is yet to play a game since the home defeat against Stoke City on 9 November – after which he criticised Tottenham supporters for not making the team feel welcome at White Hart Lane.
Recent reports claimed Pochettino was ready to part ways with him during the January transfer window and might even have been considering signing a replacement.
However, the manager has now said after a nine-week absence the Togo striker is improving his fitness and still has a future at the club.
"Yes, I explained last week, he's nearly ready for selection," said Pochettino, according to Standard Sport.
"He's training in the last few weeks; his training sessions have been very good."
Meanwhile, the Argentine manager also backed Roberto Soldado after the Spaniard ruined a clear opportunity during the victory over Burnley,
He said: "In football you don't need to apologise, because we are sorry for him because I think he deserved a goal.
"But in football the actions, maybe it's difficult to explain, but I am happy with his performance and his attitude on the pitch. All he needs to do is to try to be the best he can in every training session and the goals will arrive."
Even though Soldado failed to score a goal during the 4-2 victory, the Spaniard added two assists to his tally.
Pochettino said: "Always it's a tough period for a striker when he doesn't score, but I am very happy with his performance, and he knows that we support him. We can talk about different things but for me the most important thing is that he always fights and tries to do his best.
"His attitude was perfect; he was only missing a goal. But in football when you work hard, when you try every day and try to give your best, rewards always arrive."