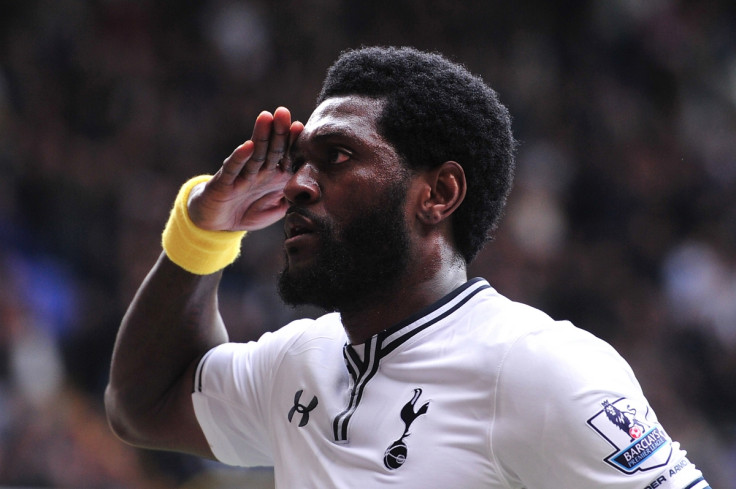 Tottenham Hotspur have announced Emmanuel Adebayor has been given permission to return to Togo for personal reasons after missing the last four Premier League games.
The former Arsenal and Manchester City forward has been surrounded by different enigmatic issues since the beginning of the campaign.
Having being Spurs' key player during the second part of last season under Tim Sherwood, scoring 11 goals in 21 appearances, the 30-year-old missed part of the pre-season with new boss Mauricio Pochettino after being diagnosed with malaria.
Adebayor returned on time to make the first game of the Premier League debut against London rivals West Ham United as a starter. But after scoring just two goals in nine starting appearances, he came under scrutiny and fell out of favour ahead of Harry Kane and Roberto Soldado.
Then questions about his situation increased after Pochettino left Adebayor out of the squad for three consecutive Europa League away games, even though the manager, at the time, said it was merely coincidental.
Meanwhile, reports from Nigeria claimed the striker had has a rift with his family, after evicting his mother and his sister from the house the Togo player owns in his homeland.
Adebayor denied the accusations but said: "I never sacked my mum from the house. She decided to leave the house.
"How am I going to be in touch with my mum if my mum is the one telling everyone that my work will not go forward, so I will just be on my side and do my thing.
"They should stop talking, they should stop doing Juju on me, they should leave me alone."
And now Tottenham have added more fuel to the speculations announcing he will return to Togo, refusing to confirm the reasons.
"We can confirm that Emmanuel Adebayor has been given permission to return home for personal reasons," Tottenham confirmed on the club's official website.
"This is a private matter and so we will not be providing any further comment."
Spurs may face the busiest period of the year without the striker. Tottenham visit Besiktas for the Europa League game on Thursday 11 December and will have to play seven further games up to 3 January – against Swansea, Newcastle, Burnley, Leicester, Manchester United, Chelsea and Burnley.