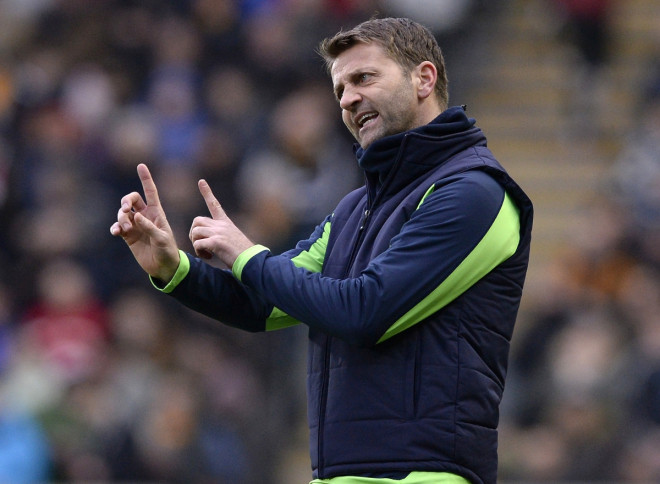 Tottenham Hotspur head coach Tim Sherwood would like to remain at the club should he be replaced this summer – hinting he would love to take Franco Baldlini's role as technical director.
A 4-0 defeat to Chelsea at Stamford Bridge on Saturday raised further questions over Sherwood's future as the club as Tottenham's hopes of securing a top four finish and qualification for next season's Champions League suffered another telling blow.
Holland coach Louis van Gaal remains intensely linked with taking the job at White Hart Lane this summer despite Sherwood being just four months into his tenure after replacing Andre Villas-Boas. In the wake of his side's weekend defeat, Sherwood admits he unsure what decision club chairman Daniel Levy will take.
"The silence is deafening, isn't it? It's up to Daniel. It's up to the club to make that decision," Sherwood told reporters, the Evening Standard report. "One thing I guarantee people is that there is no one who cares more than me. I want the team to do very well and it hurts me when they don't. I need people to be hurting like I'm hurting."
Sherwood's initial weeks in charge in north London produced eight wins from his first 13 Premier League games, including a win over Manchester United at Old Trafford.
But as his position as head coach has become increasingly untenable as the club sit four points behind fourth placed Manchester City - who have three games in hand - the 45-year-old has insisted he would not take the opportunity to become a new manager's number two, but admits he would be keen to take on a role working with the club at all levels.
"I never want to be a number two," Sherwood continued. "I feel like I can do the number one job. I don't think I'd be good at number two. I'm too opinionated. I wouldn't want to do the number two job.
"I do think there is a place for a technical director. I'm someone who sees the club from the bottom to the top on the training field. There's a definite place for that.
"A lot of clubs need to have a person like that, otherwise you get no continuity, you just end up buying seven or 10 players every window and your turnover of players is far too great."