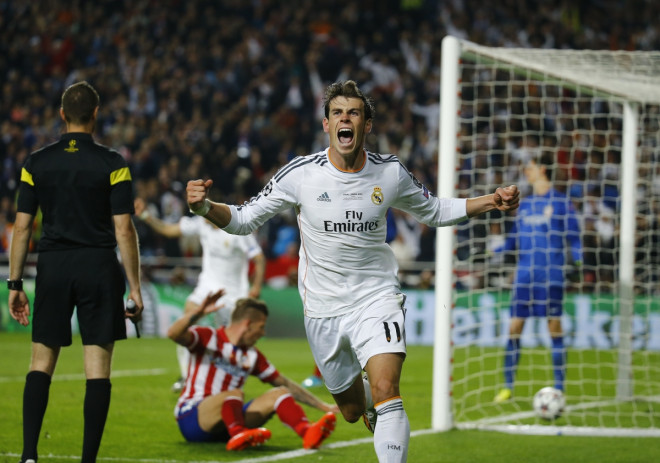 Gareth Bale's development from Southampton youth product to world-class superstar was put to the test when he made his record breaking move to Real Madrid last summer and the former Tottenham man well and truly proved his worth last night in the Champions League final.
With the game between Real and Atletico going into extra time it was becoming more apparent that penalties would follow with the likes of Cristiano Ronaldo and Karim Benzema unable to capitalise on their chances.
Bale himself had had a frustrating night, missing two open shots on goal, with the first one in particular looking like a £85m player should have completed it with minimal effort. One tweeter quipped as the game came to 90 minutes that the 24-year-old had let the occasion get the better of him.
But as players tired and Angel Di Maria kept Real Madrid's hopes alive, Bale stepped up to help the Argentine at the most important moment, taking his missed shot on goal and turning it into what would gift the Real side with new life and take them to a 4-1 win over their local rivals and to achieve La Decima.
After pushing so hard for a move away from Tottenham last summer it would appear that his actions have now been justified, with the winger holding up the Champions League trophy within a season and after only having played in one top-tier European campaign in the seasons leading up to it.
"I would have come here for a penny if it meant I could win the big titles," he said after the game. "It is what every footballer dreams of and it doesn't come bigger in club football.
"I have learned from past experiences to keep going, forget the chances you have missed and to keep persevering and a chance will come. It was a close game, especially in normal time. We have played Atletico Madrid four times this season and every game has been close.
"They make it very difficult when they get a goal ahead and it's hard to break them down."
It's hard to believe that at the beginning of 2009 Bale was seen as a flop at Tottenham, 18 months after his move from boyhood club Southampton for a fee of around £7m.
Reports were rife at the time that he would leave the club for Birmingham with Harry Redknapp preferring to play Benoit Assou-Ekotto and leave him on the bench. If it weren't for an injury sidelining Assou-Ekotto in the 2009-2010 season Bale may never have had his chance to overtake the Frenchman in Redknapp's eyes and make his mark on the Premier League.
With Bale having played a record 24 league matches for Spurs without being on a winning side before he got his chance, the Welshman certainly knows a thing or two about working hard and ignoring past failures to go on and eventually enjoy success.
While there were many figures who orchestrated Real Madrid's Champions League win last night – the side were certainly on the verge without Bale having been in the semi-final in the three seasons prior – his story of coming from being a Tottenham flop to a hero in Madrid, a club that has housed many of history's best footballers, will resonate with any fan of the beautiful game.