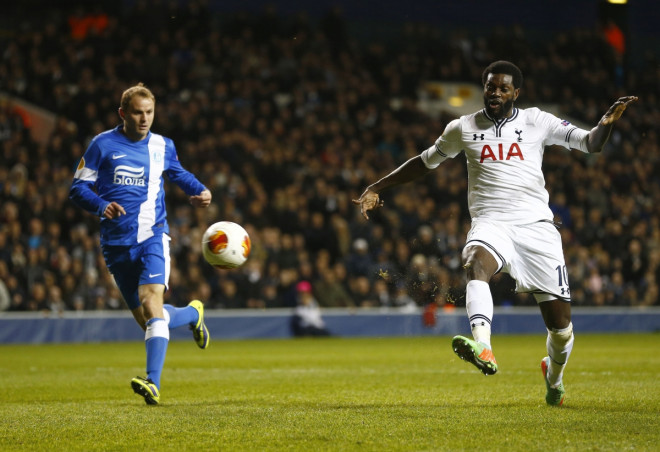 Emmanuel Adebayor is ready to return to action for Tottenham's last six Premier League games after suffering an achilles injury during the derby against Arsenal last month.
The Togolese striker has not featured for Tim Sherwood's side since then, with the Spurs being beaten 4-0 by Liverpool and being knocked out of the Europa League in his absence.
Even though Tottenham are currently sixth in the league, eight points off fourth Arsenal, Adebayor still believes that they can secure Champions League football next season.
"I know we're going through a tough moment as a team and as a club and we have to keep fighting. There are six games to go and we'll give everything in those six games," he told Tottenham's official website.
"You know, if we had 10 games left, I would say let's try to win them all. So the target is to win all six games. It won't be easy. We have to give everything, to play with heart, defend well, attack well and believe we can do it.
"We have great players here, we just have to put it together as a team, work for each other and that's the way we can start winning games."
Adebayor has arguably been Tottenham's best player so far this season, having scored 11 goals in 18 appearances since returning to the fold on December.
The striker hopes to secure a victory next Monday against Sunderland to regain confidence and began a winning run.
"In football, you are judged day by day, game by game. If we won at Anfield, people would be saying we have a great team, great personality, great team spirit but as we lost, everyone tries to look for reasons, like we're not together as a team, that sort of thing. That's how it is.
"If we can win against Sunderland on Monday it will be a different story. I've been in this business a while now and know how it works and that's why I always take it game by game.
"We have to move on from Anfield. You can't have good days every day. We've had good days, now we're going through a difficult moment. On Monday, you'll see a Tottenham team determined to win, playing with heart and desire."
Nevertheless, he admits that he has suffered a lot during his time on the side-lines.
"It's been a difficult time. I've had an ankle problem, a knee problem and now my heel. I landed awkwardly against Arsenal. I couldn't get a boot on but now I'm okay. I'm happy to be back. I always want to be out there, but sometimes injuries are part of the game" Adebayor concluded.