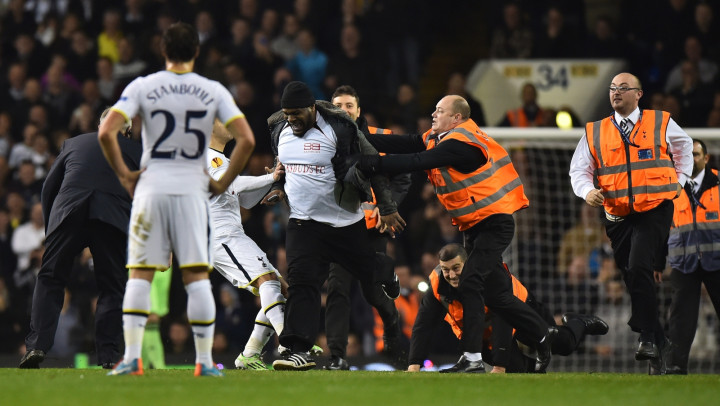 Uefa have charged Tottenham Hotspur with a breach of disciplinary regulations in relation to the three individuals who invaded the pitch during the Europa League win over Partizan Belgrade on 27 November.
The first half at White Hart Lane on Thursday was stopped on three occasions after men made their way onto the pitch while promoting the headphones brand Bassbuds, with referee Yevhen Aranovskiy being forced to temporarily suspend the game after 41 minutes.
Tottenham face a potential fine or even the prospect of playing their next home European game behind closed doors should they be found guilty, though Roberto Soldado and Moussa Dembele - who physically apprehended two of the men - will not be reprimanded.
"Disciplinary proceedings have been opened following the Uefa Europa League group C match between Tottenham Hotspur and FK Partizan (1-0), played on 27 November in London," a statement from the league's governing body said.
"Charges: field invasion - art. 16 (2) (a) of the UEFA Disciplinary Regulations. The case will be dealt with by the UEFA Control, Ethics and Disciplinary Body on 11 December."
The governing body's regulations on pitch invasions add: "Host association and clubs are responsible for order and security both inside and around the stadium before, during, and after matches.
"They are liable for incidents of an kind and may be subject to disciplinary measures and directives unless they can prove that they have not been negligent in any way in the organisation of the match."