Tottenham Hotspur have an option to hijack Gareth Bale's move to any Premier League side until 30 June 2019 amid recurrent speculation linking the Real Madrid star with Manchester United. Spanish media have published the full contract signed between Spurs and the Spanish giants for the purchase of the Welshman in the summer of 2013 after it has been released by Football Leaks, who recently also published details Anthony Martial's move from Monaco to Old Trafford in the summer.
The six-page document discloses confidential information that Real Madrid and Tottenham agreed to not make public.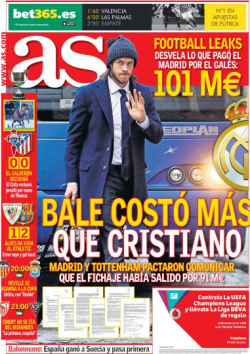 AS have focused on the fact that Bale's move to the Santiago Bernabeu was – and still is – the world record transfer after Real Madrid paid over €100m (£77.4m, $109m) to Tottenham for his services. The detail is not especially relevant for the English public as press in this country have always named Bale as the most expensive player in history, with a commonly reported figure being €101m, more than Los Blancos paid Manchester United for the signature of Cristiano Ronaldo in 2009.
However, in Spain Los Blancos always insisted the Bale deal was €91m – with some suggesting the club fudged the real fee so as not to upset Ronaldo. The paperwork released by football leaks explains the situation, and will surely annoy Real Madrid president Florentino Perez.
The contract revealed that Real Madrid had two options to make the payment, paying 87,010,350€ up front or – as, according to AS they, did – pay in instalments, with the price increasing to 100,759,418€
Then Real Madrid and Tottenham agreed that Los Blancos would issue a press release stating that the price of the deal was €91.59m – with Spurs obliged to not discuss the real fee or any economic details of the transfer to the media.
But an overlooked part of the contract is that Spurs have the option have the option to match any offer coming from a Premier League side and bring the player back to White Hart Lane until 30 June 2019. According to a clause, Real must notify the London club should any English side make an offer, with Spurs having 72 hours to decide whether to match that bid.

The news is a new blow for Manchester United in their hopes of getting Bale back to the Premier League after The Times recently revealed Louis van Gaal's side are considering a £90m bid to make him the Welshman their marquee signing of the summer.