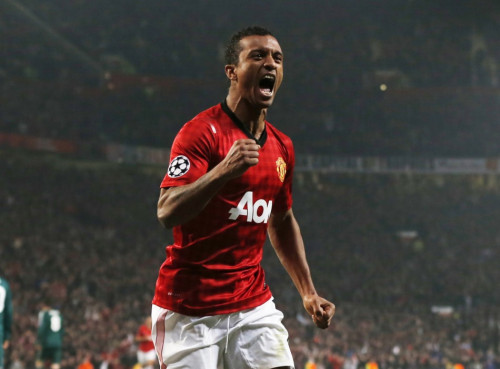 Tottenham Hotspur have entered the race to sign Manchester United winger Luis Nani on loan until the end of the season, reports suggest.
Reports on Thursday morning claimed the Portuguese international was on the verge of agreeing to a move to Inter Milan having played a peripheral role at Old Trafford this season.
David Moyes has reportedly told the 27-year-old he is free to leave this month but the club are yet to receive an offer of a permanent move for the winger and will now instead accept offers of a temporary switch.
Despite both Inter and Juventus showing a keen interest in the player, who is currently recuperating from a hamstring injury, reports suggest Tottenham will now offer the Portuguese the chance to remain in the Premier League.
Le Sport 10 report that the north London club have entered talks with the former Sporting player in the hopes of finalising a deal before Friday's transfer deadline.
Nani fell drastically out of favour with Sir Alex Ferguson last season but appeared to have been handed a reprieve when Moyes took the managerial hot seat and handed the player a new five year contract months into his tenure.
However, the marginal role the winger played under Ferguson last season has continued under Moyes. He has been handed just five starting appearances in the Premier League without contributing a single goal or assist prior to suffering his injury in mid-December, and saw action in the Champions League just once in United's 5-0 win over Bayer Leverkusen.
United's record signing of Juan Mata from Chelsea could further marginalise Nani's role in the first team, with Moyes recently suggesting he will look to forge a potent attack featuring the Spaniard alongside his lethal strike force of Robin van Persie and Wayne Rooney.
"I can play him any role," Moyes said of Mata following the Spaniard's debut against Cardiff on Tuesday. "Left or right allows me to keep the Robin and Wayne partnership. I'm quite comfortable with that."
Nani, who signed for the club in 2007 has also been linked with moves to a number of clubs including Premier League strugglers Fulham.