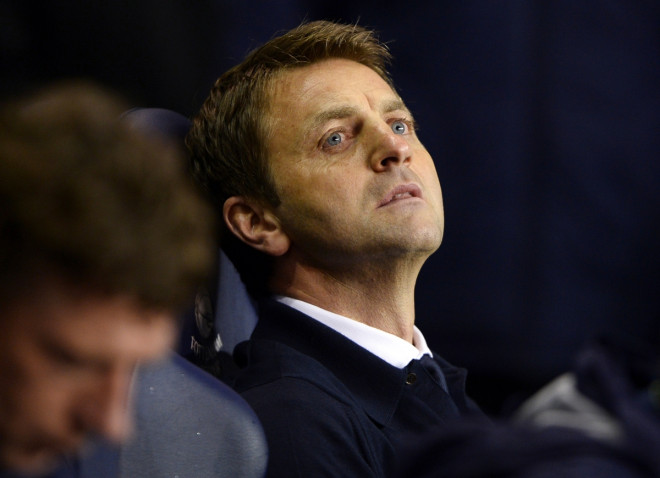 Tottenham Hotspur manager Tim Sherwood has begun planning for next season despite being heavily linked with leaving White Hart Lane in the summer.
Spurs' 5-1 win over relegation-doomed Sunderland was the club's 11th in Sherwood's 23 games in charge after being handed an 18-month deal in December to replace Andre Villas-Boas.
But reports prior to Monday night's win which puts Tottenham within five points of the top four, suggested that Sherwood would be sacked at the end of the campaign with Netherlands coach Louis van Gaal hotly tipped to take over.
Sherwood has refused to comment on such reports but says discussions have already taken place with Tottenham chairman Daniel Levy ahead of the new campaign
"We had a chat about next season, there are players I've identified and we've talked about pre-season," said Sherwood.
"Nothing has changed. It [the speculation] doesn't affect me. I've got an opportunity to manage this club and I owe it to the players and fans to do the job professionally.
"I don't think it does anyone any favours, but you just get on with it. All I was focused on was winning the game tonight, preparing the boys correctly and being professional. It has been an opportunity to manage this great club and I'm relishing it.
"My record has been very good; in the Premier League it has been second to none. In the Premier League, of any manager that has been here, my win percentage is higher than anyone."
He added: "My record here is very good. Before today it was a 56 per cent win ratio, which is better than any manager Daniel Levy has employed.
"[The pre-match speculation] didn't affect me, there were more important matters to worry about. It was all about getting three points tonight and trying to get as many points as we can from now until the end of the season is all that matters to me.
"I'm just concentrating on winning the next five games, which I think it's very achievable for us, and if you want any questions answered about my future you need to ask my employers."
With just 12 months remaining on his current contract and Tottenham seemingly consigned to finishing outside the Premier League top four and missing out on playing in the Champions League next season, Sherwood's career in north London hangs by a thread.
Van Gaal and Southampton manager Mauricio Pochettino are the leading contenders for role which could see Daniel Levy look for the 11th manager of his reign at the club.