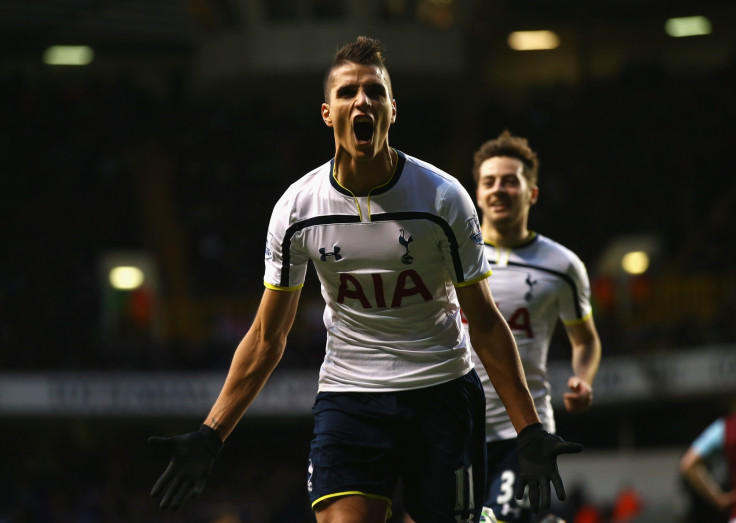 Tottenham Hotspur winger Erik Lamela has been urged to use his maiden Premier League goal against Burnley as the catalyst to reignite his career at White Hart Lane.
The 22 year old rattled in the first-half winner against the newly promoted Clarets to claim his first goal in English football's top flight, with his previous efforts restricted to domestic and European cup competitions.
The Argentina international signed for Tottenham for a club record of £30m in the summer of 2013 as a replacement for Gareth Bale but a series of injuries and inconsistent form in his maiden season meant Lamela was unable to match his billing.
However, the wondrous strike that secured Spurs their third straight win in all competitions could be the turning point for the ex-Roma player and manager Mauricio Pochettino is optimistic he can now produce his best form.
"He is very happy because it is his first [league] goal and we are very happy too because it helped the team get the three points," Pochettino said.
"It is important for him. We need to understand Erik is still young, he has a big talent but it was difficult his first season in England.
"This season he is fit - in the beginning it wasn't easy for him to play but he just needed time.
"Today was great for him because he needs to build his confidence, to be more strong and when we saw his performance today he is happy because it is another step in the right direction."
Under two different managers last season in Andre Villas-Boas and Tim Sherwood, Lamela was a victim of the upheaval at White Hart Lane and, as a result, made just 10 competitive starts throughout the campaign.
But now, 18 months into his Tottenham career, Pochettino insists Lamela has now settled sufficiently.
"It is the club, it is not only me who gives him the tools to improve his performance," he said. "It is our results too and the club who give him the chance to work in the best condition and try always to help him.
"Last season was very difficult for him - his injury, he didn't play so much and getting used to a different culture and language.
"You need time to adapt to a new club and culture. He is very, very strong and he needs to keep going. We are very happy."