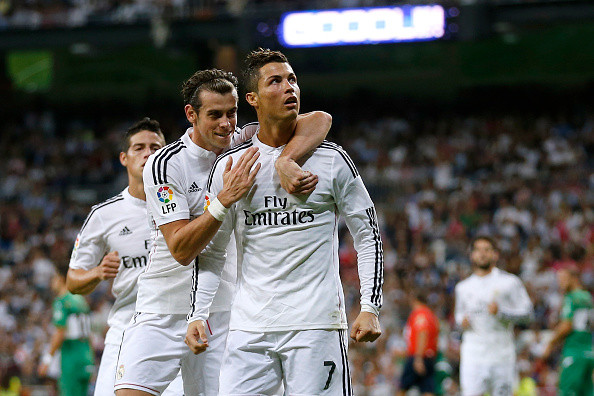 Real Madrid star Gareth Bale claims he is enjoying life at the Santiago Bernabeu, even though some reports recently claimed the former Tottenham Hotspur legend is likely to return to the Premier League to play for Manchester United.
Bale arrived at Real Madrid in summer 2013 after the Spanish giants paid a record £91m for his services.
Even though the Wales international has since scored 33 goals while providing 24 assists in 66 appearances for Los Blancos, he has been under scrutiny many times for his lack of involvement in the collective performance and his lack of press.
Recent reports even claimed Manchester United boss Louis van Gaal was considering making him the marquee signing of the summer, with the former Spurs star also open to return to the Premier League.
However, Bale himself has now claimed he is happier than ever at Real Madrid, after the Spanish giants beat San Lorenzo 2-0 on Saturday in the Club World Cup final, adding to their Champions League, Copa del Rey and Uefa Super Cup triumphs.
"It is impressive to travel and around the world and see the way the fans welcome us. We are very grateful for that. I am happy to be playing for the best team in the world. It is an incredible feeling and I am also proud to represent Wales. I hope that 2015 goes well," Bale said to the club official website.
Having scored both the winner in the Copa del Rey final against Barcelona and also in the Champions League final against Atletico de Madrid, Bale was once again crucial against San Lorenzo, scoring the second goal of the game to secure the victory for Los Blancos.
"I was really looking forward to playing in this Club World Cup. 2014 is all but over, it has been an incredible year for us, we hope to keep winning titles in the new year," he added.