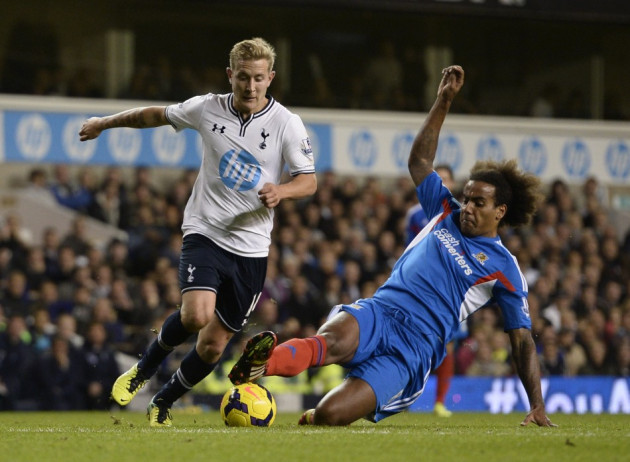 Tottenham Hotspur play-maker Lewis Holtby would welcome the arrival of his countrymen Julian Draxler and Marco Reus in the Premier League, amid reported interest from Manchester United and Arsenal in the duo.
Germany's embarrassment of riches in an attacking midfield berth have seen them rightly recognised as one of Europe's most powerful footballing nations and some of the Premier League's biggest clubs have attempted to get in on the act, with Mesut Ozil, Lukas Podolski and Andre Schurrle flying the flag at Arsenal and Chelsea respectively.
Tottenham have their own creative German in their ranks in Holtby, but the former Schalke schemer believes he could soon be joined by more of his compatriots.
"Draxler is on the list of every big team," Holtby said of his former Schalke team-mate, speaking to the Evening Standard. "He is a fantastic young player and I think a lot of money will probably be spent on him. I don't know whether he wants to come but there are a lot of players there.
"People say Marco Reus is in talks with everyone here so Germany have a number of big talents and the Premier League is very keen on getting them in, You also look at Adam Szalai, the Hungarian striker at Schalke.
"It is good that so many Germans are coming to the Premier League, which I believe is the best and most attractive competition in the world. German players are very dedicated and professional. It's the dedication that makes them attractive to clubs.
"It's also great to have other German players in London, good to speak a bit of German, and more and more of them will come. Every German player is welcome in England."
Although Borussia Dortmund are likely to be unwilling to part with the influential attacker Reus, Draxler's future in the Bundesliga remains less certain.
The 20-year-old, who has a release clause of €45m after signing a new six year deal last summer, admitted he will one day seek a "dream move" to one of Europe's elite clubs, naming Real Madrid, Barcelona, Bayern Munich, Arsenal, Manchester United and Chelsea as possible destinations.