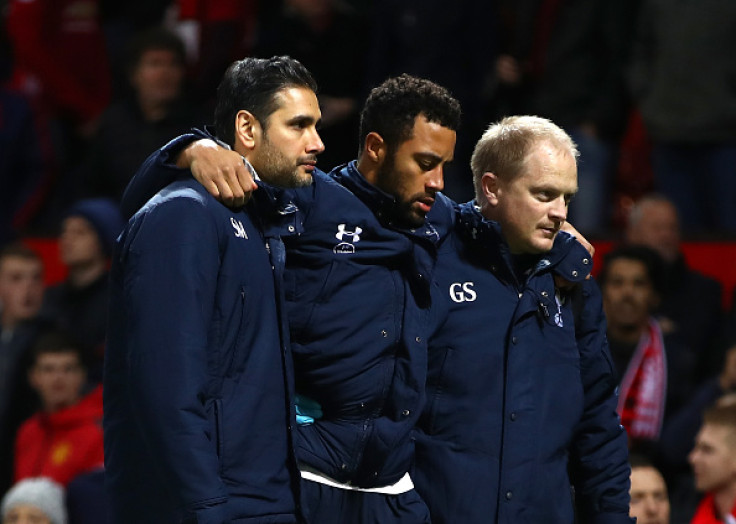 Mauricio Pochettino has confirmed Tottenham Hotspur's Mousa Dembele picked up a foot injury in his side's 1-0 defeat to Manchester United and admitted he does not know when the midfielder will return to action.
The Belgium international was replaced by Harry Winks in the 67th minute and left the pitch with the help of the medical staff. The 29-year-old has been a key player for Tottenham and the Argentine manager admitted that Dembele will be assessed before their next fixture against Hull City.
"He received a kick in his foot. But now we need to see what happens and assess him to see if he is available next Wednesday," Pochettino told Sky Sports in his post-match press conference.
Tottenham host Hull City during the midweek before playing Burnley at home on 18 December. This will be followed by a trip to Watford on Boxing Day before Pochettino playing his former club Southampton on 1 January.
Pochettino will be sweating on Dembele's injury and will remain hopeful that he can be available for selection ahead of the busy fixtures during the festive period. The defeat at the hands of Jose Mourinho's side was Tottenham's second loss of the season, courtesy to Henrikh Mkhitaryan's first half strike.
He admitted that his side made an error, which allowed the Armenian international to score the only goal of the match at Old Trafford. The South American manager now wants Tottenham to look forward for their upcoming fixtures.
"We always try to play and we build very well from the back, but then we made a mistake [for the goal], but that is football. It's about mistakes and sometimes you're right in your decisions but we cannot change anything now," Tottenham manager explained.
"I think it was an even game. I think it was a very competitive game that was difficult to play, but it always is here at Old Trafford. There's not a lot more to say, and now it's about looking forward."
The White Hart Lane outfit are still fifth in the table with 27 points after 15 games, three points ahead of sixth place United and three points behind Manchester City, who are fourth in the table.