Tottenham manager Andre Villas-Boas has compared Manchester United striker Wayne Rooney with Colombian international Radamel Falcao, claiming both may be mentally unsuited to take penalties.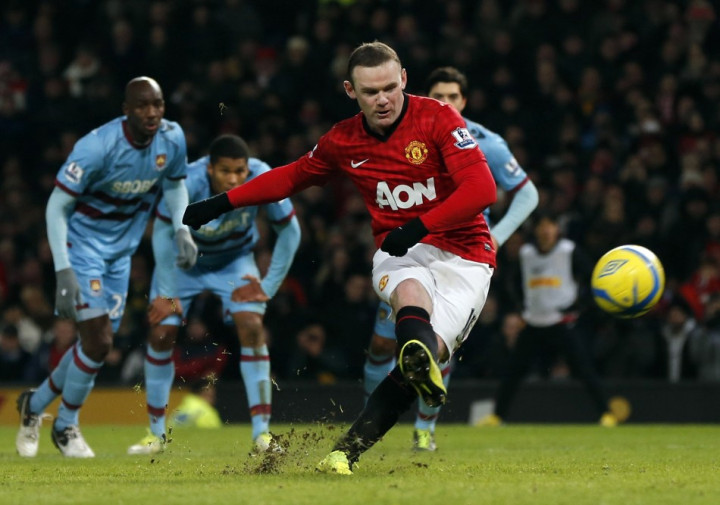 AVB worked with Falcao when the two were at Portuguese club FC Porto, and the former Chelsea boss says the South American had to be removed from penalty duty with the 2004 Champions League winners because he missed too many.
"I don't know. Falcao had the same problem. Maybe it's because they don't have the reference of a defender to beat, don't have anybody to anticipate. It's just them against the goalkeeper and the run to the ball, maybe it could be something like that," the 35-year-old suggested, when asked about Rooney's penalty problems.
Spurs are set to face United at White Hart Lane on 20 January (read the IBTimes UK preview), with the chance to overtake London rivals Chelsea in the race for third, if the Blues lose at home to Arsenal in the early kick-off.
Rooney's penalty woes seemed to come to a head during the midweek FA Cup tie against West Ham United, when the 27-year-old England international missed a late spot kick to confirm his side's progress to the fourth round. United went through nevertheless, beating the Hammers 1-0 on the night but Sir Alex Ferguson was clearly furious with the miss.
"I don't think it is just one of those things. I think we have to improve at that. If you get a penalty kick, really... there has been talk about Rickie Lambert at Southampton scoring 33 out of 33. That is what taking a penalty kicks is all about," Ferguson said after the game.
Given his comments, it will be interesting to see if Rooney steps up to take a spot kick against Spurs. United may prefer in-form Dutch striker Robin van Persie to take penalty kicks, at least until Rooney recovers his composure. Or else, as AVB did at Porto, Ferguson may have to switch roles permanently.
However, penalty misses aside, AVB also stressed Rooney was a key player for United and always a goal threat for his side.
"He always sacrifices himself for the team and he has team spirit, desire to win, and the focus. He has overcome some difficult moments in his career but he's a top-quality footballer," the Portuguese said.