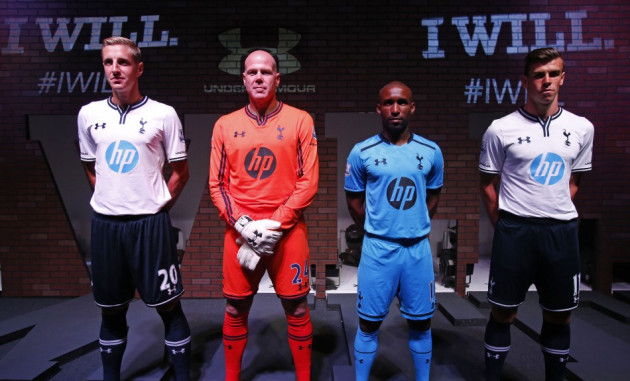 Michael Dawson believes that Tottenham must continue to invest this summer and keep their best players in order to break into the top four and qualify for the Champions League.
The Spurs captain was speaking at the under armour launch of the club's new kits where he was joined by Gareth Bale and Jermain Defoe who have both been linked with a possible move away from White Hart Lane.
However, Dawson feels as though the club must hang on to their best players in order to build on an impressive campaign that saw Andre Villas-Boas lead Tottenham to their highest ever points tally in the Premier League.
"If we keep bringing players in, it is only going to make us better as a squad and that is what we want to do," declared Dawson. "We have a fantastic squad with a great manager and good staff. Everyone at the whole club is hungry to do well.
"Every player wants to be in the Champions League, we have just made a great signing and improvement is the key, bringing in players like Paulinho is only going to make the club better.
"With the squad we have, if we keep improving that, it is going to take us to the next level.You want to keep your best players and also keep improving. We have already improved (the squad) and I am sure we will continue to look to do that over the summer."
There may have been plenty of speculation about the future of Bale, but Dawson knows that it is vital that the north London club convince him to stay in order to help them move forward.
"We all know how good Gaz was last year, he was world class and of course we have got plenty of other world-class players, so we have to make sure we keep hold of them all," added Dawson. "Gaz will be the first to admit he cannot do it without the rest of the team."
Defoe also reiterated how important Bale is to Tottenham as he made it clear how vital it is that the Wales international remains at the club.
"It's important that he stays," said Defoe. "This year we want a great season and we want to get into the Champions League - and to do that you've got to keep your best players.
"What Gareth did here last year was unbelievable when you look at the amount of goals he scored.
"At times he was playing out of position, up top or off the forward. And to show the composure he did in certain games when he was one-on-one with the keeper and produced some unbelievable finishes. He's a special player."
Under Armour is the Official Technical Partner of Tottenham Hotspur. For more information and to pre-order the new 2013/2014 home and away kits, please visit www.tottenhamhotspur.com