Real Madrid seem very confident of signing Tottenham midfielder Luka Modric. So confident, in fact, the club has released a profile of the player, as a member of their first team, on the club's official Web site, before the transfer has been confirmed. The La Liga champions have been locked in negotiations with Spurs over the transfer of the 26 year old Croatian all through this summer but for now, at least on paper, the playmaker is still a Tottenham player.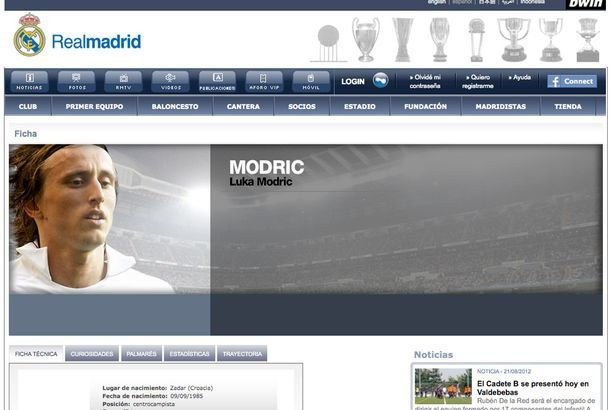 The posting of the profile was obviously a mistake for it was taken down soon after. Unfortunately the damage had been done by then, for it was viewed by thousands of visitors. Interestingly, in an implicit admission of the transfer, the URL to Modric's profile remains unchanged - the site's administrators simply replaced the content with the phrase "null null". The words began trending on Twitter as the player's new Madrid nickname.
Protracted transfers can lead itchy trigger fingers to post statements and messages ahead of schedule (this is certainly not the first instance) and this could cause the Spanish giants some embarrassment. The club have since claimed a hacker was involved.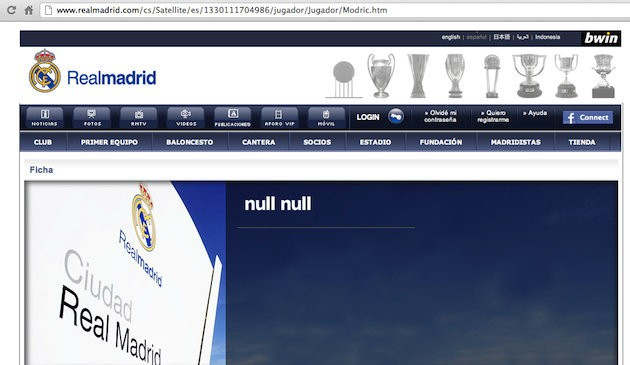 Tottenham were understood to be reluctant to sell Modric for less than their £35m asking price - a figure Jose Mourinho's side considered improper valuation of the player. A number of reports have since confirmed the clubs had reached an understanding, although Spurs chairman Daniel Levy threw a spanner into the works at the last minute by demanding a further £2m for the player.
In any case, Levy has insisted Modric will not be allowed to leave before the club signs a replacement.
Spurs Accept QPR Offer for Dawson
Meanwhile, Spurs have reportedly accepted Queens Park Rangers' bid for centre back Michael Dawson.
Earlier reports suggested QPR boss Mark Hughes had identified the 28 year old as an option help tighten his defence. The Hoops suffered an embarassing 0-5 opening day defeat, at home, to Swansea City. Sky Sports reports that a £9m offer has been accepted by Levy and the player will now discuss personal terms.
Dawson was not named in Spurs' 18 man squad for the opening game of the season at Newcastle. New coach Andre Villas-Boas selected veteran French centre back William Gallas as captain for the game, with compatriot Younes Kaboul starting alongside the former Gunner. Summer signing Jan Vertonghen came on as a substitute.