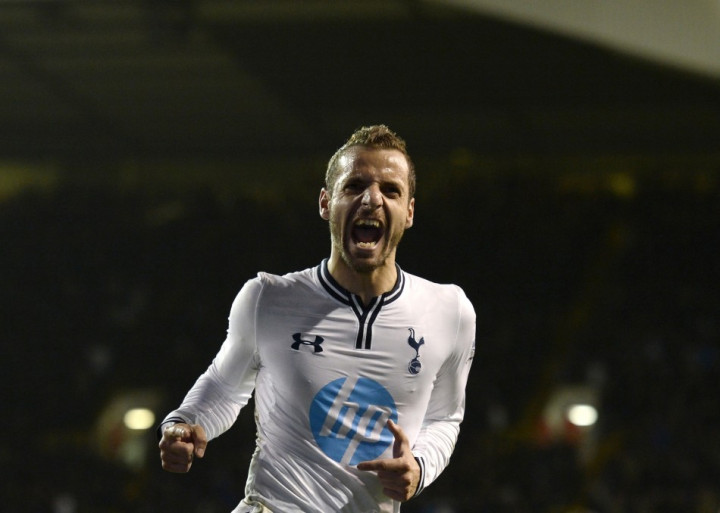 Tottenham striker Roberto Soldado believes the derby with Arsenal is a six-pointer, and could eventually mean a turning point in Spurs' struggling start to the campaign.
Mauricio Pochettino's side won the first two Premier League games of the season but have since failed to secure another league victory and are ninth in the table with just seven points from five games.
But after beating Nottingham Forest on Wednesday to progress to the Capital One Cup next round, Soldado says they are now optimistic about putting the latest League defeat behind them and beating Arsenal in the north London Derby on Saturday.
"It's different to every other game. We remember the difficult games against them last season but now it's a new season and we have a new mentality and we have a big opportunity to win a game in the Premier League after a couple of matches without a win," he told Tottenham's official website.
"The fans always support the team and this game is double, there's even more passion because it's the North London Derby. Every player understands that this is a big game for us and we want to win it. Three points would be massive for us."
With Pochettino making 11 changes to the side which lost to West Brom at the weekend, the Spanish striker took the opportunity to score his second goal of the season against Forest, having already netted in the Europa League earlier this season.
"I felt my goal was instinctive. Andros shot and I stuck my foot out quickly to touch the ball and divert it past the keeper who was already on the floor. It was a nice goal and it's good for my mentality. The team needed this victory because this Saturday we have a big game – the derby against Arsenal. It's a massive game."
In this sense, Soldado's teammate Andros Townsend, who also started the game, claimed certain fringe players prove Pochettino they deserve a place in his line-up ahead of the north London derby.
"The performances have been okay but the results have not been there so it was good to get a morale-boosting win with the big game coming up on Saturday," Townsend said.
"The manager made a lot of changes tonight but I think the lads that played tonight showed that they are good enough to be selected on Saturday, so I'm sure the manager has got a few problems and he'll want that."