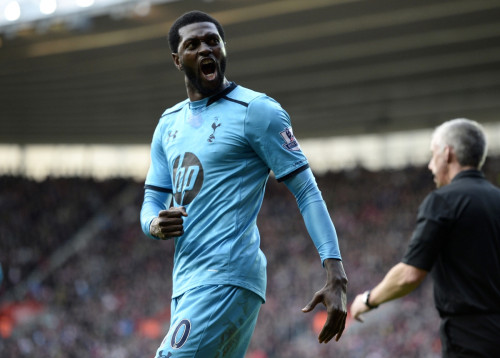 Emmanuel Adebayor says he faced criticism from his own family when he was left out in the cold by former Tottenham manager Andre Villas-Boas with the striker now proving those critics wrong under the guidance of Tim Sherwood.
Adebayor burst onto the scene for Spurs while on loan from Manchester City but when the Togo international signed a permanent deal with the club in 2012 his performances became less consistent.
Villas-Boas' first season with the club coincided with Adebayor's drop in form and in the 2013-14 campaign the former Arsenal striker was further ostracised from the group and failed to make a single appearance for the club until the end of November.
But after the Portugese tactician was shown the door and Sherwood took over Adebayor has been given a new chance, one he has taken full advantage of. And the 29 year old says that after being in a very dark place he is now so thankful to the manager who allowed him to prove himself on the pitch once more.
"I was right at the bottom of the hole," he told the Sun. "Even people in my own country, people from my own family, criticised me. It can't get worse than that.
"They said, 'You're rubbish and whatever you did before in your career was luck.'
"But the new coach [Sherwood] trusted me. He gave me the keys to all the doors of the club and said, 'Do what you want to do and make yourself at home'."
Adebayor has scored six times in eight matches since Sherwood took over as head coach. He was once again on-form as Tottenham defeated Swansea 3-1 at the weekend as the club increase the pressure on fourth-placed Liverpool, sitting level on points with the Reds.
But the north London club face City next Wednesday and after going down to the Premier League title favourites 6-0 in their last meeting Sherwood will be hoping that Adebayor continues his good run against his former side.