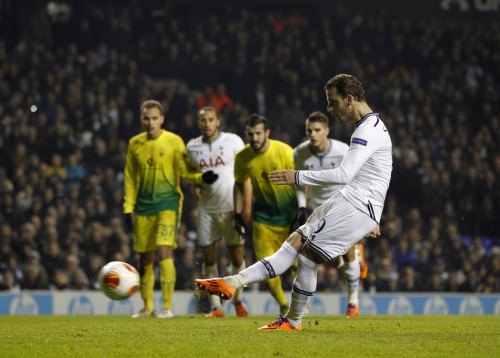 Tottenham striker Roberto Soldado suggests that he is much happier at White Hart Lane since Tim Sherwood's appointment, as he feels more comfortable playing alongside Emmanuel Adebayor than alone up front.
Adebayor had been exiled by Andre Villas-Boas at the start of the season but Sherwood has restored the Togo player to the team in a new 4-4-2 system and Tottenham have improved their results, collecting 13 points from their last five league games.
In an interview with Tottenham's official website, Soldado spoke of his progress under Sherwood and his new partnership with the Togo hitman.
"I think my partnership with Ade is a really good thing. It makes my life much easier as well because I feel safe knowing that he's around, that I can count on him in this playing dynamic" Soldado said.
"We work very well together and I think that really sends out a very clear message to our opponents' defence. I think they are very fearful of us because we do contribute that element of surprise."
Soldado's struggles in front of goal have continued despite Adebayor's support, but his influence on the team's build-up play has increased and he has started to justify the £26million transfer fee that brought him to Tottenham from Valencia last summer.
"I just think with this dynamic that involves having two strikers up front it means that we can move around a lot more than before. I think that it's a really positive thing that we can move around a bit more because now one of us can have that freedom of movement around the area whereas the other striker perhaps is more focussed on the area itself.
"Whereas before there was maybe only one [striker], they were kind of fixed to that area, there was not as much freedom to move around, but now with this new-found freedom we can create more opportunities, we have more space to move around and I guess what happened with Southampton and also the penalty against Stoke is a great example of how I was able to make the most of that freedom of movement and that space."
Even though he has scored just once from open play in the Premier League, Soldado is Tottenham's top scorer this season with 10 goals in all competitions.