Tottenham may be set to lose Spanish striker Alvaro Negredo to Bundesliga side Borussia Dortmund, according to the Metro. The Germans are reportedly targeting the player also coveted by Spurs, as replacement for Polish international Robert Lewandowski, who has been linked with moves away from Jurgen Klopp's team this summer.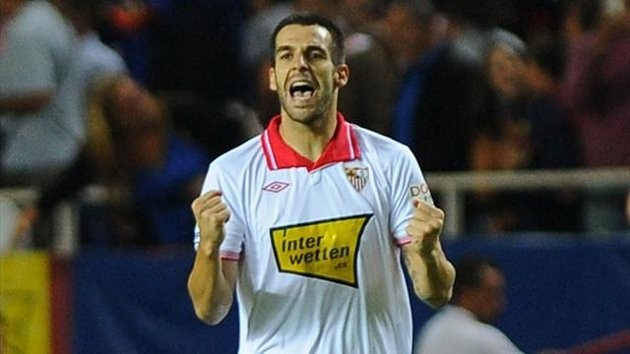 The 24-year-old Pole has had an excellent season with Dortmund, scoring 22 times in 26 league appearances and 29 in 40 games overall. He has been linked with a move to Manchester United and Bundesliga champions-elect Bayern Munich but his future has yet to be confirmed.
It has, however, been revealed the Pole will not renew his contract, which expires in 2014. This means, almost certainly, that he will be moving in the summer, as Dortmund will not want to lose him for free next year.
Meanwhile, the 27-year-old Negredo, presently with La Liga club Sevilla, is a product of Real Madrid's youth academy and has had a very impressive season with a club struggling to remain in the top ten - he has 18 goals from 29 league games.
The striker was strongly linked with a £15m move to White Hart Lane in the January transfer window, following reports in the Mail that the Spanish club's president, Jose Maria del Nido, flew to London to finalise a transfer.
The potential mid-season signing was meant to provide cover for the temporary loss of Togo striker Emmanuel Adebayor, who was to be away at the 2013 African Cup of Nations. However, while that approach failed to materialise, a summer move by Andre Villas-Boas cannot be ruled out, given the lack of striking options in north London.
AVB has only England international Jermain Defoe, in addition to Adebayor, as recognised senior strikers. The club does have youngster Harry Kane (on loan to Leicester City) but he lacks top-level experience, something Spurs will need if they plan on being regulars in the Champions League.
Negredo transferred to Seville in 2009 and has scored 63 times in 132 league games for the club. He also has experience in the Champions League, the Europa League and the Spanish national side, for whom he has six goals with only 14 caps.