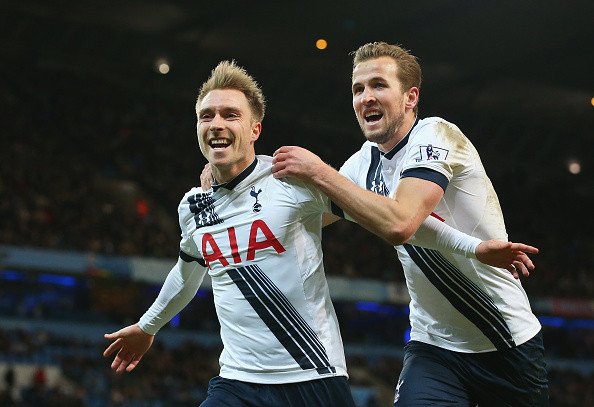 Christian Eriksen feels Tottenham Hotspur's impressive campaign will help the club attract big names to White Hart Lane during the summer transfer window, as they prepare to play Champions League football next year. The Dane also welcomed the club's decision to offer manager Mauricio Pochettino a new long-term deal, saying the Argentine had had taken Spurs to "the next step" in just two years.
Spurs have already secured a top four spot, while a single point in either of their coming two games will see them enter the Champions League automatically at the group stage. Sitting second in the table, they are three points above Arsenal and six ahead of Manchester City, with goal difference significantly in their favour.
The future of big names such as Harry Kane, Jan Vertonghen, Hugo Lloris and Eriksen himself had all come under scrutiny in previous windows, with many assuming the players would leave for a Champions League outfit. The Denmark international believes the opposite will be true this summer, with Pochettino able to tempt stars from non-CL teams to North London.
"The way people see the club now is different from last season," Eriksen said to Evening Standard. "That's also the case for players, because they know we are sure of a Champions League place this season, so the situation is already better than it was before.
"When players have seen our games, they will know what we are capable of. It's hard work but it's a fun team to play in and hopefully players will see that."
Pochettino himself was linked with jobs at the likes of Manchester United and Paris Saint-Germain. The boss has snubbed all those rumours however, confirming his long-term future to Spurs with a new deal instead.
Eriksen said: "From the first day Mauricio Pochettino has been here as coach, he has been focused on taking the club to the next step and he has done that. Hopefully he will take it to the next step again, and from then on it can go only one way. [The verbal agreement on a new contract] is a really big thing for him."
The former Ajax star believes that despite the disappointment of missing out the Premier League title this season the future of the club looks bright, not just in domestic competition but also among Europe's elite.
"100%," Eriksen added when asked how sure he was. "First of all we have the quality but also the youth and the engagement to go into a game and win, no matter who we are playing.
"That is definitely something that has changed from the last few seasons. If we have been 1-0 or 2-0 down against the big teams, we risked losing 5-0 or 6-0.
"Now it is the opposite. If we take the lead and the opponents equalise, we know we can come back again, and we have shown it many times. Hopefully it will be good fun next season."