Spurs striker Jermain Defoe has admitted the chaos in the club's dressing room in the last few days of the summer transfer window left him wondering about the future of several of his team mates.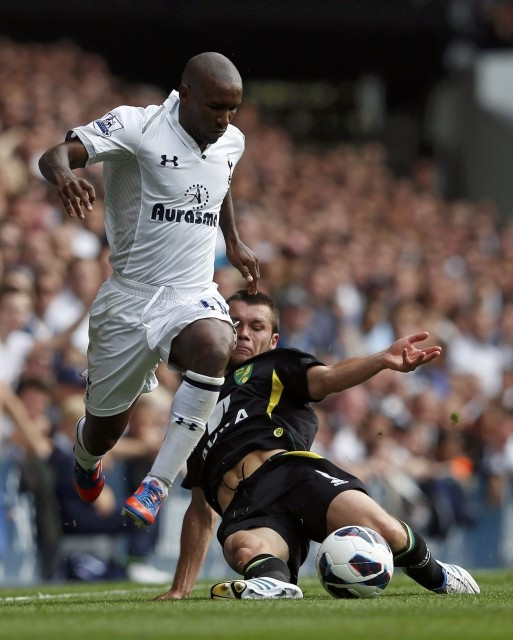 Tottenham did manage to sign a number of players this summer - Icelandic international Gylfi Sigurdsson (from German club 1899 Hoffenheim), American Clint Dempsey and Belgian Moussa Dembele (from Fulham), Jan Vertonghen (from Ajax) and Hugo Lloris (from Lyon), they also lost some key players, notably Luka Modric (to Real Madrid) and Rafael van der Vaart (to Hamburg SV). In addition, they were unsuccessful in their attempts to offload Tom Huddlestone and Michael Dawson.
"It was a bit mad. You walk into the changing rooms, see the lads and don't know if you're going to see them the next day. It's funny. I had my wisdom tooth out one day, came in and Tom Huddlestone had gone to Stoke [although the move stalled]. Someone else went. I said to the lads: 'I miss one day and all the players are gone!" the Telegraph quoted Defoe as saying.
The 29 year old striker had himself come close to leaving White Hart Lane this summer, after seeing limited first team football last season, under Harry Redknapp.
"Every day I would walk out of my house and fans would come up to me and ask whether I was staying. I would love to have turned round and say I was staying but I was not too sure. When you are unsettled, it is not good," said Defoe, explaining the situation at that time.
After the dust settled though, the former West Ham United forward, who was linked to Queens Park Rangers, Aston Villa and Sunderland, decided to remain with Spurs after conversations with new boss Andre Villas-Boas.
"He [Villas-Boas] said I'd looked bright in training, had a good pre-season and he wanted me to stay. I love the club and the fans have been fantastic from day one. My family are in London and I love the boys at the club so I've signed a new contract and I'm settled now," the forward said.
Defoe, who scored the match-winning goal in the recent friendly against Italy, will win his 50th cap for England, if he plays in the forthcoming World Cup qualifier against Moldova.