Corinthians midfielder Paulinho has revealed he would find it impossible to turn down an offer from Tottenham Hotspur this summer and hailed it as a "fantastic opportunity".
Spurs are understood to have matched the €20m (£17m) release clause in the Brazilian's contract. The 24-year-old, who recently confirmed the official offer from the north London outfit, has now stated he is ready for the next step in his career, by moving to Europe.
"I feel I am ready to experience football at the highest level in Europe and the opportunity to play in England is a dream. It's a great pleasure to be linked to such a great club like Tottenham," the Independent quoted Paulinho as saying.
"They have a reputation as one of the great clubs in England who play exciting, attacking football which suits my style. I couldn't turn them down if they made me an offer. It would be a fantastic opportunity to play for Tottenham," the midfielder added.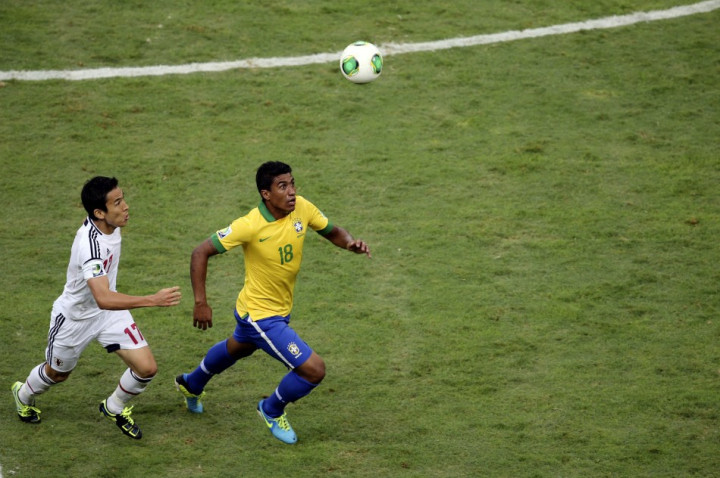 Paulinho had eight goals and three assists to his name from 28 appearances in the Brasileirao last season. He will now make a decision on his future after the Confederations Cup.
Corinthians director Duilio Monteiro Alves claims now that Spurs have met the release clause the situation is out of their hands and it is up to the player to decide. However, they are planning to hold talks with Paulinho, once he returns from international duty.
"The buy-out fee is 20million Euros and Corinthians can't do anything. We'll talk with him. Paulinho already knows about the offer, we told him. He asked to wait until he returns from the national team. When he comes, the final decision will be made," Alves pointed out.
Paulinho is a versatile and powerful box-to-box midfielder, who managed to keep Chelsea's Ramires out of the Brazil squad for the Confederations Cup.