Blackpool winger Tom Ince has revealed that fear of getting a regular place in the starting lineup forced him to reject offers from Tottenham and Everton in the recently concluded transfer window.
The England U21 international has been on Andre Vilas-Boas' radar as the north London club were preparing a £8m move for the Championship. Liverpool boss Brendan Rodgers has long maintained an interest in the former Reds player, while Everton were also keen on bringing him to the Merseyside.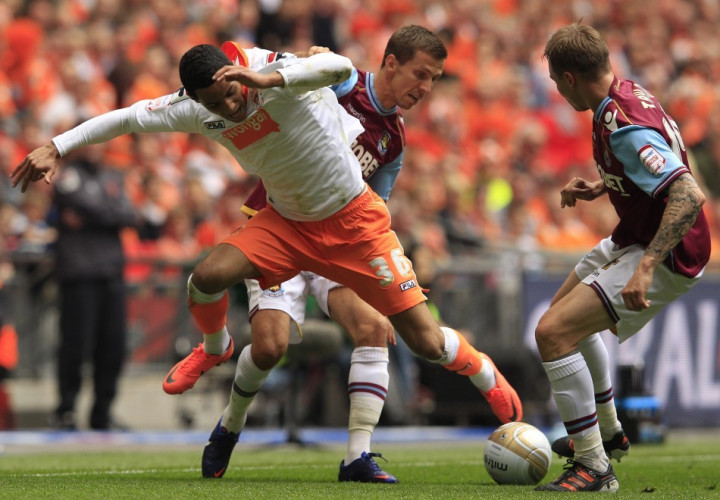 Ince claims the Premier League is attracting more foreign players in recent times and the top five teams are making an approach to bring them to the club. The winger fears the situation could put a dent on the English players' chance of breaking it into the team.
"I didn't feel that, right now, I wanted to move to Tottenham or Everton. It is flattering to have that interest in me but it is about playing for Blackpool and enjoying my football. It is hard because in the Premier League, there are a lot of foreign players," Ince told the Daily Mail.
"If you look at a lot of clubs in the Premier League, particularly the top five, there are a lot of foreign players. It makes it very hard for young English players to break through," he added.
The 21-year-old was one of the standout performers in the league, which saw him bag the Football League Young Player of the Year award last season. Ince admitted to be happy in the Championship, but has not ruled out a move to join the Premier League club in future.
"A lot of people make rash decisions, based on getting into the Premier League too quick. You have to earn the right to be somewhere. Wherever you go, you are not guaranteed to play football. There are a lot of English players out there now at big clubs who aren't playing football," the winger said.
"I am happy to be playing in the Championship - people underestimate how good this league is. I will know when the time is right to go into the Premier League. When I do, I don't want to be loaned out or be in and out of the team. I have to make sure that I am ready," Ince concluded.