Follow IBTimes UK's LIVE blog of transfer deadline day here.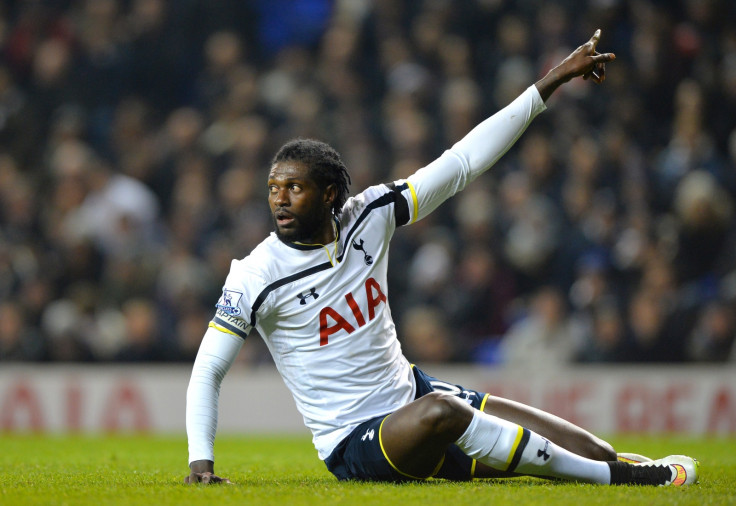 West Ham's bid for Tottenham striker Emmanuel Adebayor fell through because the club wouldn't cover his mammoth £80-90k per week wages, reports claim.
Spurs are believed to be desperate to offload Adebayor but the Togo international won't compromise on his wage bill and would rather stay at the club than guarantee game time elsewhere.
Behind Roberto Soldado and Harry Kane in the pecking order, a last-minute loan deal with West Ham appeared to be his best bet after he rejected offers from West Brom, Stoke and QPR.
But Tottenham refused to budge over making the club pay him the £80-90k per week as a loan fee, the Mirror reports, and West Ham were unwilling to hand over his sky-high wages for the rest of the season.
Adebayor has had a torrid time since he fell out of favour with former manager Andre Villas-Boas at the club. He received more chances under Tim Sherwood but Mauricio Pochettino has shown no faith in the man who starred for the side on loan from Manchester City back in 2011.
Adebayor even had a pop at Tottenham fans at the end of last year, claiming it was better for the squad to play away from home because the atmosphere at White Hart Lane was so negative.
"It might be better to play away at the moment," he said. "At least you know you are going to be having the majority of opposition fans booing, rather than our own fans."
Since then fans have given the 30 year old an even harder time on game day, making a move in the January transfer window seem all the more imminent and the best solution for both the player and club.