Transfer window closes at 11:00pm (GMT)
Juan Cuadrado joins Chelsea. Andre Schurrle signs deal with Wolfsburg.
Wilfried Zaha returns to old club Crystal Palace permanently. Darren Fletcher moving to West Bromwich Albion.

Tottenham are on the brink of signing MK Dons teenage star Dele Alli.
Rickie Lambert to stay at Liverpool after rejecting Aston Villa.

Aaron Lennon moves on loan to Everton.

West Ham United fail to loan Emmanuel Adebayor.


Getty Images
23:02: The January transfer window is officially shut and it has to be said the last 24 hours or so of trading has been among the lowest key since the forming of the mid-season window.
Emmanuel Adebayor and Rickie Lambert are just two names of players whose moves have failed and bar the belated confirmation of Juan Cuadrado's move to Chelsea, deadline has lacked a stand-out signing.
The closing of the window brings an end to our live coverage of transfer deadline day. We'll have all of the reaction in a full review of the window throughout the remainder of the week.
We return with live coverage of the FA Cup replays on Tuesday and Wednesday but until then goodbye.
23:00: JANUARY TRANSFER WINDOW SHUT

22:59: Derby sign Jesse Lingard on loan from Manchester United and Southampton sign Ryan Bertrand on a permanent deal from Chelsea. And......

22:53: The latest is West Ham are struggling to sign Emmanuel Adebayor. Mauro Zarate won't be re-joining them from QPR and Cartlon Cole looks set to move to West Brom. Striker merry-go-round at Upton Park.

22:49: Just 10 minutes of the window left. Will West Ham get Adebayor, can West Brom sign Darren Fletcher and Carlton Cole?

22:42: DEAL DONE II

22:32: DEAL DONE

22:28: Deathly quiet as we wait for the confirmation of a handful of deals. Doubtful that anything new and fresh will come out of the woodwork between now and the 11pm deadline. Remember, Premier League clubs need only state an intention to sign a player and preliminary paperwork rather than all the documents. Clubs an then ask for an extension.
22:17: This Adebayor-West Ham move looks like the central theme of the final minutes of this transfer window and it seems to hinge of Daniel Levy's desire, or otherwise, to subsidise the player's wages. West Ham must sit and wait.

22:09: Cryptic message from West Ham co-owner David Gold

22:08: Less than an hour of the January transfer window remaining and what deals might go through? Emmanuel Adebayor is probably the biggest name player involved in a potential deal, with the Spurs forward waiting on Daniel Levy to sanction his move to West Ham United. Confirmation of Aaron Lennon, Darren Fletcher and Dele Alli.

21:58: News of a double deal which has fallen through due to those aforementioned Premier League rules after Matt Jarvis and Mauro Zarate's loan swap was ruled against the regulations. Two more deals that are off this evening.

21:55: We're heading towards that time when deals could call through not due to a medical or personal terms or a fee, but time with just over an hour of the window remaining. Here is a reminder of the Premier league regulations regarding late deals.

21:46: Chelsea confirm the departure on loan of Mohamed Salah to Fiorentina until the end of the season. Some fears that deal could fall through altogether but it has been salvaged literally in the 11th hour.

21:44: What of Emmanuel Adebayor? West Ham have seemingly failed to secure a loan move for the Togo forward but the player could yet move away from White Hart Lane. Meanwhile, Darren Fletcher has turned up as West Brom's training ground...

21:40: We're playing the waiting game with around 80 minutes of the January window remaining. The truth is, it is almost not worth it. Deals across the country and being done but there is no stand out name, no big deal or not shock signing. Why? Perhaps some clubs are finally waking up to the trend of crazy, desperate signings.

21:23: Tottenham confirm a deadline day departure.

21:27: Southampton have already signed one player on deadline and they want to tie up a deal for a second in the form of a permanent agreement for Ryan Bertrand. Bertrand has enjoyed an impressive season on loan with Chelsea and the Saints are looking to make that a long-term arrangement.

21:18: The growing feeling among many sources is that Rickie Lambert will stay at Liverpool at the expense of further opportunities at Aston Villa. The England forward was given the option but has decided to stay with his boyhood club.

21:12: Contrasting reports regarding the future of Rickie Lambert's move to Aston Villa. The feeling at the moment if the deal is some way from completion, but some are claiming the deal is off the table and other believe it hangs in the balance.

21:04: Less than two hours to go of this January window. Still a handful of deals that are yet to be confirmed. Lennon, Fletcher, Lambert and Cole are all in the melting pot.

20:55: So what is going down in the final hours of the January transfer window? Darren Fletcher is in talks with West Bromwich Albion over a move away from Manchester United. Anderson could also be moving out of Old Trafford.

Rickie Lambert and Emmanuel Adebayor are both staying at Liverpool and Tottenham respectively, but there is one move between London and Merseyside, with Aaron Lennon set to move to Goodison Park.
Wilfried Zaha has confirmed his departure from Manchester United to Crystal Palace. Dele Ali meanwhile to moving to Tottenham Hotspur.
20:51: Gremlins in the system at IBT towers and we've lost an entire hour of the final day of the transfer window. An update on all the news that has broken on the way....
News from St Mary's.
Jack Sullivan, son of West Ham co-owner David, is always a good source for information and he says the club are actively pursuing the signing of a new defender on deadline day but as yet a deal has not yet been complete. Lots of talks over Winston Reid's future.
Aston Villa are pursuing Liverpool striker Rickie Lambert in the final couple of hours in this transfer window. Sky Sports says a deal is not going to happen but The Mirror believe The Reds will consider offers for the England striker.
News on a deal that was completed last week, but could be cancelled. Samuel Eto'o moved to Sampdoria from Everton a week ago but his career at the Serie A club is in jeopardy after he refused to take part in a double training session today.
Sinisa Mihajlovic said: "He did it all. Huge lack of respect towards me and the rest of the squad." Oh dear.
Aaron Lennon has been going to Hull City, Stoke City, back to Tottenham Hotspur and everywhere today but it now appears that a loan switch to Everton appears the most likely option for the former England international. More on that as we get it.
Sky Sports understand that a deal to bring Filip Djuricic from Benfica to Southampton is basically done, but neither club have yet confirmed the deal. Another one of those that we could be waiting until the small hours to hear about.
Wilfried Zaha will join Crystal Palace on a permanent deal from Manchester United, but the deal does yet appear to have been completed. The Selhurst Park jumped the gun in confirming the deal earlier, but Zaha himself has now confirmed the deal is done.
Juan Cuadrado has now confirmed his move to Chelsea with as is the modern-trend, a post on social media. See below:
Newcastle United have confirmed a story we brought you earlier with Davide Santon moving to Inter Milan on loan until the end of the season with a view to a permanent deal. The Italian's girlfriend has had her say on the Toon's "disgusting" conduct over the move.
Let's try and clear up Mohamed Salah's future at Chelsea and his yet unconfirmed loan move to Fiorentina. Clarification over the Egyptian's future was not forthcoming in the statement to announce the signing of Cuadrado and it appears the deal has stalled over wage demands. As we understand it, the Serie A club lodged an eleventh hour demand for Chelsea to pay a greater percentage of the winger's wages than they had initially agreed and that has seen the move break down. Time running out to resuscitate that move.
Nick Howson here to guide you through the final hours of the final day of trading in the mid-season transfer window. Plenty of deals look set to go right down to the wire, while many, many others will not happen at all. It's been that sort of day.
Cuadrado has signed a four-and-a-half-year contract at Stamford Bridge: "I am very happy and thankful for this opportunity I've been given. This is a great club and honestly it is like a dream to join the Chelsea family and to know that the manager believes in me. I'm happy."
No mention of Mohamed Salah's proposed move on loan to Fiorentina. More on that as we get it.
Less than five hours of the transfer window remaining and the biggest day of deadline day is confirmed. Juan Cuadrado has joined Chelsea.
Robin van Persie has joined the chorus at Manchester United talking about Anderson's departure, wishing the midfielder 'good luck in Brazil' on his Instagram. Just needs to be confirmed by the club themselves now.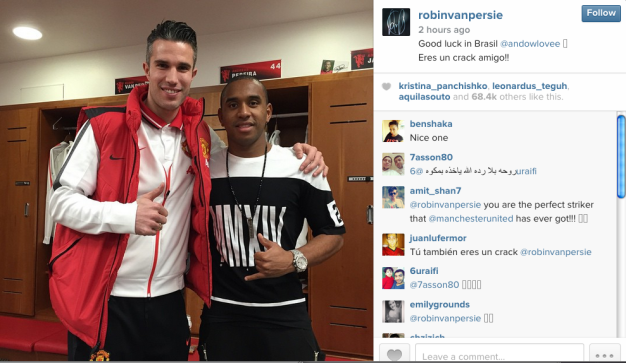 When Wilfried Zaha's move does finally get confirmed - and it will likely soon seeing as they had an interview up on the website momentarily where he said he couldn't be happier with the deal - it will be a £7million loss for Manchester United, who purchased him for £10million with performance related add-ons. Obviously there won't have been any of those added on to the fee in the end.
he fee is also reportedly set to rise to £6m over the five and a half year contract and United will have a decent sell-on clause. So it's not as much of a loss as initially thought...
Carlton Cole has proven to be a bit of a tug-of-war situation between QPR and West Brom today. the latter started out as front runners but now Rangers are back in it despite Tony Fernandes insisting earlier that there would be no panic buys. It's definitely one to watch in the coming hours...
Rumours have been circulating that Manchester United might make a last ditch bid for Raphael Varane from Real Madrid, but Sky Sports man Guillem Balague says it's NOT happening.
Manchester City have confirmed that Jordy Hiwula has joined League One side Walsall on a one-month youth loan. The big clubs might not be doing any big business today but there are a lot of youngsters getting out of the cobwebs for some guaranteed game time!
Finding this year's January deadline day to be a little bit underwhelming? The Telegraph have created a program where you can generate your own transfers - have some fun with it here.
Marnick Vermijl has told of his excitement to head to Sheffield Wednesday from Manchester United on loan.
I'm really excited. This is a fantastic place to play your football and now I just want to pull on the shirt on play.

"I just want to get started. I had a good year in Holland and the Championship is also a very high standard.

"I am eager to learn and delighted to be playing for this club. Pace is my trademark, I like to get up and down, and I like to think I am good in the tackle too.
The Telegraph are still holding on to this Rickie Lambert to Aston Villa rumour, claiming that the club have put in a last ditch £5m bid to sign the striker from Liverpool. Brendan Rodgers said he doesn't want any players leaving, but he also said he'd be stupid to sell Andy Carroll that one time...
Some oddness surrounding the Zaha to Crystal Palace story, with the club pulling the story from their website. They had confirmed he would join the club on a permanent basis but now all we have are a lucky few who screen grabbed the article...
It's all happening in Germany right now - I thought the window was closed?! As Mainz 05 tweet that midfielder Filip Djuricic has joined Southampton on a loan spell.
Of course, he is currently on loan at Mainz and Benfica need to confirm it. Stay tuned on this one Saints fans...
That's total confirmation from Wolfsburg as their website looks to have crashed that they now consider Andre Schurrle to be one of their own.
And thus ends a rather disappointing year and a half for Schurrle at Chelsea, with the German struggling for game time under Jose Mourinho and looking set to help Wolfsburg in their push to oust Bayern Munich from top spot in the Bundesliga table this season.
It hasn't gone unnoticed all month that Chelsea are mindful of FFP and this cash injection will certainly help them balance the books.
A bit of news from abroad - Tim Cahill has agreed to leave New York Red Bulls by mutual agreement. Come on Premier League clubs, he hasn't lost his flair just yet!!
DOUBLE CONFIRMATION GETTING CLOSER ALERT: When it rains it pours this deadline day!
BILD have finally confirmed that Wolfsburg have paid Chelsea a fee of €32m + €5m add-ons to sign Andre Schurrle.
Meanwhile, Sky Sports are reporting that Crystal Palace have signed Wilfried Zaha, who has signed a five and a half year deal with the club for an undisclosed fee.
It's worth noting that we are now past the deadline for the German transfer window - what's going on at Wolfsburg?? Bild won't tell us anything, unless you'd like to read some German horoscopes they're likening to Schurrle's fate...
One of the best and worst things about deadline day is the rumour mill - and Twitter is the place where the best rumours - and hoaxes - happen. There's one going around at the moment, originating from French site lavoixdunord.fr, that Manchester United have signed Dayot Upamecano from Valenciennes for €450k rising to €900k. He's a 16 year old defender apparently - though no official word from the club as yet.
As Anderson makes his way back to Brazil from Manchester United and has a medical at Internacional, much talk has been happening over what went wrong with a player so full of natural talent. Gary Neville has contributed the following to the debate:
I think that there have been some really good performances but again, not consistently.

"And the fitness - he picked up a lot of injuries but generally you'd have to say he will look back on his United career with some level of disappointment.

"Having played with him, he's got an enormous amount of talent and I think of some of the games, I can think of a couple of games at Anfield I can remember, or against Liverpool, and I think in big matches he was really capable.

"He was a big-game player with a big-game mentality and lots of skill, but was never fit enough to do it consistently week in week out in the Premier League, and that's a real shame.
Luton Town have confirmed the loan signing of Tottenham youngster Nathan Oduwa until the end of the season.
Manchester United have confirmed a deal! Get ready Red Devil fans...
Marnick Vermijl has joined Sheffield Wednesday for an undisclosed fee. All the best for the future, Marnick.
Told you it would be exciting.
Mohamed Salah has completed his loan deal to Fiorentina, the Independent is reporting, with Chelsea now just waiting on Andre Schurrle to be completed before they confirm Juan Cuadrado.
Momentum surrounding Wilfried Zaha's move from Manchester United to Crystal Palace on a permanent basis is picking up, with the fee for his departure believed to be around £3million. It's a steep decrease from the £10million United paid for him, and it's becoming obvious that Louis Van Gaal doesn't see much potential in the 22 year old.
Aaron Lennon is one player who could make a move before 11pm roles around and the BBC are reporting that Stoke are the frontrunners, though it's still only half a chance he'll leave Tottenham.
Swansea's Bafetimbi Gomis has decided to stay at Swansea, the striker has confirmed.
Liverpool might be quiet now but there have been bubbling rumours that they are hoping to land Danny Ings in the long term. The Burnley man could technically come to an agreement with the club today over a summer move but it doesn't need to be done before deadline day closes so the sides will obviously take their time with agreeing the finer details.
One hour warning for the German transfer window!! It closes a little earlier than the English one, at 17:00GMT - and there are a lot less last minute deals, being with how organised Germans generally are and all. The Andre Schurrle and Juan Cuadrado situation has gone eerily quiet but Schurrle is listed as a transfer in the Bundesliga records.
Some news from Leeds as the club confirm Edgar Cani will head to Elland Rd for the remainder of the season on a loan deal from Catania.
The club website said:
Leeds United can confirm the signing of Catania striker Edgar Cani on loan for the remainder of the 2014/15 season, subject to international clearance. Cani, an Albanian international, becomes United's third signing of the January transfer window following the arrivals of Sol Bamba and Granddi Ngoyi.
A little background on Dele Alli - the 17-year-old has been watched by numerous scouts this season and after a particular performance in the League Cup MK dons boss Karl Robinson claimed he would only leave if a big offer came the club's way.
Personally I don't think he's for sale. It's going to take millions.

"I don't want to sell him, the chairman doesn't want to sell him. There will be a day that we have to. The kid is destined to be a great, great player. But great players have a time span they have to go along.
Tottenham have beaten Aston Villa to the England Under 19 international and he certainly fits their transfer strategy with Mauricio Pochettino saying last month he wanted to concentrate on getting a top-class youth system. He's reportedly going to cost Spurs £4million which makes Robinson's assessment of the player quite fair.
The battle of the Deadline Day Tweets: Who did it better? Macclesfield Town or Crawley Town?
Paul Lambert was insistent on the weekend that Aston Villa would stay in the Premier League this season after a 5-0 defeat at the hands of Arsenal left them in 16th place and the worst goal difference in the league. He told reporters over the weekend:
We have definitely got enough to stay up. If we can do one or two signings then we will try. I am looking for anybody who can improve the side.
But right now it doesn't look like there will be much business at Villa Park after Tottenham wont he race to sign MK Dons youngster Dele Alli.
In the absence of any real deadline drama at the minute, there's been some details emerging of the Samuel Eto'o incident - apparently he was so angry at having to participate in a double training session with Sampdoria that he stormed off and drove back to his family in Milan. His relationship with manager Sinisa Mihajlovic is at a low point - he's only been at the club for a week remember - and there is the standing possibility that his contract will be cancelled with the club. Yikes.
From Reading FC, very pleased with their news signing and the biggest so far today:
Reading manager Steve Clarke told the official website:
An experienced goalscorer, Yakubu brings a fantastic scoring record to this club and his addition will complement the strikers we've already got at Reading and help us to improve as a team in latter stages of the season.

"I know all about him as a player and I have heard very good reports about him as a personality in the dressing room. He is no-risk signing for us and I look forward to him scoring goals for Reading Football Club.
No news on Andre Schurrle and Juan Cuadrado at this stage - though BILD Wolfsburg tweeted a pic of Schurrle's father leaving the building saying the rest would be sorted by mail.
Meanwhile Manchester United have rubbished rumours that they threatened to recall Tom Cleverley from Aston Villa if they didn't sign him permanently on loan, insisting the midfielder will stay at his loan side until the end of the season.
This from The Times' journalist Tony Barrett:
There's about eight hours to go now and with Arsenal and Liverpool both insisting it'll be a quiet day, and Chelsea's talks over Andre Schurrle and Juan Cuadrado still continuing there's not a great deal to report. Calm before the storm maybe?
In fact, Cheltenham have been the most busy today according to the BBC - they've made 30% of the deals of English clubs for loans and permanent moves so far.
Former Everton and Blackburn forward man Yakubu has officially signed for Reading until the end of the season, on a free transfer from Qatari side Al Rayyan. This stat from Squawka doesn't prove the 32 year old deserves a shot in England again, what will?!
It's not quite as much fun on deadline day without the WAGs getting involved, and Davide Santon's girlfriend has deleted some tweets taking her anger out on Newcastle for their treatment of the Internazionale-bound player.
Disgusted with how Davide has been treated. [He has been]... fully fit for a while now with no chance to play. [Newcastle are] a club whose only intentions are to make £££.

Just to put it out there, Davide declined Inter Milan's first offer but was pushed out by Newcastle United.
Darren Fletcher's move to West Ham might be off but he's reportedly a target for West Brom boss Tony Pulis. Manchester United have said there's no update over his situation and he's expected at training but it's still a long way until 11pm.
Samuel Eto'o seems to have made an... interesting impression at Sampdoria after leaving Everton for the club in January. After losing 5-1 on the weekend he refused to do a double training session and has left the training camp as a result.
Meanwhile, Liverpool youngster Sheyi Ojo has joined Wigan Athletic on loan. Brendan Rodgers said there would be no outgoings but he obviously didn't mean the young players as the 17 year old makes his way to the Championship side. Malky Mackay said of the deal:
I spoke to Brendan Rodgers at length about Sheyi. and we both agreed that this is the next stage of his development. Brendan sees him as a Liverpool player of the future and will take him into his squad in the summer. We both hope that his time at Wigan Athletic can be a productive one for both parties.

I have watched him and was excited by what I saw in terms of his pace, touch and awareness. Now it's a question of integrating him with our squad and managing his progress carefully.
Brendan Rodgers has said in his press conference that not a lot will happen at Liverpool today. "It will be very quiet. We are looking to keep all the players here," he revealed. "You are always looking for that star quality and unless it's there you go with what you've got."
Meanwhile BILD have tweeted a picture of Schurrle's father having a smoke, saying he needs to relax as talks continue over a deal...
Of course it's never a good idea to google translate these things, lucky this reporter speaks a little german and knows that 'Kippe' is a word for fag.
Who knew Leeds would be the most interesting club doing business this afternoon? Albanian international striker Edgar Cani is reportedly joining the club on loan from Serie B side Catania, while they've released a statement insisting Rodolph Austin is definitely NOT for sale. The statement reads:
Chairman Andrew Umbers and club can confirm that midfielder Rodolph Austin is not for sale and will remain a Leeds United player beyond Monday's 11pm transfer deadline.

There has been significant interest in the player and media reports over the weekend and on Monday had suggested that the club had agreed a deal for Rudy to exit Leeds United, but this is not the case.

Rudy remains a vital part of Neil Redfearn's squad and will play a major part for Leeds United in the remaining 18 Sky Bet Championship matches and beyond.
Not bad for a club under a transfer embargo!
Southampton had claimed they would bring one player into the team today, with manager Ronald Koeman telling reporters: "We will have at least one player, I think we need that." But apparently it won't be Feyenoord midfielder Tonny Vilhena, with the deal reportedly breaking down during final talks. They will now look to Benfica winger Filip Djuricic as their second addition for the window.
Not a lot being confirmed at the minute but Chelsea have reportedly agreed for Mohamad Salah to go to Fiorentina ad he's passed his medical. The 22 year old Egypt international will join the club on an 18 month loan deal while Juan Cuadrado goes the other way. All is ticking along nicely for Jose Mourinho this afternoon...
Will Everton be doing any business today? It's not looking likely at the moment, with Manchester United reportedly saying there is no chance of Adnan Januzaj making a move to the club on loan until the end of the season. There have been five players leave the club - three on loan - in this month.
From the 'where are those January signings now' files comes Luis Suarez, who was signed on deadline day by Kenny Dalglish in 2011. After a very publicised move to Barcelona he hasn't been the brilliant striker the critics expected - scoring just twice since his suspension ended after the summer - but Jordi Alba says he will find his finishing touch soon.
Perhaps Suarez is having a tough time finishing, but he was a very good signing and he gives us what we lacked.

"We have several great attackers now and that makes a difference.

"As the coach has said, our bench is very deep with excellent players and there are lots of options.
Some business from Leeds - they've just confirmed that midfielder Michael Tonge has joined Millwall on loan for the remainder of the 2014/15 season.
According to the Mirror, West Ham have made a play for Emmanuel Adebayor, who is certainly at the top of David Levy's list to leave Tottenham today. He's one of many exits expected, with Lennon, Chiriches and Kaboul also likely to leave.
Brendan Rodgers will hold a press conference at 2pm this afternoon. Expect him to be peppered with questions over Danny Ings.
DONE DEAL? Internacional appear to have sealed a deal for Manchester United midfielder Anderson.
Is Piffero talking about the same Anderson, here?
It's been all quiet from Arsenal so far today. Having already sealed deals for Krystian Bielik and Gabriel Paulista this month, Arsene Wenger appears satisfied with his options but the Gunners boss won't rule anything out.
I don't think I will be busy. We have done what we wanted and unless there is a huge surprise and somebody calls me - not the journalists, an agent - then why not? At the moment, nothing, it's very quiet.
Wolfsburg are currently holding a press conference, but Andre Schurrle is not present, as had been rumoured earlier today. There news over his imminent arrival isn't terribly good, either. Sporting director Klaus Allofs has cast a bit of doubt on the deal, urging Chelsea to lower their asking price for the German international.
We want to achieve our goals and that is why we want to sign Schurrle. But we have clear limits, we only go so far and not any further than that.
Robert Huth maintains a fine January tradition of new arrivals looking as morbid as possible while holding their new shirt aloft.
Transfer rumour enthusiast Jack Sullivan, son of West Ham United co-chairman has revealed his old man in France.
Earlier this morning Sam Allardyce said the club are on the lookout for one or two more additions to their squad, but suggested their business would be limited to loan moves.
DONE DEAL: It's the one you've all been waiting for... Robert Huth has completed his loan move to Leicester City to Stoke City. Things will never be the same again.
An interesting development regarding the long-term future of Danny Ings: Reports suggest Real Sociedad are in pre-contract talks with the forward over a move that would see him move to the Basque club when his Burnley contract expires at the end of the season.
That move would certainly benefit Burnley who will need Ings' goals if they have any desire to stay in the Premier League, but will leave Liverpool to pursue other targets.
Juan Mata has taken on the role as Manchester United's chief reporter this morning, confirming via his blog that Anderson has left the club. Here's our full story on the Brazilian's departure.
Here's confirmation of that Andre Schurrle development.
DONE DEAL? Andre Schurrle's move to Wolfsburg looks to be nearing completion after the player was registered on the Bundesliga's website as an 'incoming signing.
For Spanish clubs, it is already too late for them to add to their squads. The transfer window in Spain closed on Friday while Europe's major leagues also face varying deadlines.
German deadline: 17:00 GMT
Italian deadline: 22:00 GMT
English, Dutch and French deadline: 23:00 GMT
Scottish deadline: 00:00 GMT
Bild claim this is Andre Schurrle and his father, who also acts as the winger's agent, arriving at Wolfsburg.
More from Harry Kane who has penned a new five-and-a-half year deal with Tottenham.
Kevin de Bruyne's name refuses to go away today. The Belgian international, who was exiled at Chelsea by Jose Mourinho last season, now stands as one of the best players in the Bundesliga and Manchester United boss Louis van Gaal is reportedly a keen admirer.
While Wolfsburg coach Dieter Hecking is very doubtful of any move happening, nothing can be firmly ruled out today.
I do not have any fear that De Bruyne will leave the club.There are only eight teams in Europe that are a step up from Wolfsburg.

When you have a player like Kevin, there is always a bit of a risk that another team will come in and sign him.A big-money move would also be a sign of appreciation of what we are doing [via Doppelpass].
Read how United emerged as a possible destination for De Bruyne here.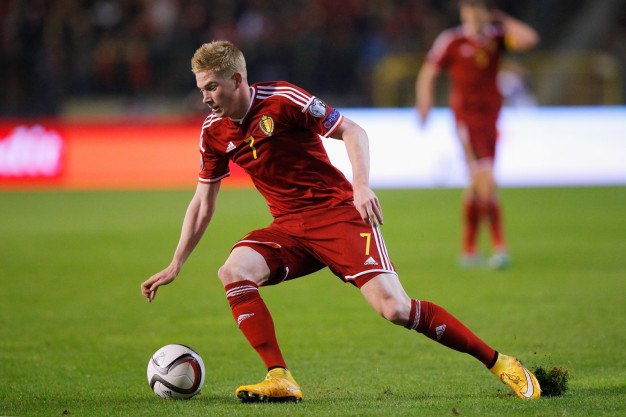 Another player would appear to be on the brink of leaving Manchester United today. Right back Marnick Vermijl, whose proposed move to Belgian side Lokeren broke down last week, is now reportedly close to joining Sheffield Wednesday. No mention on whether it will be a loan or a permanent move but the former would seem the more likely.
Shouls Vermijl make the move to Hillsborough, he will be re-united with United striker Will Keane, who joined the Owls on loan earlier this month.
Following the departure of Jack Cork to Swansea City, Ronald Koeman and Southampton are expected to be active today. The Dutchman has already confirmed his interest in another of his former players in Feyenoord midfielder Tonny Vilhena, while the club are also heavily interested in Benfica's Filip Djuricic.
A quiet transfer deadline day for Harry Redknapp; say it isn't so? Queens Park Rangers remain linked with a host of names on the final day of the window but owner Tony Fernandes appears to have ruled out the possibility of further signings.
Does that leave the door open for arrivals on loan? Emmanuel Adebayor remains heavily linked with a reunion with his former Tottenham boss, although his hefty wage demands are unlikely to help his cause.
DONE DEAL: Not quite a transfer deal but it is one that will have Spurs fans equally delighted. Harry Kane has penned a new five and a half year contract at White Hart Lane.
Wolfsburg spoke yesterday over their concerns of signing Andre Schurrle before the window closes. As it stands, they have seven hours to complete the move with the Bundesliga transfer window to close at 17:00pm (GMT).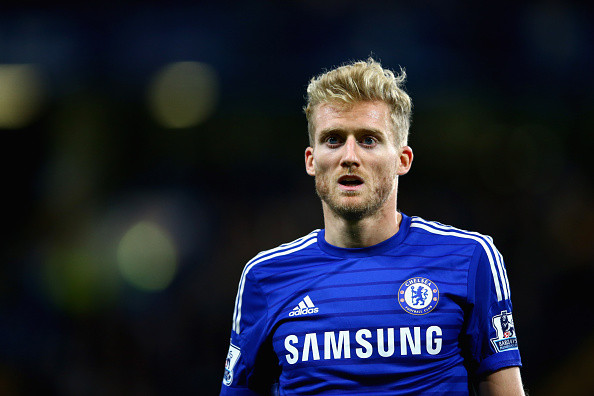 A move for Manchester United's Darren Fletcher now appears to be off the table, but West Ham United boss Sam Allardyce is still hoping to make one or two additions before tonight's deadline. Speaking through the club's official website, he said:
With the window coming to a close, I think we'll possibly be looking at bringing in someone on a short-term deal or a loan contract." Big Sam said. "We'll see what's there and if it's something worth doing then we'll take a look.
Newcastle United defender David Santon is on the verge of returning to Inter. The 24-year-old will leave Tyneside to return to the San Siro where he amde his first team debut as a 17-year-old seven years ago.
Santon confirmed the move via his Facebook page with reports suggesting he has joined the Nerazzurri on loan until the end of the season.
It seems exits rather than arrivals are the order of the day at Old Trafford today. Manchester United outcast Anderson appears poised to bring an end to his stay at the club and although United were unable to entice a single European club into taking a chance on him, a return to Brazil beckons.
Internacional are ready to offer the former Porto starlet a deal and Juan Mata, in his lovely weekly blog, appears to have confirmed the move, wishing his soon-to-be former teammate goodbye.
Also, I want to wish good luck to my friend Anderson, who is back to football in his native Brazil. All the best, my friend!
Kevin de Bruyne's name is one that keeps popping up this morning. A number of reports suggest the former Chelsea man will be the subject of a deadline day bid from Manchester United. We are a tiny bit sceptical over that, however.
The Belgian international is the man working hardest to keep the Bundesliga competitive this season, with his two goals in Wolfsburg's 4-1 thrashing of Bayern Munich on Friday evening suggesting the season isn't quite over in Germany. With the imminent arrival of Andre Schurrle, Wolfsburg are unlikely to undermine their bid to challenge Bayern by selling their best player.
What about Darren Fletcher? Manchester United's vice-captain Darren Fletcher appeared poised to join West Ham United but Louis van Gaal and Sam Allardyce confirmed the move was off over the weekend. That breakdown could re-open the door for West Brom and Tony Pulis, who named the Scot as a potential target earlier this month.
So where so we stand this morning? Juan Cuadrado is poised to join Chelsea in a deal worth £26.5m in what is almost certain to be the biggest deal of the day.
The Colombian has said his goodbyes to Fiorentina before the weekend but Chelsea are keen to conclude the sale of Andre Schurrle before confirming their new arrival. On Saturday, the German international's agent confirmed a verbal agreement is in place with Bundesliga side Wolfsburg, but the club themselves admit their offer hasn't been accepted yet. Their sporting director Klaus Allofs said:
We have not reached an agreement at the moment. Time is running out, and there are less and less options from hour to hour.