Tottenham are planning a bid for Lazio midfielder Hernanes, according to talkSPORT. Spurs are believed to have settled on the Brazilian after losing his compatriot, Willian, to cross-town rivals Chelsea.
It was earlier reported by talkSPORT that the north London club had agreed terms with the former Shakhtar Donetsk star but were beaten to the player's signature by Chelsea. According to the BBC, a £30m deal to sign Willian has been announced by the Premier League giant and the transfer awaits a successful work permit hearing.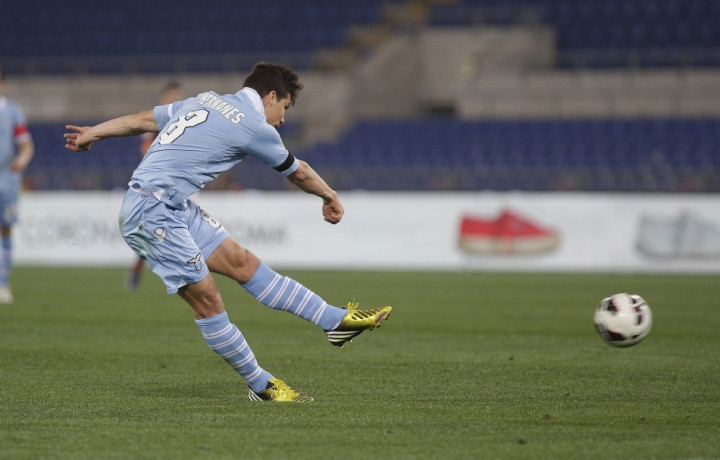 All this means Andre Villas-Boas will look elsewhere in his quest to provide enough cover for the potential absence of Welsh international Gareth Bale. The 24-year-old is on the brink of a world record move to Spanish giants Real Madrid but negotiations between White Hart Lane and the Santiago Bernabeu have stalled over the past few days. Nevertheless, according to the Mail Online, a £86m move to the Spanish capital is only a matter of time.
Hernanes could be the ideal replacement for Bale. The 28-year-old Brazilian joined Lazio in 2010 and has 31 Serie A goals and 11 assists since. He has considerable skill on the ball and a creative range of passing, as well as a useful long shot. And if he can strike up a partnership with compatriot Paulinho in the centre of Spurs' midfield, club record signing Roberto Soldado could profit very nicely as the lone striker.
AVB continues to leave nothing to chance in his quest for Champions League football next season and is reportedly closing in on a £25m deal for Argentine midfielder Erik Lamela.
Hernanes' contract with Lazio expires in 2015 and so far he has refused to sign an extension. Lazio are reluctant to lose their star player and president Claudio Lotito is clear that he will not release his player this year. Goal.com reports there is interest in Hernanes from both AC Milan and Inter Milan and also Ligue 1 champions Paris St Germain (PSG).
"Until today no one has knocked on our door for Hernanes. Getting rid of Hernanes is not our intention; we intend to keep him. We are willing to continue our relationship and I think there is also his [desire to do so]. I have not put him on sale and I have already been clear about this," Lotito told Corriere dello Sport.