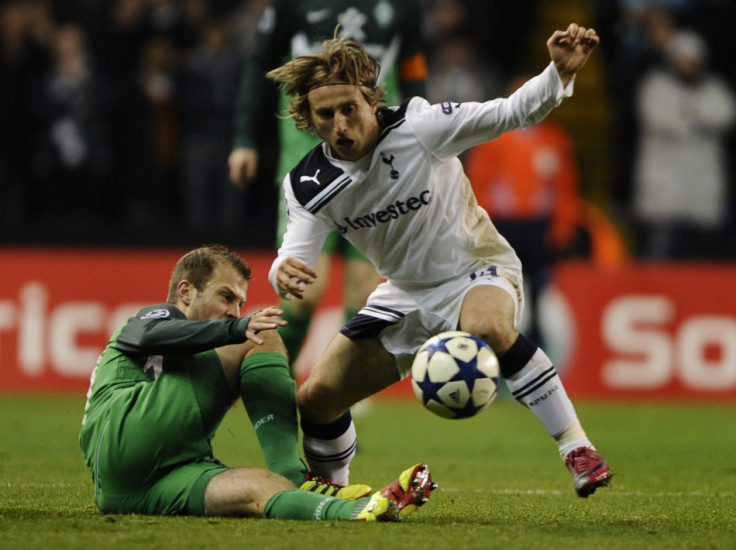 All the latest transfer rumours from Tottenham for 12 September 2011. Tottenham are said to be interested in David Beckham but will face competition for the player from QPR. Emmanuel Adebayor has said he will consider a permanent deal at White Hart Lane after claiming his relationship with Manchester City is 'broken.' Tottenham will also offer Luka Modric a new contract after transfer speculation this summer. Harry Redknapp will also allow Heurelho Gomes to leave this January after falling down the pecking order since Brad Friedel's arrival at the club.
The Daily mail reports Monday that new Tottenham loan signing Emmanuel Adebayor has said he will not return to Manchester City, claiming he will consider a permanent move to Tottenham next summer.
The Togolese striker who scored on his debut for Spurs on Saturday against Wolves has said that his relationship with Manchester City is broken and will consider a permanent move to White Hart Lane towards the end of this Premier League season.
"It's too early to say whether I'll stay (at Tottenham),' he said, 'but the love between Manchester City and myself is broken," Adebayor said.
"I still have three years left on my contract and even at the end of this season, another two. I will decide on my career in April or May," he added.
Harry Redknapp has stressed that he has no fears over Adebayor's links to Arsenal and has praised the striker for making the move back to north London.
"For me, I never worried about the ex-Arsenal thing. Patrick Vieira wanted to join us two years ago and I went around to his place to talk about it," he said.
"He's a real legend there. If he can come to Tottenham, then anyone can. They are professional footballers - not burglars. You can't say he can't play for another team," Redknapp added.
David Beckham is said to have two choices if he wants to return to the Premier League this winter; Queens Park Rangers or Tottenham Hotspur.
It is thought that David Peckham will welcome a return to the Premier League this winter and Tottenham are said to be in pole position to sign the La Galaxy star but QPR will rival Spurs' interest and make a bold attempt to sign him.
"He came and trained with us and was fantastic around the place. He's a great guy and he is still a great player. Beckham is a top-class professional and a fantastic role model for the younger players," the Tottenham boss said.
"But we have not made any enquiries about him and I don't know what it would take financially to bring him here. But I don't think anyone could say no to have David Beckham in their squad."
Tottenham manager Harry Redknapp has said that Brazilian goalkeeper Heurelho Gomez will be allowed to leave the club in January.
Sky Sports reports that Harry Redknapp has admitted the goalkeeper is unhappy with being left out of the Premier League squad following the arrival of Brad Friedel in the summer and if the right offer comes in January the calamity prone goalkeeper will be allowed to leave.
"He's not happy and he's eyeing a January move," said Redknapp. "If the chance comes for him to play elsewhere, I'm sure he'll take it.
"I've not bombed out Gomes and made him No.3 keeper but we decided Carlo Cudicini would be better on the bench," he admitted.
Fox News reports that Tottenham want away midfielder Luka Modric will be offered a new deal by Spurs chairman Daniel Levy.
Luka Modric was the subject of intense transfer speculation this summer and told Tottenham that he wanted to join Chelsea but the club effused to sell. Harry Redknapp has admitted that Modric's head was turned by Chelsea but the club will look to improve the player's long term deal.
"Luka will just get on with it - the chairman will sit down and discuss his contract and make a deal," said Redknapp.
"We are looking to make him a good offer. The transfer window being shut now makes my job easier because he has to just get on with playing."