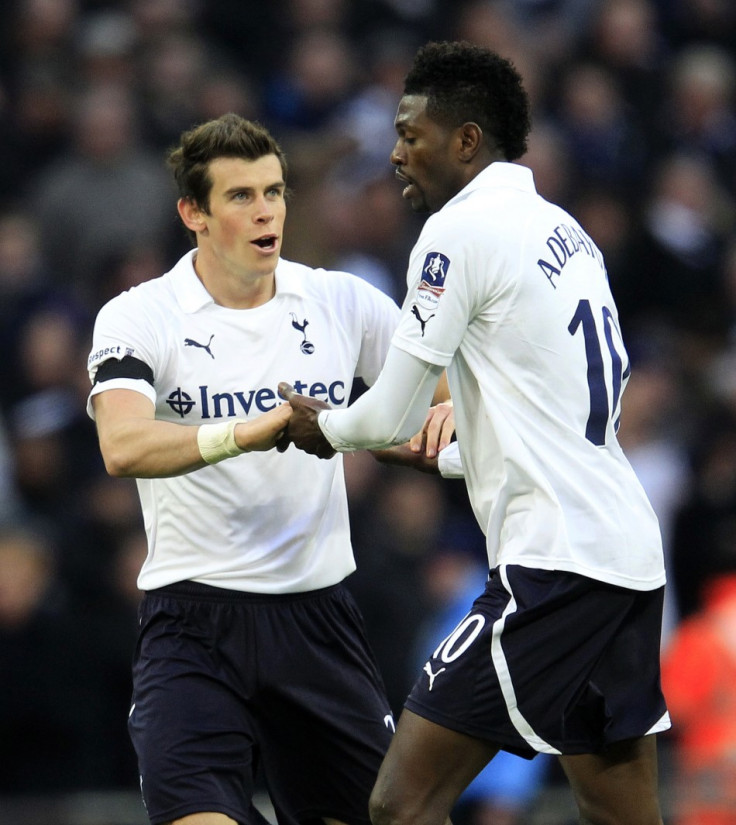 Togolese striker Emmanuel Adebayor wants to continue playing for Tottenham Hotspur despite earlier reports suggesting that the 28-year-ld forward would be leaving White Hart Lane because of his high wage demands, which the Spurs were reportedly unable to match, according to a Guardian report.
"Loved my spell at Tottenham. We are working hard with the chairman to make it permanent. Will keep you informed!!" Adebayor posted on Twitter.
The Spurs, who failed to qualify for the Champions League next season following Chelsea winning this year's trophy, are also keen on signing Adebayor on a permanent basis from Manchester City in spite of the Togolese striker wages being reportedly too high for Tottenham.
Adebayor, who has top scored for the Spurs with a total of 18 goals in all competitions this season, reportedly wants £175,000 per week, a figure way higher than Tottenham give their top earners. Still, the Spurs are reportedly trying to work out a deal with the Togolese, reported the Telegraph.
Elsewhere, the Spurs, who are fighting hard to keep their best players following their drop to the Europa League, are reportedly willing to sell Croatian midfielder Luka Modric to ensure that Welsh defender/winger Gareth Bale stays on despite him saying that he would be leaving White Hart Lane if the Spurs failed to qualify for the Champions League next season.
Modric, who was denied a move to Chelsea despite a £40 million bid by the Blues plus the Croatian's desire to move to Stamford Bridge, has said that he will decide on his Tottenham future after the 2012 Euros.
This time, Tottenham chairman Daniel Levy has no option but to listen to offers for the 26 year old playmaker, who has openly said that he wants to play in a big play so that he can compete in many competitions as possible.
Although Manchester United are reportedly keen to sign Modric, they will find it very difficult to meet the asking price for the Croatian, which reportedly starts at a whooping £40 million.
However, other clubs including Chelsea, Manchester City and Real Madrid, who have the financial backing to match up the Spurs' asking price, will most probably be caught in a bidding war for the talented Croatian.
Meanwhile, Spurs boss Harry Redknapp, who was not chosen as the England manager, says that it will be very difficult for Tottenham to do well in various competitions if they lose their star players.
"Once you start selling your best players you're finished. I don't know why Tottenham should be seen as a club that will sell its best players. We are not looking to sell our best players. We are looking to build a team here, not dismantle," Goal.com quoted Redknapp as saying.
"The chairman made a stance with Modric last year - the stance was that we are looking to build, to add to the group we've got and improve for next year, not to go backwards," the Daily Mail quoted Redknapp as saying.
"If we go backwards, we're going nowhere basically are we? We will slump back into mid-table mediocrity and we don't want that," he said, according to The Sun.