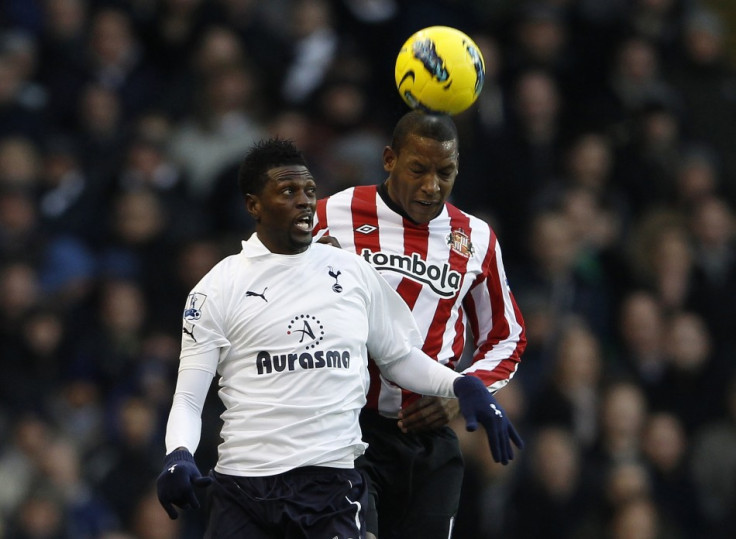 On-loan Spurs striker Emmanuel Adebayor has spoken out on what he thinks Tottenham must achieve, to call the season a success.
The Togolese forward, who is under contract to Arsenal, has been critical in Spurs' charge for a Champions League place next season and wants the club to continue pushing for a top-four finish. The London club are fighting a three-way battle, with Chelsea and Arsenal for the two remaining Champions League slots.
"For me my target before coming to join Tottenham was to get in to the top four and we are in a good position to do that now. We are in the FA Cup semi-final as well. We just have to give it a go, try to give everything and finish in the top four, and why not win the FA Cup as well?" said Adebayor, in a report by The Sun.
Spurs looked to have third place in the league all tied up, even as recently as February, before three defeats in five games (coupled with Arsenal's five-game winning run during the same period - 26 February to 24 March) turned the tables.
However, following last weekend's reverse for Arsenal (they lost 1-2 to QPR) and Spurs' 3-1 win over Swansea, the two sides are neck-and-neck going into the final seven games of the season. Arsenal lead Spurs on goal difference - by a single goal.
Adebayor, whose 13 league goals this season has driven the Spurs, has endeared himself to both the club's players and fans, with his performances and has been the subject of transfer speculation, as Spurs are being urged to make his loan deal permanent.
Spurs will next play Sunderland, away, on 7 April.
Arsenal and Chelsea, meanwhile, will play Manchester City (at home on 8 April) and Wigan (at home on 7 April), respectively.
Must Read: Barcelona vs AC Milan Champions League: Ibrahimovic 'Disgusted' at Referee's Performance