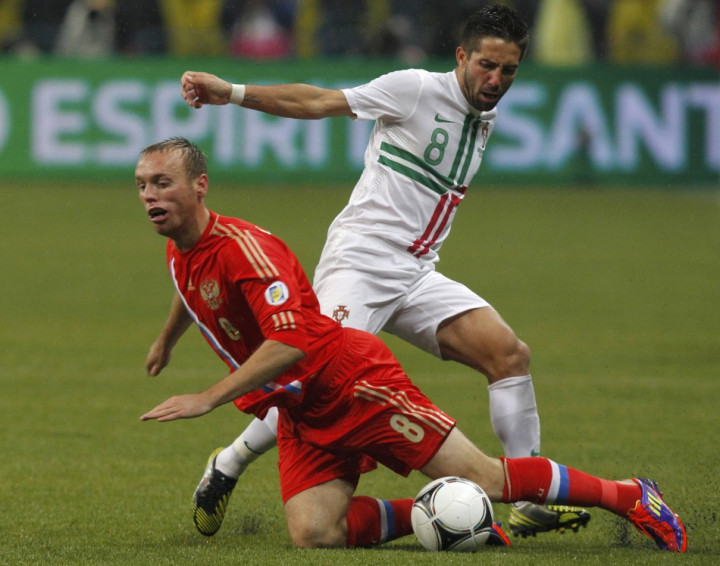 Tottenham will reportedly lose midfield transfer target Joao Moutinho to French club Paris St Germain (PSG) in the January transfer window.
The 26 year old Portuguese international was a key member of his country's squad during the summer's European Championships in Poland and Ukraine and his performances alerted the White Hart Lane club. The fact Spurs are now managed by Moutinho's compatriot and former manager Andre Villas-Boas only seemed to settle matters.
Spurs did open negotiations with the EstádiodoDragão outfit in the summer and after prolonged talks, a deadline day deal seemed to have been agreed, worth £22m. Unfortunately, administrative errors on the Portuguese club's part led to last-minute revisions in transfer valuations and forced Spurs' chairman, Daniel Levy, to call the deal off. The 50 year old was reportedly furious at Porto's mishandling of the deal but there were subsequent reports suggesting the two clubs might resume discussions in the winter transfer period.
However, it now appears the player has distanced himself from a move to England, in favour of a switch to PSG and the French league. Goal.com reports the midfielder could earn as much as £150,000 per week at the Parc des Princes club, a figure that negotiations could push even higher, if reports of similarly super-rich Russian club Zenit St Petersburg's interest are true. The Russians, led by Italian manager Luciano Spalletti, could be willing to bid as high as £30m, according to Goal.com.
Should former AC Milan and Chelsea manager Carlo Ancelotti, presently in charge of PSG, convince Moutinho to come to the French capital, it will likely be for a sizeable transfer and salary package and that will represent yet another massive investment from the club owners. The Paris-based outfit has already signed the likes of Swedish striker Zlatan Ibrahimovic, Brazilian defender Thiago Silva, Dutch wing back Gregory van der Wiel and Argentine forward Ezequiel Lavezzi and, of course, will have Brazilian midfielder Lucas Moura available in January.
From Ukraine
AVB moved for Fulham's Belgian international Moussa Dembele as an alternative to Moutinho but is reportedly still looking for a second creative option in midfield. Moutinho may now be a lost cause but a Daily Mail report states Shakhtar Donetsk's Brazilian playmaker, Willian, may be a feasible target. The 24 year old midfielder was desperately sought after during the summer by European champions Chelsea but the Ukrainian club was firm in their valuation of the player and no deal was possible. The Blues are reportedly still interested but Spurs fans can take heart from the fact the player admits to a special relationship with AVB.