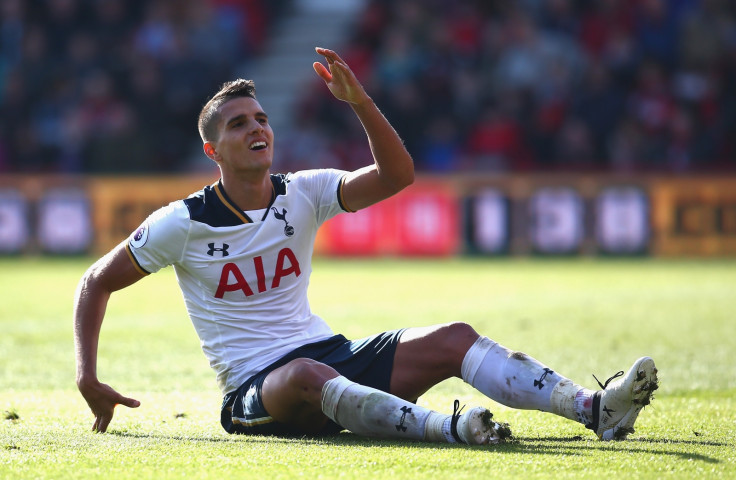 Tottenham Hotspur have been dealt an injury blow with confirmation that Erik Lamela will miss the final two months of the 2016-17 campaign due to injury. Sidelined with a chronic hip problem since October, it has now been agreed that the Argentine winger will undergo surgery this weekend (1-2 April).
Confirming the news via their official Twitter account, FA Cup semi-finalists Spurs, currently second in the Premier League and 10 points adrift of leaders Chelsea with 10 matches remaining, revealed that Lamela had managed to attain a "good level of function". However, he has been unable to return to training and the decision to go under the knife was reached following another visit to a specialist.
Tottenham's full statement read: "Erika Lamela is to undergo surgery on his hip on Saturday. This will result in Erik returning to action next season. The Argentina international has undergone a comprehensive rehabilitation process following the injury in November.
"The player has achieve​d a good level of function, however he has been unable to reach the stage required to make a full return to training. Therefore, following ongoing extensive consultation with specialists, surgery has been agreed by all as the best course of action."
Lamela, a club-record £30m ($37.2m) signing from AS Roma in August 2013, scored twice and registered seven assists in 14 appearances across all competitions earlier this term but has not played at all since being introduced as a second-half substitute during a 2-1 EFL Cup fourth-round defeat to Liverpool at Anfield on 25 October.
The 25-year-old, who The Mirror recently mentioned in connection with a possible £10m switch to Inter Milan, flew home to Argentina in December following an accident involving his brother and later travelled to Rome for treatment on that mystery hip issue sustained in training. He began working outside six weeks following his return to London, although manager Mauricio Pochettino subsequently warned that his compatriot's season could be over.
"I don't want to lie to you and give some information that after you use, and you are right to use, but I can't say one, two weeks, three weeks, one month or maybe next season, I don't know," he said prior to the 6-0 FA Cup quarter-final drubbing of Millwall.
"It's too difficult my position because we are assessing him every day, how he is in the morning, we prepare a plan, sometimes he is involved from the beginning in the warm-up with the team, sometimes he feels pain, we change the plan. Now it is day by day and we see. We hope he can be available again as soon as possible as that is our idea but we can't give any more information."