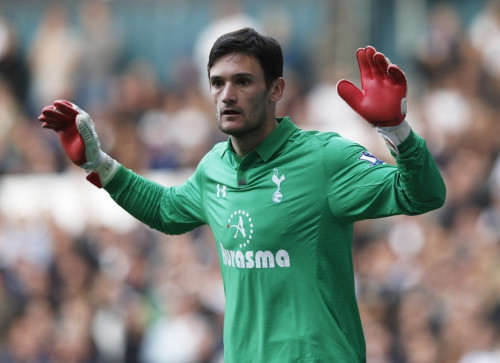 Tottenham Hotspur goalkeeper Hugo Lloris insists he has never been pressurised into changing his game after being warned he would struggle with life in the Premier League.
Following his move from Lyon in the summer of 2012, the France international's reputation for rushing off his line as a 'sweeper 'keeper' has often been lauded and questioned in equal measure.
Prior to his move to White Hart Lane, Lloris admits that he was told his approach to goalkeeping would not be the right fit for the pace and power of Premier League football. And while the 27-year-old admits his style can sometimes be a 'risky game' to play, he is adamant it is the best route to long term success in north London.
"Let's say in England football is different than in France, notably in game speed," Lloris said in an interview with France Football. "No one is giving up too, I discovered that coming here.
"In England there is a lot of contact in the box, a lot of quality crosses. A lot of presence too. Here, the keeper is less protected than in France or in European competitions. It is important to know to fight, notably on corners.
"I have always heard I am not strong enough, I didn't have the right body for that league. That is no trouble to me, as long as you know your body and your qualities and drawbacks.
"Since I have been in England I didn't rush into body building. I have gone on working as I did in France, but adapting to the different approach of the keeper's position.
"I always had a risky game. I have always tried to control my box, and even a bit further away. I want to be the boss of the area. Then, sometimes you get success, sometimes not."
Following his arrival at the club, Lloris initially played the role as Brad Friedel's understudy and did not start his first Premier League game until three months into his move.
But the Frenchman maintains his experience on the side lines was one he could takes positives from.
"It was a good experience. After a difficult two-and-a-half months, things were back to order naturally," he continued."
"When you move to a new country there are a lot of things you have to adapt to. Language, culture.
"You have to find a new life equilibrium, settle in with your family, discover your team-mates and I was lucky to find some French-speaking players.
"But both on a human and sporting level, it allowed me to grow. I always kept a kind of serenity. Then, if it had lasted, maybe I should have made other choices."