Tour de France 2014: Vincenzo Nibali Cruises To Victory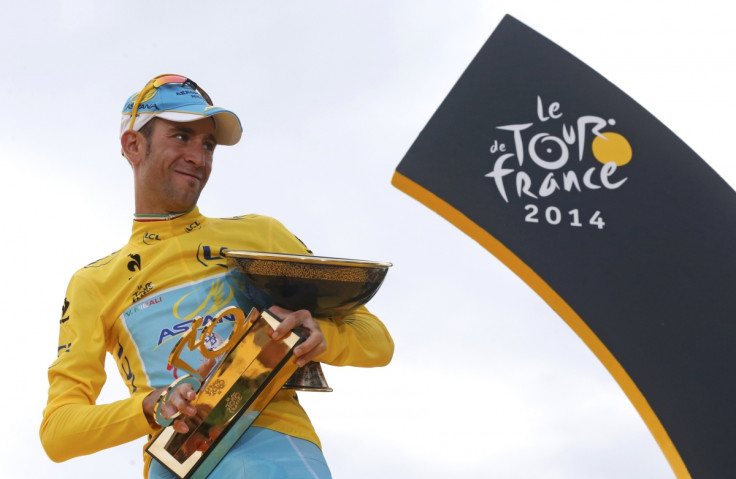 Vincenzo Nibali finished the final stage in the 101<sup>st edition of the Tour De France with ease as the Italian won the gruelling race, crossing the finish line in the peloton.
He was joined on the podium by France's Jean-Christophe Peraud, 37, who came through a crash earlier to take second place and fellow Frenchman Thibault Pinot, 24, who came third. Two home riders finished in the top three for the first time since 1983.
Meanwhile Germany's Marcel Kitte was overjoyed to take out the final sprint stage on the final day, which ended at a cloudy scene in the Champs Elysees.
Italy were able to reclaim their mantel as the birthplace of the best long-distance cyclists in the world after going without the title for the last three successive years, while Nibali can now claim to have held all three Grand Tours – having won the Giro d'Espana (2013) and the Vuelta a Espana (2010).
"I'm pleased because it's been far too long since an Italian won," Italian 1965 Tour de France winner Felice Gimondi told French newspaper Le Journal Du Dimanche yesterday. "He's becoming enormously popular here."
While Nibali joins five other riders to win the three Grand Tours – including Eddy Merkx, Bernard Hinault, Jacques Anquetil, Alberto Contador and Felice Gemondi – he also finished with the best lead in front of second since 1997, with a 7 minute and 37 second advantage over second-placed Jean-Christophe Peraud.
Bettering his last position of 3<sup>rd in 2012, where he finished behind Sir Bradley Wiggins and Chris Froome, Nibali had said in the lead-up to the final day that he is in support of the newly implemented anti-doping measures by the Cycling Federation.
"If there had not been all these controls, targeted controls, the biological passport, maybe I would not be here," he said. "A lot of progress has been made and we can see the results now."
When asked if he would give samples for future testing he replied: "Yes, I'm ready to accept this idea."
© Copyright IBTimes 2023. All rights reserved.