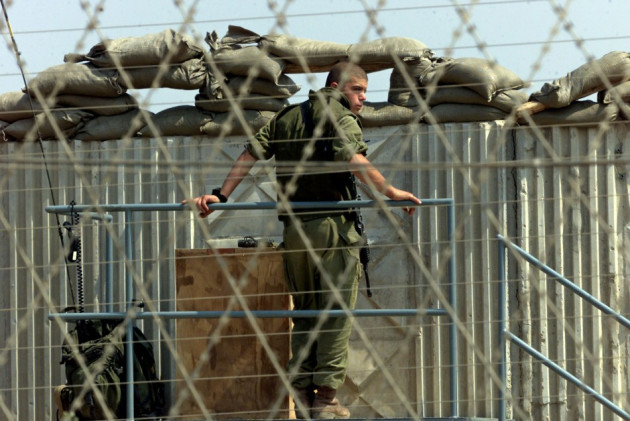 Israeli settlers are offering tourists the opportunity to simulate the shooting of a terrorist in a site close to the Green Line, which separates Israel from the West Bank, Golan Heights, Gaza Strip and Egypt.
Residents of the settlements, who run the site at Gush Etzion, narrate stories from the battleground and give tourists the opportunity to fire weapons on a range in a simulated assassination of terrorists.
The target is a smiling terrorist who lines the walls of the range. Visitors can use a variety of rifles and fake explosive belts.
The tourist attraction is open to all ages. Ynet magazine reports that a five-year-old girl called Tamara was seen holding a gun and shooting clay bullets like a pro.
"This is part of their education," her father, Michel Brown, 40, a Miami banker told the website. "They should know where they come from and also feel some action."
All instructors at the site have served in elite Israeli Defence Force units. One instructor, Shay, who teaches tourists the best way to tackle an assailant, took part in Operation Entebbe, the 1976 hostage rescue operation in Uganda.
During that mission, the IDF rescued the passengers of a hijacked Air France fligh. The Popular Front for the Liberation of Palestine was accused of the hijacking and taking 248 passengers hostage.
Back at the Gush Etzion range, an Israeli guide suddenly screams at his tourist "recruits": "Move it! Destroy that terrorist,"
"Suppose that the terrorist in front of me has an automatic weapon," Shay tells the audience. "He can spray a cartridge within 2.8 seconds, which means I have less than three seconds to take him down. And that is what I will do."
Other tourists came to the site to see the fighting in the West Bank in person for the thrill of the war experience.
"We heard on the news about shootings in the West Bank," Olga, an American mother said. "We came to see it in person."
"This is an awesome experience," her son Jacob, 24, said. "I learned how to stop a terrorist and how to rescue hostages. Now, when I find myself in distress, I will know how to deal [with it]."