A two-tonne replica of Tower Bridge made out of 83,000 recycled batteries has gone on display in London.
Constructed by Energizer to mark the launch of their EcoAdvanced batteries, the model stands 12m-long and 4m-high.
TV presenter and tech expert Pollyanna Woodward, who was speaking at the event, explained how the replica was created.
"The structure took four weeks to build. It was sketched out in comparison to a photograph to get the dimensions perfect. Then you had a lot of guys put in a lot of elbow grease into creating the frame that would hold 83,000 batteries, which were glued on by hand" she said.
Woodward also claimed that EcoAdvanced, the world's first high-performing battery made from parts of recycled batteries, was a significant milestone in recycling technology.
"This battery uses 4% of recycled material. It may not sound like a lot, but this is a huge breakthrough because people believed it couldn't be done at all," she said.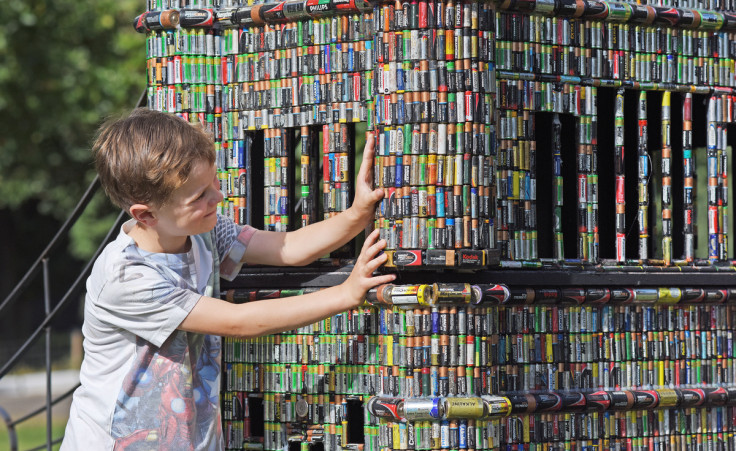 Marc Boolish, director of technology at Energizer, claimed that the company wanted their batteries to contain 40% of recycled material within 10 years.
"We have a vision where by 2025 we'll have up to 40% [of recycled material] in the battery and who knows from there. So this is the beginning of our journey," he said.
According to Energizer, the UK consumes 392 million batteries a year, with the country also recycling three times as many batteries (13,166 tonnes) as it did in 2010.
Woodward said that it was easier than ever to recycle in Britain and urged people not to dispose of their batteries.
"I would urge anyone who doesn't recycle their batteries to do so. It is so easy. There are local collection points and supermarkets near you, which means you can turn waste into the wonderful and make a difference to the environment," she said.