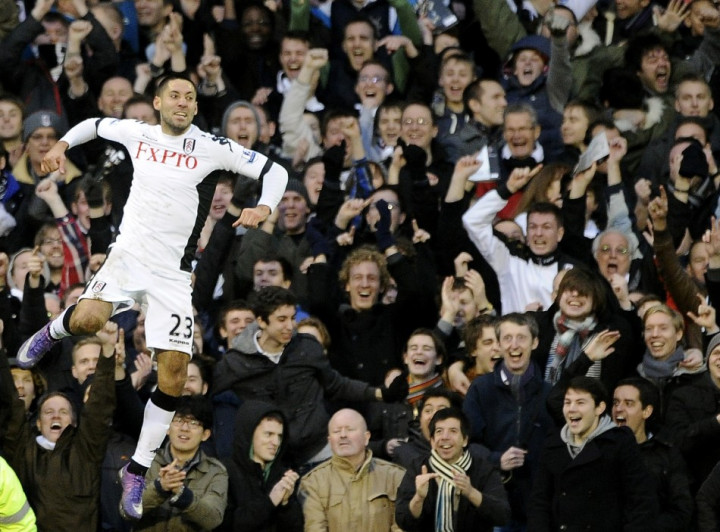 Tottenham have made a last minute swoop for Liverpool target Clint Dempsey after the Joao Moutinho has stalled over personal terms.
Hugo Lloris has confirmed a move to White Hart Lane.
Fulham sign Dimitar Berbatov and Kieran Richardson with Michel Bastos likely to join before the deadline.
Manchester City seal deals for Matija Nastasic, Scott Sinclair, Maicon and Richard Wright, with a fee reportedly agreed over a move for Javi Garcia. Roque Santa Cruz moves to Malaga, Dedryck Boyata on loan to FC Twente.
Charlie Adam and Jay Spearing leave Liverpool for Stoke City and Bolton Wanderers respectively, but Brendan Rodgers is hopeful Liverpool can sign Clint Dempsey
Chelsea allow Thorgan Hazard, Nathaniel Chalobahto and Gael Kakuta move on loan.
Stephane Mbia has signed a deal to move to Queens Park Rangers from Marseille; while Joey Barton has put pen to paper to go in the other direction.
Arsenal were reportedly looking at taking Michael Essien on loan, but Chelsea blocked the deal, with the mifielder now looking likely to go to Real Madrid.
Nicklas Bendtner joins Juventus from Arsenal on loan with a view to a permanent deal; Park Chu-Young moves to Celta Vigo on loan.
23:00: Closing time. Wow, what a day it's been. Thanks for reading folks, and a song to enjoy as you reflect on the mental slideshow of so many players holding up shirts and smiling in your head.
22:57: Three minutes to go! Looks like Tottenham have misse dout on Moutinho.
22:52: Cheer up Liverpool fans - Ian Ayre might be tucked into bed for the night, but Michael Owen will still be avilable in the morning by the looks of it?! He writes on his Twitter: "Nothing to confirm just yet, will be an interesting few days now that the transfer window is closed."
22:51 Transfer confirmed: Stephane Mbia has joined QPR, and is the club's 12th signing of the summer. More details on the Barton to Marseille deal; it's for two years, and for an undisclosed fee.
22:49: Sky Sports are reporting that Joao Moutinho will more likely stay at Porto than move to Tottenham, still, not a bad deadilne day for Spurs fans.
22:46: Transfer confirmed: A double whammy here as deadilne day hits closing time. Clint Dempsey has moved to Tottenham, Fulham have confirmed, and Joey Barton is now a Marseille player.
22:35: There's less than half an hour to go, and Fulham are reportedly trying to get hold of Tom Huddleston. He failed a medical at Stoke, but the Cottagers seem to think he'll be right as reign.
22:29: Hugo Lloris is finally a Tottenham player according to the club's website. And curiously, there's a pic of him in what looks like daylight with the Spurs shirt. Spooky...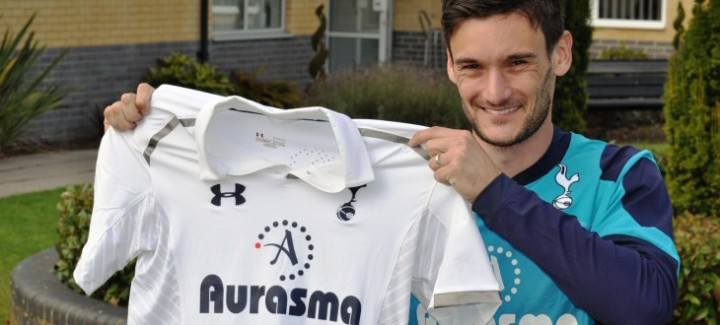 22:24: Rafael van der Vaart tries to downplay his abilities to Hamburg fans after his move from Tottenham. "Of course I'm not Superman or Messi or Ronaldo. I think I can help the club, though," he said. "I have continued to follow the team, of course, and I think the team is very good, with many talented players."
22:07: Transfer confirmed: West Ham have agreed a deal to take Yossi Benayoun on a season-long loan. the negotiations are still taking place over details but the agreement is now in place with Chelsea.
22:06: Clint Dempsey is within inches of completing his deal to Tottenham, believed to be worth £6 million and for three years. What a coup for the club. In the past 10 years, it would look like Liverpool and Spurs have completely swapped places.
22:02: Fee for Hugo Lloris to Tottenham believed to initially be £7.9 million, according to the BBC. Now that is one massive bargain - is Daniel Levy the negotiator of the century?!
22:00: ONE HOUR TO GO PEOPLE. WEIRD KIDS WHO HANG OUT AT THE FOOTBALL GROUNDS ON DEADLINE DAY - IT'S TIME TO GO MENTAL!!
21:59: Tottenham and Liverpool fans, maybe you should keep away from each other tonight. Dempsey is having a medical at Spurs Lodge, while Ian Ayre, if Twitter is to be believed, has left Anfield to head home. Ouch.
21:55: BBC reporter Howard Nurse says that Newcastle have rubbished rumours of Yohan Cabaye being wanted by Manchester United. Now THAT would have been a big twist to deadline day.
21:54: Some news for Arsenal fans!!! Though possiblity not the type of news you were looking for. Andriy Arshavin says he's going to stay with the club until at least January. Was that what Arsene Wenger was doing all day?!
21:48: Transfer confirmed: West Brom have signed Dynamo Kiev left-back Goran Popov on a season long loan.
21:39 Transfer confirmed: Manchester City have confirmed the signing of Matija Nastasic, with Stefan Savic moving the other way to Fiorentina. Nastasic will move for around £10 million plus the player, and is believed to be the next Nemanja Vidic.
21:37: Full time in Monaco. Atletico Madrid 4-1 Chelsea. Atletico win the Super Cup!
21:33: BBC are reporting that Hugo Lloris hasn't been sealed yet, but it will be a very quick medical for the keeper. They'd better get a wriggle on because Clint Demspey is hanging around there too!
21:29: It's the twist we've all been waiting for! Clint Dempsey is reportedly at Spurs Lodge, according to Rory Smith at the Times.
21:27: Transfer confirmed: Southampton have confirmed the signing of United States under 20 international goalkeeper Cody Cropper.
21:25: Michael Essien is said to be headed for... wait for it... you'll never guess. REAL MADRID! The midfielder would be the perfect replacement for the outgoing Lassana Diarra, who's gone to Russian side Anzhi. Arsenal look likely to miss out now, with the deal working perfectly for Chelsea as they send their man to a side they won't have to face in the Premier League.
21:24: Here's that youtube clip again of just how good Hugo Lloris can be. Tottenham are going to have a very new-look squad squad when he joins up.
21:20: GOAL! Gary Cahill peels one back to make it 4-1 against Atletico Madrid. Could possibly be the least celebrated Chelsea goal ever.
21:19: Transfer confirmed: Hugo Lloris is now officially a Tottenham player. The keeper will bring a breadth of experience from the France national team and Lyon, and will give Brad Freidel a serious run for his money at White Hart Lane. Now Spurs move onto Moutinho...
21:14: The Michael Essien transfer saga is now starting to take some twists and turns. Chelsea say they won't loan him to Arsenal, but hint that any other club can enquire. The only two Premier League clubs we can come up with here at IBTimes towers who may need a midfielder are Manchester United, and QPR (they don't need a midfielder but they do love to sign any player with a name their fans have heard before). Everton say they aren't interested - are the Blues holding out for Arsenal to pay more of his wages perhaps?
21:09: GOAL! Miranda adds to Falcao's hat-trick to make this match between Atletico Madrid and Chelsea quite the thrashing over the Champions League winners. Memo to John Terry; you won't be needing your kit on this night.
21:07: Reports claiming that Manchester City will pay £16 million up front for Javi Garcia. The club will face a race against time to get him to fill out all the paperwork before he heads off to international duty with Spain.
21:02: Stephane M'Bia has passed his medical to join QPR, and will be at Loftus Road in the next 40 minutes or so.
21:00: TWO HOURS TO GO. GET ON IT TOTTENHAM AND LIVERPOOL!
20:59: Here's an update for Tottenham fans - While Hugo Lloris looks to have sealed his move to White Hart Lane, Joao Moutinho is still in disagreement with the north London club over his wages. Spurs are still hoping to get the deal done before 11pm though.
20:57: Javi Garcia is at Manchester City having his medical right now. He'll be the fourth signing for the club for the day, in what has been a very busy day for Roberto Mancini.
20:50: Here's a small compilation of the man himself, and his top performances for Fulham. Can he complete Liverpool's front line with Suarez and Borini?
20:46: Now rumours are flying around that Jordan Henderson and Charlie Adam were each offered as part-exchange deals last night. The possible deals have all fallen through though, and there's only two and a bit hours left for Liverpool to make it right!
20:42: A Demspey update, and it's not what the player, or Liverpool fans, want to hear. Sky Sports are reporting that the Reds bid £4 million for the striker, and Fulham flatly turned it down - it's not even on par with Aston Villa's bid earlier in the day. Some saying the deal may now be on the brink of a collapse.
20:32: GOAL! Falcao, you little devil. Fernando Torres would be wishing he could play like this right now, with the former Atletico man equally glad that Falcao never made that move to Chelsea. On the counter attack, the star has scored his second hat-trick of the week.
20:28: Rafael van der Vaart has bid farewell to Tottenham on his Twitter, and shock horror: he's thanked them for their support!!! GASP. "It's official, I am back in Germany! Looking forward to great years with HSV!" He said. "Of course I am sad to leave Spurs and especially all the fans which have been nothing but great!! Thanks to the best fans in England for an amazing time!! All your tweets and messages really mean a lot to me!"
20:24: Here's a small update on Sky Sports odds if you feel like putting on a last minue bet. Clint Dempsey is 4/9 to join Liverpool, while Hulk is 1/6 to stay at Porto. Yann M'Vila is still 2/1 to join Arsenal, even after comments claiming he would stay in France, and Michael Owen looks to be favouring a Stoke move with odds of 4/11. Come on Michael, you're a betting man, it looks like the writing's on the wall.
20:17: here's a pick of Everton man Bryan Oviedo in his brand-spanking new shirt. Nice touch with the intagram usage.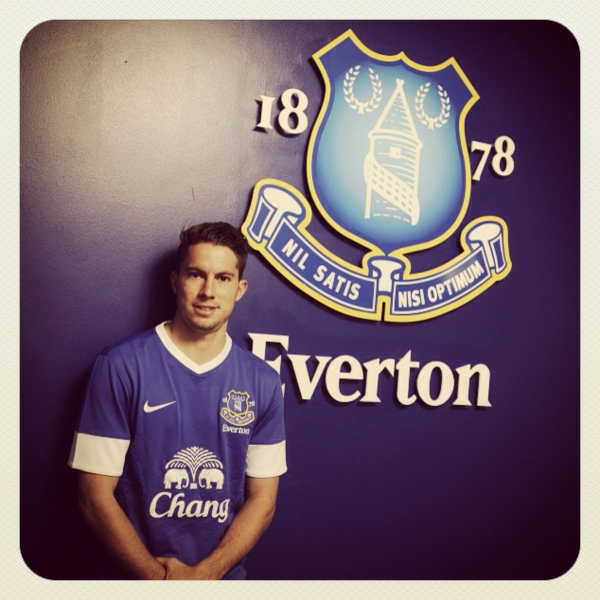 20:15: Tidbit on Falcao. Andre Villas-Boas was reportedly desperate to bring the striker with him to Chelsea, and the 26 year old wanted to make the move to Chelsea just as badly. "If Chelsea is interested in me then all that needs to happen is for negotiations to take place," he said last summer, with a reported £25 million buy out clause. But the Blues stuck with Fernando Torres instead. The right decision?
20:07: Everton confirm that they have signed FC Copenhagen's Bryan Oviedo on a four-year contract for an undisclosed fee. Looks like that Jack Rodwell money is starting to get spent. The club are also said to be looking at signing Jack Butland.
20:05: GOAL! Chelsea go down 2-0 to Atletico Madrid as the result of more Falcao magic. He's just showing off now.
20:03: Emmanuel Frimpong has had his say over Arsenal's only transfer chatter of the day, with the midfielder clearly hopeful that Roberto Di Matteo will change his mind and sends Michael Essien to the Emirates. "If Essien did ever Cum Arsenal I wud be the happiest man In the world my role Model," he wrote on his Twitter. "Love him."
20:00: THREE HOURS OF DEADLINE DAY LEFT!!!!
19:57: Speaking of Liverpool and their lack of presence up front, check out what Mark Lawrenson thinks about their possible aquisition of Clint Dempsey. Clue: He doesn't think it'll take Brendan Rodgers' side to the Champions League.
19:55: GOAL! Meanwhile, in the Chelsea v Atletico Madrid Super Cup final, Radamel Falcao has just scored to take his side up 1-0 against the Blues. The striker is looking mighty fine right now. No Liverpool, he's not for sale (yet).
19:53: Did anyone ever follow the oh so hilarious ramblings of the Twitter account @agent_153? If not, you really missed out. The account, claimed to be owned by an agent with connections to players all over Europe, was tweeting furiously for weeks that he was in a great deal of meetings set up trying to get Cavani to either Chelsea or Manchester City. Unfortunately, he's now deleted the account, which is a shame because it would have been great to look over the comedic tweets now that the deal to stay in Napoli has been confirmed.
19:47: Speculation over Edinson Cavani's future has well and truly come to an end, though Napoli president De Laurentiis still couldn't help but make a joke that he'd be heading to 'that cold city manchester'. New deal with Napoli is until 2017 with €60 buy out clause, as James Horncastle reported would be the case earlier.
19:43: Roberto Di Matteo has told pre-match press conference attendants in Monaco that Michael Essien might go on loan, but not to Arsenal.
19:41: Saints fans, check out these clips of your latest signing Gaston Ramirez. He looks the goods - but will he keep you in the Premier League?
19:29: Little snippet from Italy; Uruguayan forward Edinson Cavani has extinguished any chance of him moving to the Premier League by signing a new contract at Napoli, keeping him at the Serie A side until 2017.
19:23: More on Gaston Ramirez's move to Southampton from boss Nigel Adkins: "A lot of hard work has gone in from the Football Club with a lot of negotiations behind the scenes to get this deal done. Great credit to everyone because we have a young, exciting talent joining us who is one of the best around.
"The Chairman has gone and backed this deal big-time with the financial outlay, and what we have got is one of the most exciting prospects in world football coming to St Mary's. There is a lot of ambition at the Football Club and we are all delighted that Gastón is going to come and join us."
19:20: One of the players Fulham were looking to sign on deadline day, Derek Boateng, will not be moving to Craven Cottage according to Ghanaian.
19:18: Jay Bothroyd has joined Sheffield Wednesday from Queens Park Rangers on loan until January. I'm clutching as massive, Jay Bothroyd shaped straws here.
19:16: Les than four hours to go in the transfer window and we're still waiting on a host of deals. Tottenham are looking to clinch a deal for both Hugo Lloris and Joao Moutinho, Liverpool are negociating with Fulham over Clint Dempsey and we're still waiting for Stephane Mbia's confirmation of his switch to QPR. As for Joey Barton? Who knows.
19:03: Quick football league update. Paul Caddis has moved to Birmingham City with Adam Rooney moving the other way. Federico Bessone and Giles Coke have also joined Paulo Di Canio's side. Hull City have picked up Stephen Quinn for an undisclosed fee from Sheffield United while Paul Taylor has swapped Peterborough United for Ipswich Town. Stevenage have signed striker Patrick Agyemang and Dani Lopez. Nottingham Forest recluse David McGoldrick has joined Coventry.
18:48: Transfer Complete: Bologna confirm they have reached an agreement with Southampton for the transfer of Gaston Ramirez. A real coup for the Saints.
18:31: More from Brendan Rodgers on any potential additions at Liverpool: "The business people at the football club are looking to put deals in place. As a manager and a coach the earlier you can get it done the better. But I've always said if we can get the players we want in by the end of the window then I can be happy. There's still a bit of time left and a bit of work to do, and hopefully we can get things done."
18:26: News now on the transfer saga surrounding Clint Dempsey. Brendan Rodgers is hopfuly he can bring the Fulham attacking midfielder to Anfield, but not Tottenham Hotspur are looking to make a late move.
18:18: Michael Essien will not play for Chelsea in the Super Cup final against Atletico Madrid after failing to travel from the team hotel to the St Louis Stadium in Monaco adding fuel to the rumours over a potential loan move to Arsenal.
18:12: Bryan Oviedo might not be the only new face at Everton on deadline day with assistant manager Steve Round confident The Toffees can sign another player before the window closes.
"We are trying to bring somebody into the midfield - that would be a help to cover our squad - and that is probably about it to be honest," said Round.
"We are only ever going to get one or two players at this late stage, and if we can bring in just one today I think that will be a bonus. Bryan is the closest we have got, and other than that, the manager is going to be working all day I think with the chairman [Bill Kenwright] to try to bring somebody else in."
18:06: One move that has flown under the radar somewhat today is that of Roque Santa Cruz's belated departure from Manchester City. The Paraguayan spent last season on loan at Real Betis and had agreed some months ago, before the end of the transfer window, to make a permanent move to Benito Villamarín. However, an offer came in from Malaga in the final days of the window, and instead of keeping his word, the 31 year old changed his mind and moved to the La Liga side.
"I had in mind to return to Betis, that was always my idea because Betis has always treated me very well," the former Blackburn Rovers striker said.
"But in the last weeks there was interest from Malaga. I would have the chance to play the Champions League there and that was the reason I accepted to be transferred to that team. I am sure that my family is going to feel very well at Malaga.
"This is the last year of my contract at Manchester, and in December I would be able to negotiate with other teams. But now there is a deal between both clubs, so I have travelled to Malaga for the medical tests, and then I will sign my contract."
17:53: Couple of stories that are either still running or have been confirmed coming up:
Arsenal are in talks to sign Chelsea midfielder Michael Essien on loan
Dimitar Berbatov says it was an easy decision to join Fulham from Manchester United
17:48: As one hopes breathes, another dies. Joao Moutinho has been included in FC Porto's squad to face Olhanense and is on a flight to the Algarve as we speak making a deal not impossible, but certainly improbable. Tottenham may have to seek alternatives now.
17:42: Thinking that a move for Clint Dempsey was dead and buried, think again. Brendan Rodgers has been asked by Liverpool fans, while leaving Anfield in the opposite direction to club doctor Zaf Iqbal whether the club were signing the American. He replied "hopefully." Could be a long night.
17:36: Just a quick word on Bendtner's move to Juventus. Despite the fact I think he'll do very well there and that for a reported £5m he's a spin for the Old Lady, the Serie A side have gone from looking to sign Carlos Tevez, Luis Suarez and Robin van Persie to recruiting the fourth choice striker from a club who finished 19 points behind the eventual champions. Just a thought.
17:33: Tottenham goalkeeping coach Tony Parks has confirmed that Hugo Lloris is at the Spurs training ground but that a deal to bring the French captain to the club is far from finalised.
"I have just seen him in the training ground with his father," Parks said. "I think he is in the offices at the moment with the club secretary, but my understanding is that it is far from a done deal.
"It's time to go home and prepare for the game tomorrow (against Norwich) and make sure the lads that are involved in that are given the best opportunity to succeed and get the three points. If Hugo joins us, great, I think he will be a fantastic addition to our squad."
17:24: Transfer Complete: With 36 minutes of the Italian transfer window to go and Juventus clinch a deal for Nicklas Bendtner on loan from Arsenal with a view to a permanent move.
Bendtner has written on Twitter: "I can now finally say I am a Juventus player. Very proud and cant wait to wear the stripes! I hope we will have great times together.
"I want to fulfill my potential here and show the fans my absolute best as that is yet to come. I am sure I will.
"Thanks for all the support from the Arsenal fans and the Sunderland fans, means the world. We always believe and that gets us far!"
17:15: News reaching us concerning Michael Essien, and a proposed loan move to Arsenal. The BBC World Service understand the two clubs have begun talks over the switch.
17:10: One player definitely not joining Tottenham one deadline day is France midfielder Yann M'Vila.
President Frederic de Saint Sernin says. "He (M'Vila) will not be in England. Spurs passed on the player on Thursday"
17:02: We've seen plenty of images of Nicklas Bendtner in Italy, but with less than an hour to go until the deadline, no confirmation that he is a Juventus player yet. The Danish striker is set to join the Serie A champions on loan until the end of the season with a view to a permanent deal.
16:58: Transfer confirmed: Swansea City have secured another coup signing from La Liga in the shape of Valencia winger Xavi Hernandez. Michael Laudrup working his magic in the market yet again.
"I'm very happy to become a Swansea City player,'' said Hernandez. "It was my target as soon as I knew there was interest. There were offers from other clubs, but this was the only club I wanted to join.
"I want to thank the club and Michael Laudrup for making me feel like a very important player. Now I want to repay that faith on the football field."