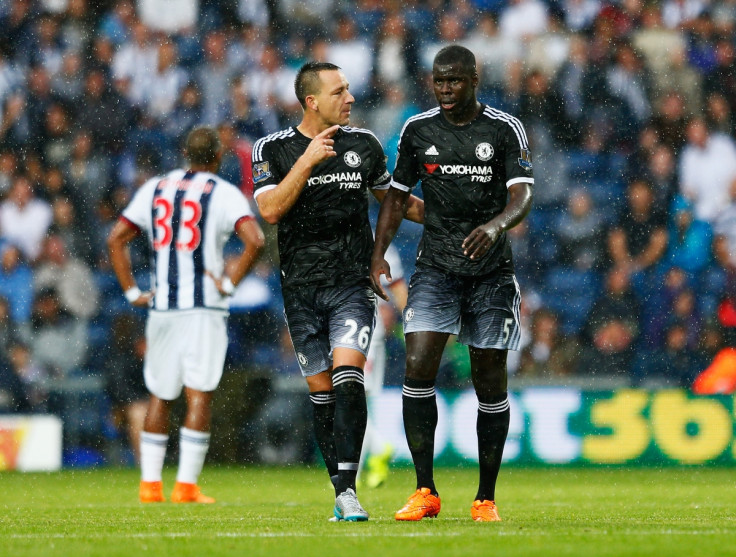 Chelsea defender Kurt Zouma does not know how the club are going to fill the void left by John Terry. The 35-year-old star yesterday (31 January) announced he is to leave Stamford Bridge at the end of the current season, and his teammate has admitted to being shocked by the news.
Terry has played almost 700 times for the Blues and has led the club through its most successful-ever period. However, the Chelsea hierarchy has decided against renewing his contract for next season.
"I am very surprised – I didn't know," Zouma told the Evening Standard. "Now we have to see what John wants to do because I think he can play for another one or two years."
The France international compared Terry's impending exit to the departures of fellow club legends Didier Drogba and Frank Lampard. He admitted, too, that he cannot see how Chelsea will replace their inspirational captain.
"This feels like when we lost Didier [Drogba] last summer. [Terry] is a huge personality at Chelsea. When you lose these kind of players, you have to replace them but I don't know how John can be replaced. We have to think about it," the Chelsea star said.
Terry has been widely criticised for his performances this season, with pundits suggesting he is no longer the force he once was. However, Zouma has insisted his teammate has maintained high standards throughout his Chelsea career.
"For me he can play many more times. He is still at a top level. He has been playing very well since I arrived at Chelsea. He can continue for sure," Zouma said. "His performances have been consistent. Since I have been at the club, I haven't seen him play badly. That's the truth. He was always helping everybody."
Zouma revealed Terry has been a hugely beneficial influence on his own career, guiding the youngster to the Chelsea first-team.
"He has been a massive support to me," Zouma said. "When I started my first games last year he was always talking to me. He is a legend and a very good leader. I have learnt a lot from him. I don't know what to say, I am very surprised."
Terry's situation is also clouded by doubts surrounding the future of fellow centre-back Gary Cahill, who has suggested he may leave Stamford Bridge due to a lack of first-team football. The 30-year-old signed a new contract at the club in December, but has admitted he would like more regular football than he is currently receiving.
"I am settled here, have had a lot of success here and my family is settled here but ultimately I feel I need to play football matches. I have always been that way," Cahill said, according to the Daily Mail. "It has always been in my make-up to play a high percentage of games. I realise that sometimes things go well and sometimes they don't.
"But it is very important for me I feel personally, even selfishly, to be playing football matches. You will never change me. I think it is a positive thing. But it is a little selfish side that in my career I have played a vast amount of games which has got my where I am now and I want to continue that same path, it is very important for a lot of reasons."