All the latest transfer news, rumours, gossip from the final 24 hours of the 2012 January transfer window. Follow live coverage of developments at Arsenal, Man Utd, Chelsea, Liverpool, Tottenham Hotspur, Real Madrid, Barcelona, Inter Milan, AC Milan, Juventus, Roma and Bayern Munich. Get involved below to find out which player(s) your side are being linked with today.
Email Gordon Macrae or Vanessa Keller with your transfer tidbits.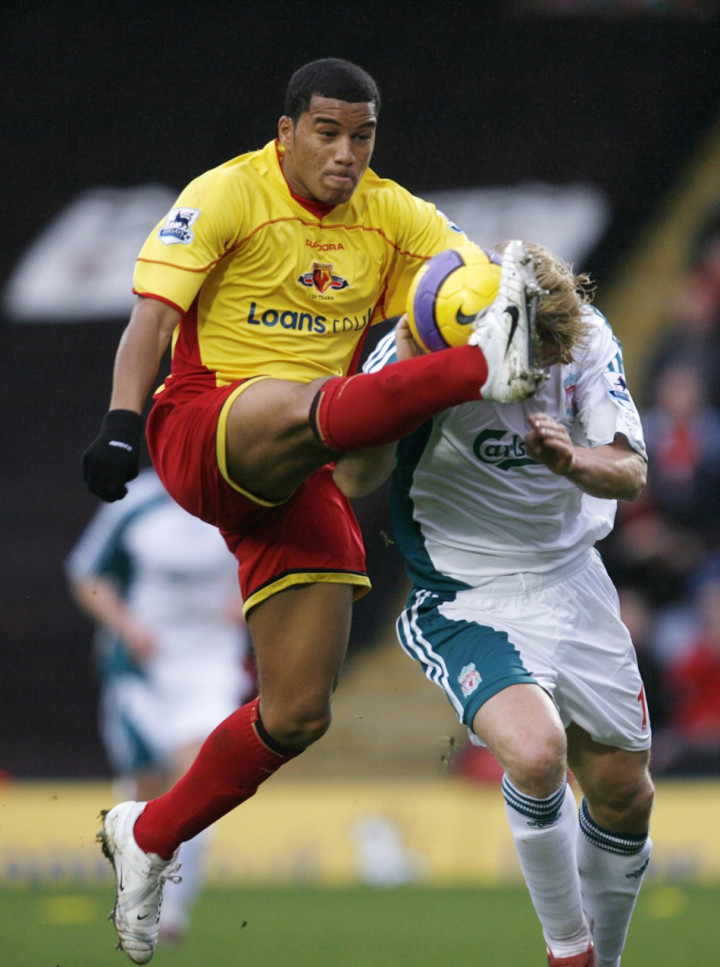 Follow the IBTimes UK Sports' Twitter @IBTimesUKSport.
That's it from us folks, hope you've enjoyed the blog! Check out www.ibtimes.co.uk/sports tomorrow for all the latest on the fallout from transfer deadline day.
2255 Harry Redknapp has been the most vocal of the top six clubs today, and the Tottenham manager had this to say after the side defeated Wigan 3-1. 'Bassong could maybe go on loan to Wolves. I think that's going to happen,' he said. 'We just need to see whether I can take another central defender because I've got William Gallas out long-term through injury. I'm hoping to sign Ryan Nelsen on a free until the end of the season. I think he's a great competitor and a good sort to have at your club. Always liked him. Seb needs to go - his head's down.'
2240 Tottenham have confirmed a deal for Louis Saha to move to the club on loan.
2230 Chelsea have confirmed the signing of Nottingham Forest striker Patrick Bamford. Details on the deal are confirmed here.
2215 Nikica Jelavic, who was unveiled in an Everton shirt at the game tonight, has spoken afterwards about his move to the Toffees. 'It is a big thing for me and it is a new step in my career, a step forward. he said. 'I am very pleased and very excited, it is a new challenge for me. The Scottish Premier League is not as high a level as here in England but I think it will help a lot as it is not so much a big difference. I think I can bring some good football and to score many goals and to try to win some trophies.'
GOAL! Swansea 1-1 Chelsea Jose Bosingwa equalises in the third minute of injury time for the visitors.
GOAL! Tottenham 3-1 Wigan James MacArthur pulls one back for the visitors.
GOAL! Wolves 0-3 Liverpool Dirk Kuyt wraps up the points for Liverpool with a hard, low finish into the bottom corner.
GOAL! Everton 1-0 Manchester City Darron Gibson hands Manchester United a massive boost in the title race with a deflected shot from a Leighton Baines cross.
2115 **DONE DEAL** Manchester United have confirmed the capture of Manchester City defender Frederic Veseli. "I am very happy and it is an honour to sign for Manchester United," the Swiss starlet said. "I can't wait to get started, to work hard and do everything I can to help the team. I am looking forward to showing everybody what I can do on the pitch."
GOAL! Manchester United 2-0 Stoke This time it's Dimitar Berbatov from the spot after Antonio Valencia is brought down by Jonathan Walters.
GOAL! Tottenham 3-0 Wigan Gareth Bale scores his 10th goal of the season after he lashes a low shot past Al-Habsi into the far corner.
2110 **DONE DEAL** Ravel Morrison finally completes his transfer from Manchester United to West Ham for an undisclosed fee. The 19-year-old has signed a three-and-a-half-year deal. "The move has happened very quickly and I'm looking forward to hopefully moving up to the Premier League with West Ham soon. I'm an attacking player and I'm hoping to get the fans on their feet," Morrison said.
GOAL! Wolves 0-2 Liverpool Craig Bellamy runs unchallenged into the Wolves' box before tucking a low shot under Wayne Hennessey. The Wolves goalkeeper should do better with that but Bellamy won't care.
2100 Jelavic is paraded round Goodison Park at half-time and gets a warm reception from the Everton faithful. You can already place a bet on Tim Howards scoring more goals than the Croatian this season. Which is offensive whichever way you look at it.
GOAL! Wolves 0-1 Liverpool Andy Carroll slots one home a year to the day since he signed for the Reds.
GOAL! Manchester United 1-0 Stoke Javier Hernandez sends Thomas Sorensen the wrong way after Jermaine Pennant fouls Park Ji-Sung in the box.
2040 **DONE DEAL** Nikica Jelavic has finalised his transfer from Rangers to Everton for a fee of £5.5m.
2033 Sky Sports reporting that Bolton are closing in on the £4m signing of Watford's Marvin Sordell. The Endland Under-21 starlet pulled out of tonight's game to talk with Wanderers about a move.
GOAL! Swansea 1-0 Chelsea Former Blues midfielder Scott Sinclair tucks away a lovely left-foot shot for his third goal in successive home games.
GOAL! Tottenham 2-0 Wigan Luka Modric doubles Spurs' lead after he reacts quickest to beat Al-Habsi from 20 yards.
GOAL! Tottenham 1-0 Wigan Gareth Bale fires the hosts into the lead. A lovely ball across the 18-yard box from Luka Modric finds Bale who cushions the ball on his chest and flisks past Ali Al-Habsi in the Wigan goal.
2005 Current odds on those Jermain Defoe to Liverpool rumours? 1/5 on SkyBet...
2000 BBC Sport suggest Tottenham and Lokomotiv Moscow have opened negociations over the transfer of Roman Pavlyuchenko. Remember, the Russian transfer window remains open past tonight's 2300 deadline so that deal is not under any time constraints at present.
1943 The Sun claim Ravel Morrison has completed his move from Manchester United to West Ham United. Big transfer for a youngster once described as the 'most naturally gifted midfielder since Paul Scholes'.
1940 Sky Sports reports that Steven Pienaar is unlikely to leave Tottenham Hotspur this month, unless a last-minute deal can be agreed for Juventus' Milos Krasic. Three clubs, including QPR and Everton are rumoured to be interested in the South Africa international but any deal is contingent on Spurs bringing in an alternative.
1935 Jermain Defoe's absence from Tottenham's squad tonight can only mean one thing, right? Probably that he's carrying an injury and definitely not on his way to Liverpool, but we can hope.
1927 BBC Radio Nottingham have confirmed that Chelsea have finalised the signature of Nottingham Forest youngster Patrick Bamford for a fee in the region of £1.5m.
1920 **DONE DEAL** Sunderland have confirmed the loan signing of Greek defender Sotirios Kyrgiakos from Bundesliga side VfL Wolfsburg. Second loan signing for the Black Cats today, with Wayne Bridge also joining the side this morning.
1917 More interesting omissions and inclusions tonight with Roman Pavlyuckenko not featuring for Tottenham in any way and Adrian Mariappa playing for Watford against Milwall. Could this mean a move is on the cards for the former and not for the latter?
1915 Line up for Manchester United v Stoke
Manchester United: Amos, Smalling, Ferdinand, Evans, Evra, Valencia, Carrick, Scholes, Park, Hernandez, Berbatov
Stoke: Sorensen, Wilkinson, Shawcross, Huth, Wilson, Pennant, Whitehead, Palacios, Walters, Jones, Crouch
1909 Line up for Everton v Manchester City
Everton: Howard, Neville, Baines, Hibbert, Heitinga, Fellaini, Gibson, Cahill, Donovan, Drenthe, Stracqulaurs
Manchester City: Hart, Richards, Kompany, Lescott, Clichy, Barry, Milner, Silva, Nasri, Dzeko, Aguero
1905 Line up for Tottenham v Wigan
Tottenham: Friedel, Assou-Ekotto, King, Kaboul, Walker, Bale, Modric, Kranjcar, Parker, Van der Vaart, Adebayor
Wigan: Al Habsi, Boyce, Caldwell, Figueroa, Stam, McCarthy, Watson, Beausejour, Gomez, Di Santo, Moses
1904 Line up for Chelsea v Swansea
Chelsea: Cech, Bosingwa, Ivanovic, Luiz, Cole, Meireles, Romeu, Malouda, Sturridge, Torres, Mata
Swansea: Vorm, Rangel, Caulker, Williams, Taylor, Britton, Allen, Sigurdsson, Dyer, Sinclair, Graham
1903 Line up for Liverpool v Wolves
Liverpool: Reina, Johnson, Agger, Skrtel, Enrique, Spearing, Adam, Henderson, Kuyt, Carroll, Bellamy
Wolves: Hennessey, Foley, Berra, Johnson, Ward, Kightly, Frimpong, Jonsson, Edwards, Jarvis, Fletcher
1901 Away from Europe for a moment, Brazilian side Santos have called Porto's bid for Manchester United target Ganso 'comical', with Goal.com reporting that a fee of €8 million was offered for the playmaker. "Ganso could have gone if there was a proposal consistent to the value and potential of his football," the club said. "Santos, on principle, do not want unhappy players. If he wants to leave and a bid meets our valuation, he can leave."
1856 A sign of an impending deal? Hugo Rodallega hasn't been included in the Wigan squad set to face Tottenham tonight.
1853 Arsene Wenger has spoken to the official Arsenal website about new signing Thomas Eisfeld. "He is a young prospect with good footballing talent," he said. "He has the good ingredients that could allow him to integrate into the quality of our team - the basics are technique, good movement and skill. We believe that he has a chance to develop well here.
"How much first-team football he has depends on him. Basically we planned to get him at the end of the season but we got him a bit earlier because he was at the end of his contract. We will use this period for adaptation."
1851 **DONE DEAL** Borussia Dortmund attacking midfielder Thomas Eisfeld signs for Arsenal on a long-term contract.
1850 Twitter update from the country's journos as deals come closer to being decided.
@SkyGraemeBailey Newcastle waiting on Mariappa. Player wants move, but Watford standing firm and Magpies won't up bid.
@richard_conway Understand that Bobby Zamora is undergoing his medical at QPR but talks over personal terms to continue this evening.
1844 Chelsea are still said to be trying to broker a deal for Nottingham Forest striker Patrick Bamford. Steve Cotterill said earlier that talks are taking place, and the Blues could come to an agreement yet before the next four hours are over.
1837 Still no official word from Tottenham on whether their move for Louis Saha is concrete. Meanwhile, as Chelsea prepare to face Swansea, January signing Gary Cahill is set to start in defence.
1830 Reports circulating that Bobby Zamora is currently having a medical at QPR. Deal is becoming more and move likely by the minute.
1810 Nikica Jelavic set to be unveiled at Everton ahead of their game against Manchester City this evening.
1807 The transfer window in italy is now closed, so that means Carlito is definitely not on his way to AC Milan. Still the possibility of that PSG move though...
1800 Sky Sports is reported that Roma midfielder David Pizarro has arrived in Manchester ahead of talks with City.
1750 Adrian Mariappa has reportedly down a move to Wigan with the 25-year-old Watford defender reportedly set on a move to Newcastle. Alan Pardew revealed earlier that he has already submitted a final bid for Mariappa so we'll have to sit tight and see if there is any more news before tonight's game against Blackburn.
1746 **DONE DEAL** Fulham have completed the signing of 28-year-old Stuttgart striker Pavel Pogrebnyak.
1725 Wayne Rooney has silenced any rumours that he may leave Manchester United this window, writing on his twitter: 'Haha these rumours are false. I've said before ill be at United for a long long time.'
1722 He's no longer a realistic target for Manchester United, but Wesley Sneijder appears to be becoming increasingly unhappy at Inter Milan. The playmaker was hauled off the pitch at half time against Lecce, and says he wants to have a word with the manager about it. "The coach's decision. I'll probably talk with him about it tomorrow," he snapped at a press conference after the match. United fans will be hopeful that in the summer he'll be available, and if he's unhappy, his wage demands could decrease too.
1717 Away from deadline day talk for a second, and there are managers with games on their minds for tonight as well as transfers. Check out the fixtures for tonight's Premier League matches, with Tottenham in particular playing a side who they may be hoping to poach a player from:
Swansea v Chelsea, 19:45
Tottenham v Wigan, 19:45
Wolverhampton v Liverpool, 19:45
Everton v Man City, 20:00
Man Utd v Stoke, 20:00
1707 Carlos Tevez is now at even odds to sign for AC Milan. Talks are obviously progressing for the Manchester City striker to exit before 11pm, which will surely be a sigh of relief for Roberto Mancini.
He might be far far away from the bench, let alone the pitch at the moment, but here are some highlights from when the Argentine was at his best for City:
1659 Some comments from Wayne Bridge, who has made the move from Manchester City to Sunderland on loan. The left-back was the subject of some negative comments from Roberto Mancini at the start of the month, and he couldn't be happier to be making a new start for the Black Cats. 'I'm delighted to make the move,' he said. 'I have met the manager and the lads and everyone seems great. I'm just excited to start playing football and playing a few games. The club is on the up - the manager has come in and done very well. Just coming in and speaking to him, everything has been positive. I have trained with the lads and they are a great bunch who are feeling really positive.'
1655 Newcastle are looking unlikely to sign two targets today, with both Adrian Mariappa and Ravel Morrison set for other clubs. Read the full story from Gordon MacCrae here.
1653 Bobby Zamora is still at Loftus Road discussing personal terms with QPR. The striker reportedly has high wage demands that the club are working hard to meet. If he does indeed sign with the Hoops before 11pm, that will make for the side's second signing of the day, with Djibril Cisse also joining. Both are over the age of 30 - is the club just concentrating on staying in the top tier this season?
1642 Meanwhile, Tottenham are still in the running for Hugo Rodallega, with Roman Pavlyuckenko likely to exit before 11pm, and Manchester City are in talks with Roma star David Pizarro while they still try to offload Carlos Tevez to AC Milan. Phew! Who said this would be a quiet day?
1635 let's have a quick recap of the big teams so far.
Arsenal are closing in on Dortmund youngster Thomas Esfield, and could make a last minute bid for Adrian Mariappa if they can offload Andrey Arshavin and Sebastien Squillaci.
Chelsea, meanwhile, have sold youngster Philip Prosenik to AC Milan, and in turn signed starlet Kevin de Bruyne who will move to Stamford Bridge in the summer.
Manchester United are set to lose Ravel Morrison to West Ham, but will possibly gain Manchester City youngster Frederic Veseli.
Liverpool have yet to confirm any new faces, though Swedish goalkeeper Kristoffer Nordfeldt has claimed talks are taking lpace over a move. Kenny Dalglish also insists there'll be no activity today to mirror last year's record deals at the club.
1631 Word is out from Steve Kean regarding Chris Samba's departure to either QPR or Tottenham. Both clubs have been very busy today, and could make last minute bids, but Kean insists his prized defender isn't leavingBlackburn. "We want him to get his head round the fact that he's going to be here," Kean said, as reported in the Daily Mirror. "In the last window, and even before that, as soon as the window closed, he got his head down and got on with it. His performances were excellent and there's no reason why he can't play like that again. It's never nice when someone hands in a transfer request. But it's a two-way thing and we didn't accept his request. We want him to be part of what we are trying to do this season."
1626 A little tweet update from some journos around the country as deadline day hits it's final seven hours.
@Stevo_football There's been no contact from Liverpool about Newcastle's Demba Ba. Fair to say no-one's expecting any either #transferdealineday
@Iandennisbbc Good news for #FFC and #MCFC both Pizarro and Pogrebnyak have been granted work permits @BBCSport #bbcfootball
@DMworldfootball Michael Ballack's agent dismisses speculation his client will be leaving Leverkusen. "Michael will definitely not move today," Becker said.
1617 Here's the lowdown on Manchester United's play for Manchester City youngster Frederic Veseli. Would United fans be satisfied if this is the only addition to the squad today?
1608 It's a big contrast to the summer deadline day for Alan Pardew, and the Newcastle manager is still in the midst of multiple deailngs this time around. But Pardew appears a lot more relaxed as he prepares for 11pm, telling reporters: 'We have had a few enquiries, but not of our big key players, some of the lesser players who are trying to find some experience, and one or two of those might go out - [James] Tavernier, for example. Alan Smith has obviously gone and we wish him well because he is a fantastic professional. But the big players, no, we have been pretty quiet.'
1555 Smiles all round at QPR where Djibril Cisse has finalised his transfer from Lazio: "I have unfinished business here in England," Cisse said. "The English league is the best in the world. It is the league that suits me the most." And Mark Hughes sounds chuffed as well: "I've watched him for many years and always been impressed by what he brings to the table. He's a huge threat to opposition's defences. He's got great pace, power and movement and that's something we will hopefully benefit from."
1550 New Chelsea signing Kevin De Bruyne on his transfer from Racing Genk: "Three years ago I was playing with the young guys in Genk, but now I am making a transfer to Chelsea, it's almost impossible, a real dream come true."
1545 Afternoon recap: Wayne Bridge has completed a loan switch to Sunderland; but Carlos Tevez is no closer to securing a move to AC Milan, PSG appear firmly out of the running. No official word on Rangers' striker Nikica Jelavic toEverton but Bolton have signed Arsenal prodigy Ryo Miyaichi on loan. Tottenham are closing in on Everton striker Louis Saha and have also been linked with a late move for Milos Krasic.
1530 One for Bolton fans, career highlights of Arsenal loanee Ryo Miyaichi:
1517 Here's AC Milan coach Massimiliano Allegri on a possible move for Carlos Tevez: "Tevez? I spoke with Galliani yesterday and there is no hope as yet."
1505 Despite Joe Jordan's claims yesterday it's been a busy day for Tottenham today. The club have confirmed that Vedran Corluka has joined German side Bayer Leverkusen on loan for the rest of the season.
1502 @OfficialBWFC: "Wanderers can confirm that Japanese youngster Ryo Miyaichi has signed on loan from Arsenal for the remainder of the season."
1455 @djibrilcisse1: "I want to thank all the Lazio fans and everyone I've met in these months for their affection and support," he wrote in Italian. "I'm sorry if I've been a disappointment for some people but I want to say that I've always given 100%."
1447 QPR have agreed a £4m fee for Bobby Zamora, according to the BBC. The Fulham striker will nip across west London to undergo a medical and agree personal terms this afternoon.
1439 Joe Jordan, Tottenham coach, has refused to be drawn on speculation the club could swoop for Juventus winger Milos Krasic: "I cannot say too much about the club's intentions," he told Sky Sports.
1431 Looks like that Tottenham interest in Loic Remy was very real, as Marseille president Vincent Labrune claiming that Spurs put in a big money bid for Loic Remy. "In January, I have two deals to manage," he told L'Equipe. "That of Lucho [Gonzalez], who wanted to leave, and that of Remy, who Tottenham wanted to sign. I do not think any other president in France would have refused the ​​enormous proposal the London club made." More at Goal.com
1424 'Defoe to Liverpool' is currently trending on twitter, and the odds for the Tottenham striker to make the move before 11pm have shortened as well. The deal looks particularly unlikely though, with Kenny Dalglish insisting today that he won't be doing any business before the window shuts. "Nothing is happening at all and we don't anticipate it to either. Last year was a bit manic but there'll be nothing this time," he said. "There's no need for us to pass comment on anything that's been speculative in any way shape or form. We've said what's going to happen, and that's nothing. It's quiet."
1415 Some quick stats on Tottenham target Rodallega. The 26 year old has made 17 appearances for Wigan this season, scoring two goals in his last three games for the side. He has 40 caps for the Columbia national side, and has scored eight times in international football. He can play either up front or on the wing, and his contract at Wigan is up in the summer, prompting the club to be will to listen to offers.
1412 More Tottenham transfer news, and Wigan chairman Dave Whelan says he's braxing himself for a bid from Spurs for Hugo Rodallega. "It might make sense to cash in now. But if he stays with us to the end of the season he can help us stay up, which would be worth far more than a transfer fee," he said. "We are used to Tottenham making a last minute bid on transfer deadline day, and by last minute, I mean the very last minute. I have seen Spurs linked with Rodallega for some time, but we have not received a bid, not even an inquiry as far as I know. That doesn't mean they won't make a bid, but if they do they always leave it late, very late."
1404 Some more odds if you're feeling like having a flutter today. Welsey Sneijder is currently 7/1 to move to Manchester United, while Eden Hazard is 11/2 to head to Chelsea and Demba Ba is 9/4 to move to Liverpool - shorter odds than you'd expect after the Reds haven't had that much luck with Newcastle strikers so far.
1357 The press conferences are starting, and Sunderland have confirmed the signing of Manchester City's Wayne Bridge on a loan deal. Martin O'Neill said the following of the left-back: 'I'm hoping that with Wayne's undoubted experience and ability he can be a big help to the team until the end of the season. I'm very pleased to have him here and with the number of injuries we've sustained recently I'm sure he'll be a great help to us.'
1350 A player coming to Manchester United! And from Manchester City! Former Under 17 Switzerland international Frederic Veseli is said to be on the brink of a move to Old Trafford. His agent says to expect news very soon on the possible deal. The 19 year old is yet to make a senior start for City, but Sir Alex Ferguson is said to hold him in high esteem.
1347 Manchester Evening News are reporting that David Pizarro's agent is on the way to Manchester City. A deal for the midfielder is looking close to being confirmed.
1343 Ever wondered what it would be like to check out your name in lights and earn more money than Cristiano Ronaldo? Sky Sports looking on the fun side of deadline day here.
1340 Ouch, this will be tough to swallow for Tottenham fans... @EPLStuff: Louis Saha, who is rumoured to be moving to Tottenham, has not scored in 15.75 hours of PL football.
1337 Steve Parish has called Bolton's bid for Wilfried Zaha an insult, telling reporters: "We have had a bid from Bolton that isn't worth talking about and no one is going anywhere. I think that after the financial problems the club has been in previously, many people seem to think they can kick us in the nuts. As for the figure of £7m - I don't know where they got that from. I'm very happy, though. No one has given us a decision to make so it's where we want to be."
1335 Daily Mail are claiming that Arshavin to exit Arsenal rumours are very real. The Daily Telegraph is also claiming that Sebastien Squillaci could leave today, prompting a last minute bid for current Newcastle target Adrian Mariappa.
1325 For the latest on the Carlos Tevez saga and David Pizarro's move check out Vanessa Keller's latest.
1315 Alan Pardew has confirmed Newcastle United have submitted a final offer for Watford's Adrian Mariappa.
1305 Louis Saha to Tottenham looking like a DONE DEAL, according to the BBC. A surprising move that, from Harry Redknapp but could be a useful addition to the squad. Sky Bet reporting Liverpool now 6/4 to sign Defoe...
1255 Roman Pavlyuchenko's agent has left the door open for a late transfer, although he rubbished reports of a training-ground bust-up at Tottenham: "All this about the conflict with the coach is rubbish," Oleg Artemov told RIA Novosti - via Sky Sports. "There was no conflict, the scenario was entirely dreamt up." Adding: "We're not rushing into any decisions. We are in negotiations with [Tottenham chairman, Daniel] Levy. Tonight everything will be sorted out."
1245 David Pizarro's agent has revealed the striker will fly to Manchester this afternoon to complete his loan deal to City: ""We will fly to England at 1400 hours," he said. "The problems relating to a work permit have been resolved and Manchester City will ask for a dispensation regarding his national team appearances."
1235 @themichaelowen: "Love transfer deadline day. Off to watch our match tonight then back home to catch up on all the movers and shakers!!!"
1225 Everton have confirmed they have agreed a fee with Glasgow Rangers for Nikica Jelavic as they look to bolster their attacking options. Jelavic's arrival could pave the way for that Louis Saha to Tottenham story that was doing the rounds earlier.
1220 Bad news for Bolton and Manchester United fans as @mattslaterbbc: "Crystal Palace chairman Steve Parish has just told me that Wilfried Zaha and Nathaniel Clyne are 'going nowhere'."
1215 Reputed former Arsenal target Lucho Gonzalez. The Argentina international has agreed to return to Porto after two-and-a-half seasons at Marseille.
1208 The Sky Sports conjecture ticker is metaphorically shouting that AC Milan have reopened talks with Manchester City over Carlos Tevez. Cue video footage of the Argentine wheeling another trolley through Heathrow departures.
1205 Just under 11 hours to go.
1203 Rumours have just come up claiming that Andrey Arshavin is poised for an exit from Arsenal today. He's certainly out of favour, and if he leaves it could make way for a last minute playmaker signing for the Gunners. Arsene Wenger is said to have initiated discussions with big spending Russian outfit Anzhi Makhachkala for the sale, according to Eurosport.
1200 Tony Fernandes has just tweeted regarding QPR's moves today:' Love it how you guys think we are doing nothing. Don't worry all fingers pulled out. Wonder where the fingers were in the first place.'
1155 The betting odds are in favour of Carlos Tevez joining QPR before 11pm if he does leave the Emirates, with the striker 4/1 odds to make the move to Rangers. He's odds on to stay at Manchester City, with 1/4 being offered bySkyBet. Meanwhile Chris Samba is 2/1 to go to QPR as well, and 10/3 to go to Tottenham.
1150 Tottenham look set to be very busy today, despite their manager currently having other things on his mind. QPR are set to resume talks with Spurs over a deal for Steven Pienaar, according to the Daily Mail, and the north London side could make a move for a replacement winger.
1135 The Guardian has mapped out the details surrounding Ravel Morrison's move to West Ham, and it's not painting the best picture of the Manchester United youngster's agent. According to the report, the agents involved in the transfer are demanding a fee of £1 million.
1132 Fulham striker Bobby Zamora is currently in talks over a move to QPR, according to numerous reports. Could be a big coup for Rangers, having scored seven times in 30 appearances for the Cottagers this season.
1124 Some tweets from Journos around the country:
@SkyGraemeBailey Fulham ready to let Bobby Zamora join QPR, as they still hope to complete Pavel Pogrebnyak and Hugo Rodallega
@James_Fielden The only incoming for Wolves looks to be Liverpool's 16-year-old striker David Moli who is set to join the academy #wwfc #lfc
@DuckerTheTimes Sunderland and Houston Dynamo were interested in signing Davies permanently, WBA and Wolves on an initial loan with view to permanent deal
1118 Wayne Bridge is still undergoing a medical at Sunderland. Does this mean Arsenal's pursuit of a left back has completely died?
1116 Nottingham Forest have confirmed that Chelsea have made a £1.5 million bid for striker Patrick Bamford. "There has been a bid for him from Chelsea, it is for £1.5million," Steve Cotterill told the Nottingham Evening Post. "The problem we have is that Patrick has been offered a couple of contracts now and I am not sure he will sign a new contract at Nottingham Forest. We are going to have a meeting to decide where that goes. What materialises, we will find out shortly." Check out his goal against Southampton below:
1111 Here's the latest on Tottenham's chase of Louis Saha. Would Spurs fans prefer Saha in the forward line to Pavlyuchenko?
1107 Everton fans must be rejoicing this transfer window - if Rangers striker Nikica Jelavic passes his medical and joins the club today for a reported £7 million fee, the club will have finally spent some of the money they took in from Mikel Arteta's deal in the summer. Comparin Everton's summer buys to January:
Summer: Scottish forward James McFadden on a free transfer; American goalkeeper Marcus Hahnemann from Wolverhampton; Argentinean forward Denis Stracqualursi on loan from Tigre; Dutch midfielder Royston Drenthe on loan from Real Madrid. TOTAL SPENDING: £0
Winter: Irish midfielder Darron Gibson from Manchester United for a fee of 0.6m; American forward Landon Donovan on loan from LA Galaxy; Croatian forward Nikica Jelavic from Rangers for a fee of £7m. TOTAL SPENDING: £7.6 million
1100 Things are looking pretty quiet around the Chris Samba front - Steve Kean has a press conference at 1:30pm so the Blackburn boss will no doubt be pressed on whether he's considering selling his rogue defender. Tottenham andQPR are said to be front runners, while rumours of Newcastle chasing have been quashed.
1056 Arsenal starlet Ryo Miyaichi could be set for a loan deal to Bolton, if the Daily Mirror is to be believed. The 18 year old could be keen on the deal to get more game time in the Premier League, and Owen Coyle is said to be trying to convince Arsene Wenger to hand ove the youngster until the end of the season.
1054 AC Milan have confirmed a deal for young academy striker Philipp Prosenik from Chelsea. Does this mean they're no longer interested in Carlos Tevez?
1048 Liverpool are close to finalising the transfer of Swedish goalkeeper Kristoffer Nordfeldt after the player revealed he has reached an agreement with the Anfield side. Read the full story here.
1045 BREAKING: Roma confirm Manchester City are in talks with David Pizarro. "For our transfer market, I would say that there will be no surprises, we're just trying to close with City for (David) Pizzaro. We are looking at a loan, we hope to reach an agreement by tonight," Roma general director Franco Baldini said.
1041 We thought Manchester City would only be getting rid of Tevez today, but the club have gone and surprised us if rumours are to be believed with a possible purchase - David Pizarro from Roma is reportedly a deadline day target for the club, and could be set for a last minute deal. Check out his skills against Fiorentina below - could he make City even more lethal?
1035 An update on the possibility of Roman Pavluychenko leaving Tottenham - the striker's agent Oleg Artemov told Russian news agency RIA: 'All this about the conflict with the coach is rubbish. There was no conflict, the scenario was entirely dreamt up. We're not rushing into any decisions. We are in negotiations with [Tottenham chairman Daniel] Levy. Tonight everything will be sorted out.' Possibility of an exit looking quite likely, in which case Spurs could be in search of a last minute replacement striker.
1026 West Ham are on fire this transfer window! The club are said to have opened talks with Bristol City breakthrough star Nicky Maynard. If they can pull off the deal for the 25 year old, who has been the subject of interest from Wiganand Wolves, it will be a big start to the day for the Hammers who have already come close to signing Manchester United youngster Ravel Morrison.
1022 Tottenham are reportedly hoping to get a loan deal for Everton's Louis Saha, according to Daily Mail sources. But the deal is said to be dependent on whether Roman Pavluychenko exits the north London club today. Spurs gave the striker a contract extension at the start of the month, but he's still said to be considering a move away in search of first team football.
1016 Check out this brilliant hattrick from new Chelsea signing Kevin de Bruyne against Club Brugge. No wonder they see a future European talent in the Belgian.
1013 Wilfreid Zaha has just tweeted regarding rumours of a move to Bolton: 'Can everyone just stop tweeting and pinging me about Bolton #leaveitout.' He followed it up with: 'Look forward to tonight's game'.
1004 Read the full story on Kevin de Bruyne's move to Chelsea here, with the youngster set to stay at Genk on loan until the end of the season.
0950 Out-of-favour Tottenham midfielder Giovani Dos Santos looks likely to remain at White Hart Lane after he rejected interest from Russia and the USA, according to his agent.
0935 The Kevin De Bruyne deal is for a fee believed to be in the region of £7m and will see the youngster stay on loan with Genk before joining Chelsea at the end of the season.
0930 Arsenal are in talks to sign Borussia Dortmund youngster Thomas Eisfeld after the midfielder arrived in London for a medical, the Daily Mail reports.
0925 Wilfried Zaha is reportedly the subject of a £7m from Bolton. The Crystal Palace starlet was linked with Liverpool earlier this month but appears close to a move to the Reebok, according to the BBC.
0920 **DONE DEAL** Racing Genk have confirmed the transfer of Kevin De Bruyne to Chelsea.
0915 BBC correspondent @DanRoan reports that "Spurs' Croatian defender Vedran Corluka on verge of loan to Bayer Leverkusen. Expect deal to be done by end of today."
0910 Presumably, everyone knows the deal here. English and Scottish clubs have until 2300 BST to finalise any transfers, after which the window slams shut until the summer. Just under 14 hours to go.
0908 Sky Sports has a handy "Totaliser" on its website. Premier League clubs have spent a combined £27,900,000 in January. How much higher is that likely to go today? In all honesty, probably not a lot.
0900 My colleague Vanessa Keller has written about Manchester United youngster Ravel Morrison, who appears to be close to a signing for West Ham. Interesting move if that one comes off. Prodigious talent but will Big Sam be able to keep him in line?
0850 Former Liverpool striker Djibril Cisse is due in London today to discuss terms with QPR, according to Sky Sports. The Frenchman has been at Lazio since the summer but has struggled to hold down a place in the first team and could be allowed to leave today.
0845 Those Andy Carroll-Carlos Tevez swap stories refuse to go away but Manchester City boss Roberto Mancini insists he hasn't spoken with the club's hierarchy about a deal. "I never heard of this," Mancini told Sky Sports on Monday. "Carroll
is a good player, he is young and strong but it would be difficult and I don't think [it is going to happen].
0840 Wayne Bridge appears set to move from Manchester City to Sunderland, with the defender due on Wearside this morning for a medical, Sky Sports reports.
0830 There has been little activity from any of the 20 Premier League clubs so far and across Europe the situation has been similarly quiet. Surprisingly, it's Everton that have been the most active participants in the January merry-go-round. Darron Gibson arrived earlier in the month and Rangers striker Nikica Jelavic is reportedly close to agreeing a deal, according to the BBC.
"@philmcnulty Nikica Jelavic to Everton almost done but David Moyes may try for one more. PSG striker Guillaume Hoarau still a loan target."
0815 Both Arsenal and Tottenham could be busy today. The Gunners are still in the market for cover at left-back, while Spurs can usually be counted on to pull something out the bag late on. Vanessa Keller has had a look at both squads and you can read her two cents on the likely Arsenal and Tottenham activity here and here.
0800 Good morning. Today marks the culmination of the last month of transfer news, rumour and gossip. The final 24 hours of the 2012 January window is unlikely to throw up anything quite as ridiculous as events 12 months ago but there's enough interest to sustain us over the next 15 hours. Hold tight.