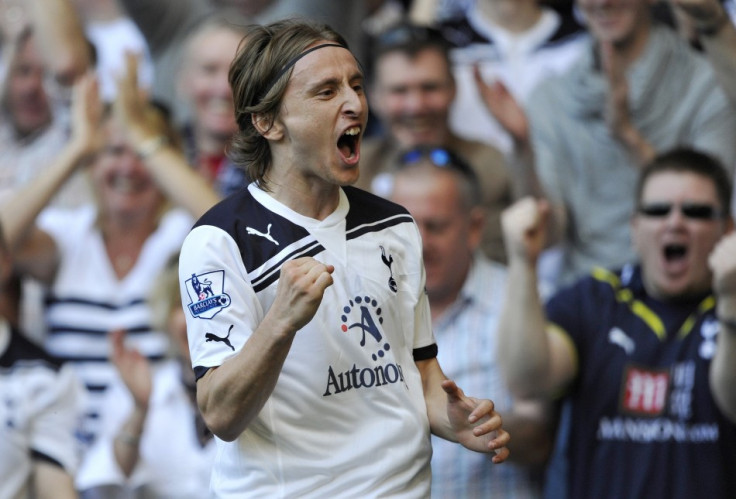 The pick of today's Premier League, Serie A, La Liga and Bundesliga football transfer rumours, news and gossip for 26 August, 2011. All the latest transfer rumours surrounding Man Utd, Chelsea, Arsenal, Liverpool, Tottenham Hotspur, Manchester City, Bayern Munich, AC Milan, Inter Milan, Juventus, Roma, Barcelona and Real Madrid will be covered here.
Harry Redknapp has said that he expects Luka Modric to stay at White Hart Lane this summer.
BBC Sport has reported that Harry Redknapp has called an end to the transfer saga claiming that Modric will stay at Tottenham. The transfer saga wants a move to Chelsea but after a meeting with Tottenham chairman Daniel Levy Thursday, Modric has been told he will not be sold. Harry Redknapp is said to be pleased the transfer sage is over as reports surfaced Friday that Chelsea will increase their offer to £40m.
"He'll (Modric) be playing on Sunday for sure," said Redknapp.
"I think there was a meeting. Daniel just said the same thing, he's not for sale. It's been difficult for him but we want him to stay and he will stay. He should be fit for Sunday. He could have kicked up and been a problem and if he had done it would have been difficult to keep him" Redknapp continued.
The Daily Mail reports that Arsenal has made an offer for Bolton's Gary Cahill.
The England international has been the subject of transfer speculation all summer but Arsenal are said to have made the first concrete offer for the player. According to reports in the newspaper Arsenal has made an opening offer of around £6m with add ons, some £11m below Bolton's valuation of the player. Bolton has rejected the offer out of hand and Arsene Wenger will need to increase his offer of he is to land the England international.
Manchester United chief executive David Gill has said that the club will not purchase any more players this summer.
Speaking after the Champions League draw was made Thursday, David Gill confirmed that Manchester United have been in talks with a number of clubs but will not invest any more money this summer. David Gill has also brought to an end the possibility that Wesley Sneijder could join Manchester United this summer.
"I don't think so. We've looked at various players but we're very comfortable with our squad. We've made some great additions in the summer and we've got a young, vibrant squad," Gill said.
"We look forward to a great season now as, I'm sure, will a lot of other clubs. A lot have strengthened, in England in particular, but we feel we're well equipped for the months ahead. We'll progress now and I'm sure Alex will get the best out of the players over the season," the Manchester United chief continued.
Reports today also confirm that Tottenham manager Harry Redknapp is keen to sign Joe Cole but the Liverpool man will have to take a pay cut to end his Anfield nightmare.
La Liga
Tottenham boos Harry Redknapp is still keen on signing Real; Madrid midfielder Lassana Diarra, The French midfielder said in Thursday that he was not expecting a deal to be done with the club but Harry Redknapp has said that there is a 'good chance' Diarra will sign for the club, reports Sky Sports.
"Things haven't broken down," said Redknapp. "There is still a good chance. The chairman is working on it," Redknapp told Sky Sports
"I signed him at Portsmouth and they sold him for £22million. He's real talent, a fantastic player and it's a real possibility still," he added.
Serie A
Reports in Italy claim that Diego Forlan is just days away from finalising a deal to join Inter Milan. Both Atletico Madrid and Inter Milan are said to have agreed a fee of around £4m for the player and Forlan has entered advanced talks with the Italian giants.
Bolotnikoff stated: "There has been contact with Inter and there is an opportunity for Diego to wear the Nerazzurri jersey. We have to review everything on Thursday or Friday [at] the latest," Forlan's agent said.