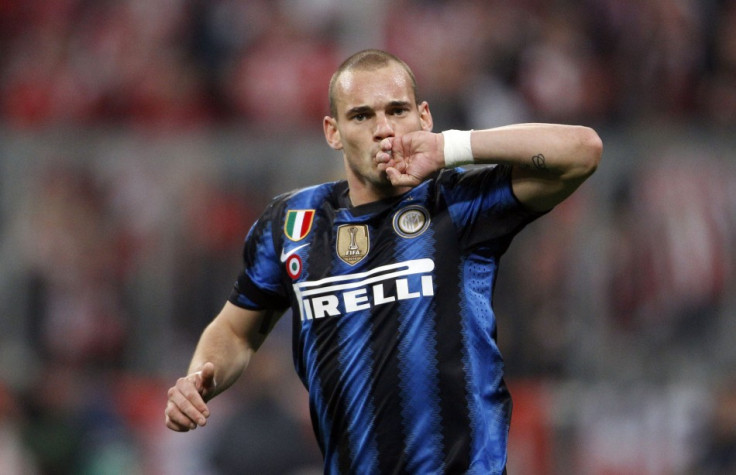 The pick of today's Premier League, Serie A, La Liga and Bundesliga football transfer rumours, news and gossip for 5 August, 2011. All the latest transfer rumours surrounding Man United, Chelsea, Arsenal, Liverpool, Tottenham Hotspur, Manchester City, Bayern Munich, AC Milan, Inter Milan, Juventus, Roma, Barcelona and Real Madrid will be covered here.
The Telegraph has reported that Arsenal have given Barcelona eleven days to make an acceptable offer for Cesc Fabregas. The north London side have said that they will not accept a bid for less than £40m but Barcelona have said they will pay nothing over £35m.
Arsenal find out their opponents for their Champions League qualifying tie later today and have reportedly told Barcelona that they will play Fabregas in that game, making him cup tied for the whole of the 2011/12 Champions League. It would almost certainly bring an end to any deal for the player. Barcelona are said to be ready to make a new offer to Arsenal this weekend in order to prevent the situation occurring.
Manchester United has also given an ultimatum to one of their main transfer priorities this summer. According to the Daily Star, Manchester United has put a two week deadline for Wesley Sneijder to decide whether he will join the club this summer. The paper claims that Manchester United have been working for two months on a potential deal and have now lost patience with the player. It is believed talks have stalled over Sneijder's wage demands with David Gill readying a take it or leave it offer to the player.
The Daily Mirror reports that Manchester City could still sign Samuel Eto'o this summer after a row between the player and new Inter Milan boss Gian Piero Gasperini. The two had a training ground bust up ahead of the clubs Italian Super Cup match with AC Milan on Sunday and the newspaper claims that Eto'o immediately went to the clubs president Massimo Morratti asking for a transfer. Roberto Mancini is said to now be ready to make another offer of a straight swap for Eto'o and Carlos Tevez.
Paris Saint Germain are said to be ready to offer Joe Cole a way out of his Liverpool nightmare. The England player signed for the club last summer on a free transfer but endured a nightmare first season and his future at the club has been in doubt for some time. Cash rich PSG believes that Kenny Dalglish will accept a free transfer for the player in order to get Cole off the pay roll. Cole is reportedly earning £90,000 per week and Dalglish is keen to clear 30 plus high earners out of the club.
Arsenal and Tottenham target Chris Samba has been valued at £12m by Blackburn Rovers. The Lancashire club are said to be reluctant to sell their prized asset after allowing Phil Jones to join Manchester United last month. Blackburn believe that the price tag is enough to fend off the interest of both Arsenal and Tottenham as neither club have offered more than £10m thus far. Despite Samba saying he wants to join a bigger club, Blackburn have stood firm in their valuation and have said they will only accept a cash only £12m offer for the highly rated defender.
Serie A
AC Milan have been dealt a blow in their pursuit of Chelsea striker Solomon Kalou after the Ivorian international said he had no intention of leave Stamford Bridge this summer. It was believed that Milan would accept a £20m bid from Chelsea for star striker Pato if they received Kalou in exchange but the striker has rejected the rumours on Twitter.
One fan asked the player: "Are you going to join AC Milan? That's what people are saying."
Kalou replied: "No I am not."
La Liga
Barcelona are said to be ready to rival Real Madrid's pursuit of Santos wonder kid Neymar. The player has been the subject of intense transfer speculation all summer with Real Madrid keen to sign the player this summer. It was belived that Neymar would sign for the Madrid club but the news that Barcelona are ready to throw their hat into the mix will no doubt confuse the transfer.
Luis Alvaro Ribeiro last month revealed that the likes of Real Madrid and Chelsea were ready to meet Neymar's £40million release clause, although he insists that he will not let his prize asset leave the club. And while Real Madrid are widely seen as favourites ahead of Chelsea to sign the forward - with Neymar's agent this week claiming transfer talks with Jose Mourinho's side would take place next January - Ribeiro has revealed that Barcelona have also been in contact.
"[Barcelona president Sandro] Rosell has asked me about Neymar, but we do not want to sell him, at the earliest, until next year. I have spoken to Rosell, he is an interesting and elegant man, like [Real Madrid president Florentino] Perez," he told Al Primer Toque: