President-elect Donald Trump's controversial inauguration ceremony was dealt another blow on Saturday as Jennifer Holliday, star of the Broadway production Dreamgirls, became the latest in a string of celebrities to announce she would boycott the ceremony.
After struggling to line up acts for the ceremony in the first place, a number of those already booked have now decided not to participate.
Having been snubbed by British singers Charlotte Church, Rebecca Fergusson and Elton John, Trump has lined up 2010 America's Got Talent runner-up Jackie Evancho, the Mormon Tabernacle Choir (leading to one member resigning) and the precision dance troupe The Rockettes (over the objections of some members).
Performers at outgoing President Barack Obama's inauguration ceremonies included Aretha Franklin, Kelly Clarkson, Jennifer Hudson and Beyoncé Knowles.
Jennifer Holliday – Broadway singer
The Broadway star announced on Saturday she would no longer perform at the ceremony after a backlash by the LGBT community to whom she said she owed her career
In an open letter, she said when she agreed to perform she "did not take into consideration that my performing for the concert would actually be taken as a political act against my own beliefs and be mistaken for support of Donald Trump and Mike Pence".
John Lewis – civil rights activist and Representative for Georgia
Georgia Democrat and veteran civil rights activist, John Lewis said he would not attend Trump's inauguration on Friday (13 January), because he said he did not see Trump as a "legitimate president" in light of claims that Russia had intervened in the democratic process. Trump was widely criticised on Saturday following his Twitter-based riposte at Lewis.
Nearly 20 other members of the US Congress have also said they will not attend the inauguration ceremony, including: Luis Gutiérrez (Illinois), Katherine Clark (Massachusetts), Jared Huffman, Barbara Lee, Mark DeSaulnier, Mark Takano, Yvette Clarke, Ted Lieu, Judy Chu (California), Raúl Grijalva (Arizona), Jerry Nadler, Nydia Velazquez, Jose E. Serrano, Adriano Espaillat (New York), Lacy Clay, John Conyers (Missouri), Kurt Schrader, Earl Blumenauer (Oregon) and Pramila Jayapal (Washington).
Jan Chamberlin – Mormon Tabernacle Choir member
A long-time member of the choir which participated in the ceremonies of Lyndon B Johnson, George Bush Snr and George W Bush, Chamberlin went as far as to quit the choir altogether over the decision to perform.
In an open letter, Chamberlin criticised what she saw as divide and conquer tactics of the incoming President adding she would not "…'throw roses to Hitler.' And I could certainly never sing for him."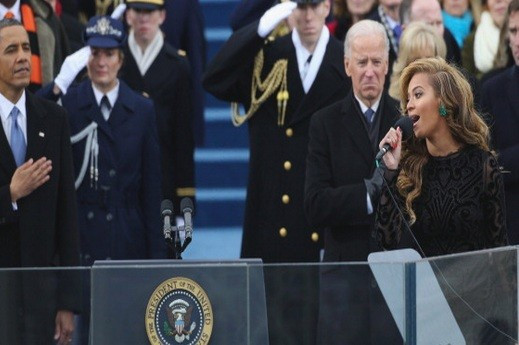 Other stars to turn down a place on stage at an event due to a global audience of millions included Celine Dion, Moby and Andrea Bocelli, according to reports.
With over 200,000 women set to march on Washington the following day, pressure will now undoubtedly mount for members of the Rockettes to follow Jennifer Holliday.
However, not everyone agreed with the rhetoric of Trump's critics.
Star Trek actress Zoe Saldana, who plays Lieutenant Uhura voiced her reluctance at jumping on the Trump-bashing bandwagon, telling AFP that those against the future president of the US had "created empathy" for Trump. She said: "We got cocky and became arrogant and we also became bullies."