Donald Trump may be struggling to get big-name entertainers to perform at his inauguration,but at least he can rely on Floyd Mayweather to bring the superstar factor. The boxing champ has revealed that he will be attending the ceremony – dressed to the nines.
When TMZ recently caught up with him, he said: "Am I going DC? ya''ll see we at DC looking good. I got my tux and everything ready. All black affair. Bow tie or regular tie?"
Offering his two cents on the soon-to-be 45th president of the United States, he said he would give him a chance to make true on his promises, adding that people were often too critical. "We don't know what could happen in life. The only thing we can do is keep our fingers crossed, pray, and hope for the best," he told the publication.
Mayweather continued:"I like everybody, I have nothing against nobody. He's never been mean to me. Donald trump came out to support me for the Manny Pacquiao fight, I was appreciative for that.
"A lot of times what we do is we judge people that we really don't know. So I'm not here to say nothing negative about nobody. Barack Obama was a good president and hopefully, Donald Trump is a good president."
Asked what he would miss most about the outgoing commander-in-chief, the multi-millionnaire said: "he's a very positive person. He was very positive, which is a great thing."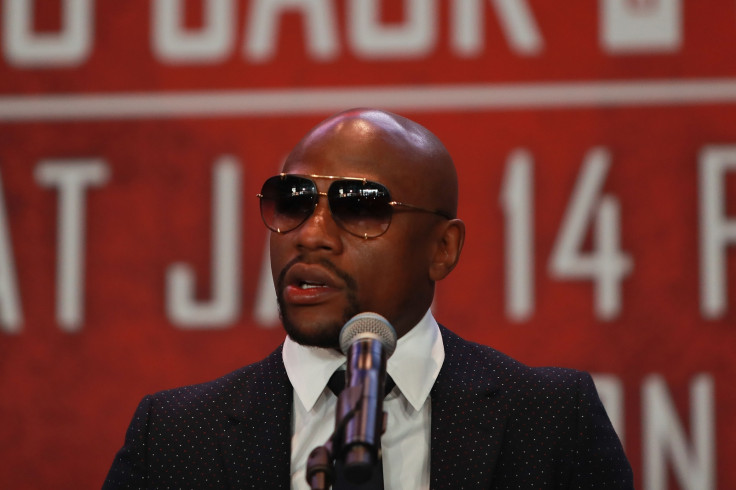 The sports star met up with Trump back in November, days after he defeated Democratic rival Hilary Clinton. Recalling their chat at Trump Towers, he said: " all Trump talked about was helping America become great again, that what he talked about."
Mayweather provoked controversy back in October when he weighed in racial tension in America, declaring that "All lives Matter" as election fever reached a pitch. Addressing the Black Lives Matter movement, which gained traction in the wake of the deaths of Baton Rouge resident Alton Sterling and Philando Castile in Minnesota at the hand of officers, he said: "I'm here to say all lives matter. You know, a lot of times, we get stuck, and we are followers. When you hear one person say, 'black lives matter,' or 'blue lives matter,' all lives matter."
He added: "It's not right what is going on in this world on both sides. What I learned from boxing and what everyone can take in real life is to follow directions, follow order. Don't give nobody a hard time."