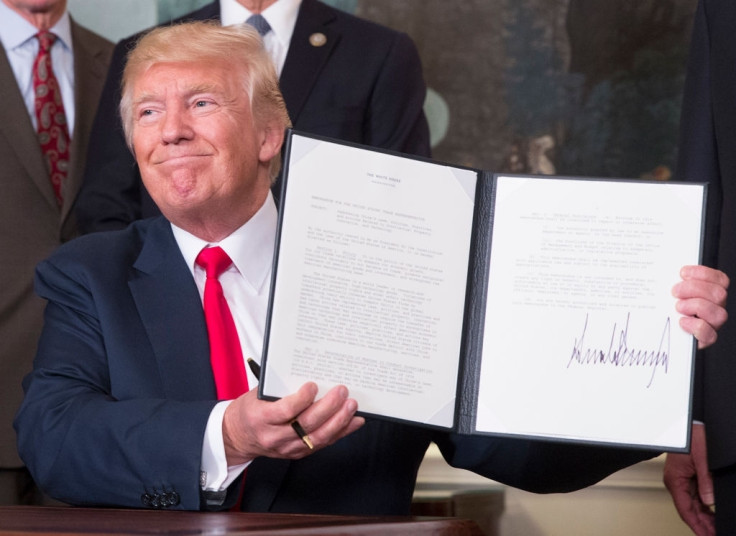 In a "very big move", US President Donald Trump signed an executive memorandum on Monday (14 August), authorising his top trade official to consider opening an inquiry into China's alleged theft of US intellectual property and the forced transfer of technology.
The step targets China's unfair trade practices or what the Trump administration calls "Chinese violations of the rules of international trade".
"The theft of intellectual property by foreign countries costs our nation millions of jobs and billions and billions of dollars each and every year," Trump said, as he signed the memo in the White House. "For too long, this wealth has been drained from our country while Washington has done nothing... But Washington will turn a blind eye no longer." He also noted that this "This is just the beginning".
With Trump's backing, Trade Representative Robert E. Lighthizer will have one year to review China's trade practices and decide whether launching a formal Section 301 investigation into Bejing's trade policies on intellectual property is necessary.
Lighthizer said his department would "engage in a thorough investigation and, if needed, take action to preserve the future of US industry".
Section 301 of the 1974 Trade Act allows the president to unilaterally impose tariffs or trade restrictions to protect US industries from unfair trade practices - something that White House officials have been alleging against China, citing an estimated theft of up to $600 billion in intellectual property.
Trump's commerce secretary, Wilbur Ross, recently accused Beijing of being a "primary culprit" for the theft, piracy, and espionage of US intellectual property. In a Financial Times article, Ross wrote Beijing was deliberately targeting pioneering technologies from US companies that were not a part of its "Made in China 2025" plan.
China's policies encouraging the transfer of American technology and intellectual property to its enterprises have become a major concern for the United States. President Trump has been slamming these policies since campaign days, but this was the first time he actually took a direct action the country.
In response to the president's move, China's ministry of commerce issued the following statement: "We want the US trade representative to respect the facts and act cautiously. If the US takes measures to hurt the two countries' trade and economic relations with no respect to multilateral trading rules, China would definitely not sit back, but would take necessary measures to safeguard our legitimate rights."