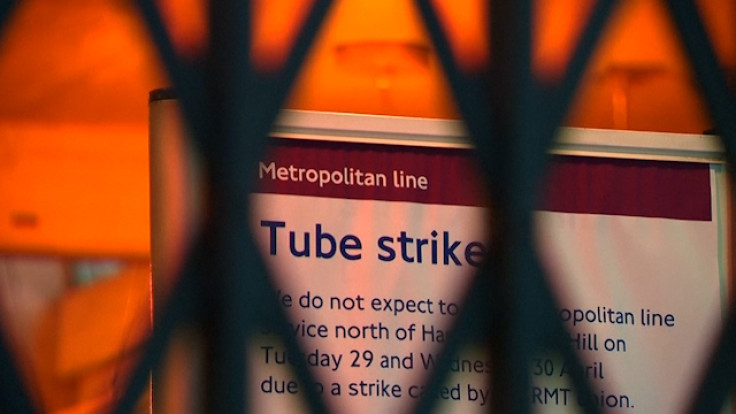 London is set for another batch of Tube strikes over the new Night Tube service as the RMT union, which represents workers and drivers on the London Underground (LU), has announced it will stage two 24-hour-long walkouts on Tuesday 25 August and Thursday 27 August.
"We note the magnificent strike action involving all four trade unions on the underground. We particularly applaud our members for their solid and resolved action to defend their conditions of service, jobs and pay," an RMT statement read.
"We note the continued intransigence and provocation by LU management and their continued failure to address the wider issues of work life balance."
The news comes after talks between the Tube unions and LU management adjourned at mitigation service Acas at 4pm (BST) on 10 August. The talks will be restarted on 12 August.
An Aslef spokesman, which represents train drivers on the LU, told IBTimes UK the union will be at the negotiations tomorrow (12 August) and, as it currently stands, will not be joining the RMT in the strike. An official for the union told IBTimes UK earlier on 11 August: "We are still negotiating, we are back at Acas tomorrow and we are optimistic that a deal can be done."
TSSA and Unite back strike
But the TSSA, which represents ticket office staff and LU workers, said it was joining the RMT in the action ahead of the August bank holiday.
Manuel Cortes, the general secretary of the union, said: "It is now time for the Mayor to start getting his hands dirty and get down to serious negotiations to avoid a week of disruption on the Tube. He should stop playing Pontius Pilate. He will bear a heavy responsibility if the 48-hour stoppage goes ahead while he washes his hands of his crucial role as the democratic leader of London."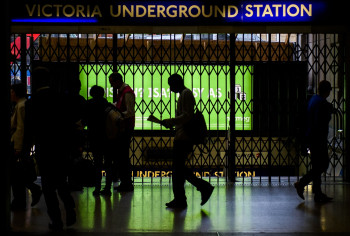 Unite, which represents more than 400 LU electrical and maintenance technicians, linesmen and signallers, will also join the picket line alongside RMT and TSSA members. Hugh Roberts, a regional officer for the union, blasted LU management for "vague assurances" over shifts relating the the Night Tube service.
"If not enough people sign up for night shifts what happens then? London Underground has made it clear that people will effectively be forced to work with its insistence that staff are contracted to work 24/7. It is a move that tears up existing contracts and runs contrary to the actions of any reasonable employer wanting to change shift patterns," he said.
"The night Tube can't be run on the wing and a prayer that enough people will sign up for unsocial shifts. Nor can be it run by ripping up agreed terms of employment."
Roberts, who attended the talks at Acas on 10 August, had also told IBTimes UK earlier in the day that he was not happy with LU's pay offer. Management had put forward a deal of a 2% averaged pay increase for LU workers in 2015 and a 1% or Retail Price Index (RPI)-linked salary rise in 2016 and 2017. But Roberts said he wanted all workers to receive a 2.5% pay increase.
'Not about money'
Steve Griffiths, London Underground's chief operating officer, said customers and the capital's businesses wanted to see the dispute resolved and called on the Tube unions to engage in a "calm and realistic discussion".
He said: "However, and having previously argued that it was 'not about money', the RMT leadership made further demands for unaffordable pay rises and the hiring of even more staff – including the reversal of the modernisation of customer service in LU stations.
"They expect our customers to pick up a bill running into hundreds of millions of pounds for this through higher fares or by forcing us to cut back investment to improve Tube services in a rapidly growing city. No responsible management can give in to such demands."
Griffiths added: "Our pay offer is fair and realistic, including an above-inflation increase this year, inflation protected increases in the next two years and a range of bonus payments for the Night Tube.
"We need level-headed and sensible discussion on how to deliver a modern transport service for London, alongside fairly rewarding our hard-working staff and protecting their work-life balance.
"That deal needs to be affordable and sustainable – and certainly not be at the expense of massive fares rises or cuts to Tube improvements – and can only be agreed around a negotiating table, not through strike threats. We remain ready at all times to meet and negotiate such an agreement for the benefit of our staff, customers and London as a whole. We urge the unions to join us."
A spokesman for the Mayor of London claimed the Tube unions "appear hell bent" on strike action and revealed Boris Johnson is "dismayed at their continued failure to put what is a fair, sensible and generous offer on the table to their members".
The spokesman added: "Tube workers are being offered an above inflation pay rise, cash bonuses and a commitment that no one will be asked to work more hours than they do today. The Mayor continues to call for the unions to present that offer to their memberships and put an end to the completely unnecessary threat of industrial action."