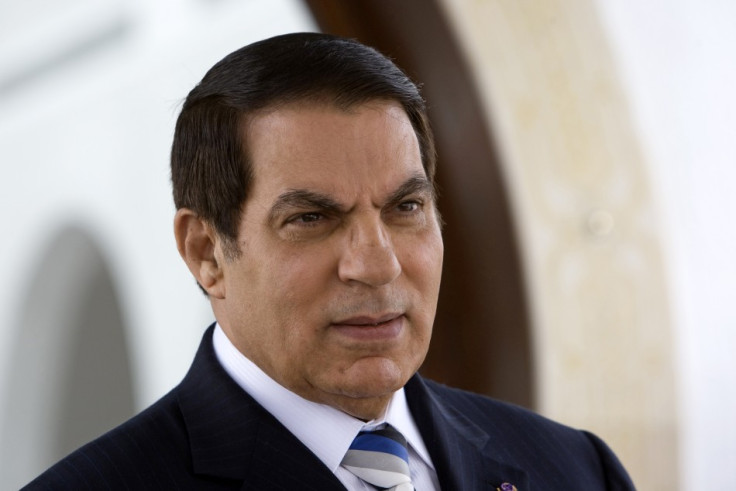 A Tunisian court sentenced the country's ousted president, Zine el-Abidine Ben Ali, and his wife, Leila Trabelsi, to 35 years in prison and a fine of roughly $66 million after a trial in absentia for embezzlement and misuse of public funds, state news media said Monday night.
The deposed president still faces charges for the possession of illegal drugs, firearms and archaeological relics found in his palaces, as well as for ordering the killing of civilians in his bid to cling to power.
The verdict on Monday, after the one-day trial, focused on $27 million in jewels and public money reportedly found at one of his mansions.
Mr. Ben Ali and his wife are in exile in Saudi Arabia, which has until now refused to answer Tunisian extradition requests. In January, protests that led to the overthrow of the president, started as people accused Ben Ali of presiding over a corrupt administration that enabled Ms. Trabelsi, a former hairdresser from a humble family, to help her relatives quickly achieve vast fortunes and opulent lifestyles.
While Ms Trabelsi family is well known in Tunisia, one of the most notorious of her kin, Sakher el Materi, known derisively as "Mr. Son-in-Law", kept a caged tiger that ate four chickens a day and he boasted of the Roman columns, frescoes and lion's head fountain at home.
Mr. Ben Ali, who denied all the charges, issued a statement through lawyers calling the proceedings "a false and shameful image of victor's justice," according to news reports.
Defending his 23 years in power, Mr. Ben Ali referred to street protests and strikes that have persisted in Tunisia since the revolution, asking if the purpose was "to divert the attention of Tunisians from the turmoil that nobody can accuse him of or hold him responsible for."
He did not flee Tunisia, the statement said, but rather left "to avoid a bloody confrontation among the Tunisian people who are always in his thoughts and heart" and insisted his original intention was to return to the country.
Mr Ben Ali's statement was weak and vague as he kept on denying the charges without providing any tangible proofs supporting his innocence. Of course Ben Ali is and will be found guilty of most of the charges brought against him, however was a trial in absentia really what the Tunisian people wanted or needed? The all point of the former leader's trial was to hold him accountable for his failures and criminal acts as a head of state. While it certainly was difficult for the Tunisian judicial system to decide whether or not the former leader should be tried in absentia, what will the real outcome of the trial be?
While Ben Ali might be condemned to a total of a hundred years in jail, and fined hundreds of millions he probably will never be imprisoned, or have to pay anything as Saudi Arabia will now definitely be his foreseeable base.
Another regrettable fact is that the leader was found guilty and sentenced in just a day, in a remarkably speedy trial, and while he was rightly convicted, not enough time was spent on detailing the evidences that led to his incrimination.
"His trial before an 'empty chair' has raised many questions about the point of these trials, which some have considered to be purely for show, like a farcical play," the Tunisian newspaper As Sabah wrote, referring to Mr. Ben Ali by his new popular title, "the deposed." The trial's sentences, no matter how harsh, "will not be able to quell the fire of the Tunisian people, who had hoped 'the deposed' would be brought in and tried in an actual trial, to return faith and confidence to all Tunisians."
Prominent human rights activist Radhia Nasraoui also told the AFP earlier this month that the plan to try the authoritarian ruler in absentia was "frustrating". He said: "There's no rush this month. We could have kept up the pressure on Saudi authorities to have him extradited."
While, on the other hand, many Tunisians said they are also eager to see a legal verdict rendered on their former dictator as soon as possible, with or without his physical presence, the deposed leader will certainly use the fact he was tried inabsentia to try and discredit the trial. It is sad that the main lesson coming out of the Arab Spring seems for now to be that only the people end up paying the cost of their leader's mistakes as while Ben Ali can enjoy his new like in Saudi, people in Tunisia will continue to suffer from the trauma of both his years in power and the violence they faced during the uprising.