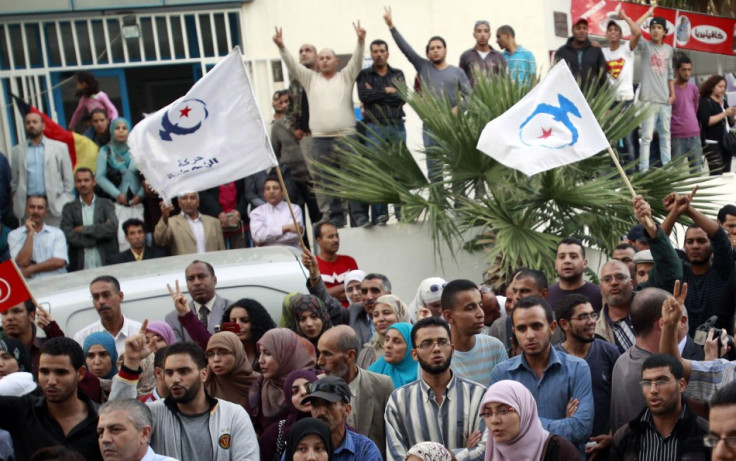 Moderate Islamists claimed victory Monday in the first democratic elections in Tunisia, proving that years of state-sponsored secularism by toppled leader Zine el-Abidine Ben Ali has not prevented the return of religious parties in Tunisia.
The official results have not been announced yet, but provisional results suggest that Ennahda is expected to emerge as the strongest single political party, while falling short of a majority.
"The first confirmed results show that Ennahda has obtained first place," campaign manager Abdelhamid Jlazzi said outside party headquarters in the centre of the Tunisian capital.
The secular centre-left PDP party, Ennahda's main rival, has already admitted defeat.
"The PDP respects the democratic game. The people gave their trust to those it considers worthy of that trust. We congratulate the winner and we will be in the ranks of the opposition," a party statement sent to Reuters said.
Provisional results came as international observers called the conduct of Sunday's election as free and fair, proving the country is determined to put the Ben Ali era behind it.
More than 100 parties registered to participate in the elections, along with a number of independent candidates.
While the former regime championed secularism, the return of Islamic-based political parties has surprised some international commentators, who fear Islamists could be a threat to modern and liberal values.
In Tunisia, the party's rise has also been met with ambivalence, but aware of their critics, party officials have insisted they intend to form an alliance with two secular parties, Congress for the Republic and Ettakatol.
The alliance is set to be welcomed as Congress for the Republic is led by Moncef Marzouki, a doctor and human rights activist who spent years in exile in France and Ettakatol is a socialist party led by Mustafa Ben Jaafar, another doctor and veteran Ben Ali opponent.
"We will spare no effort to create a stable political alliance. ... We reassure the investors and international economic partners," Jlazzi said.
A spokeswoman for Ennahda, Yusra Ghannouchi, said: "Tunisians have voted in fact for those parties that have been consistently part of the struggle for democracy and opposed to Ben Ali's dictatorship.
"At the forefront of those parties is Ennahda party, and we believe that, as expected, it has achieved the greatest share of the vote."
The elections will now lead to the establishment of a 217-seat assembly which will sit for one year to draft a new constitution and will appoint a new interim government until presidential elections set to take place late in 2012 or early in 2013.
Boubaker Bethabet, the electoral commission secretary-general, said more than 90 per cent of the 4.1 million registered citizens had voted but no official figures were yet available for the 3.1 million of unregistered voters who also had the right to vote.
Tunisia is often seen as the birthplace of the "Arab Spring" and the protests that led to the fall of Ben Ali, who found refuge in Saudi Arabia, started after Mohamed Bouazizi, a vegetable seller in a provincial town, set fire to himself in protest at poverty and government repression.
Talking to Reuters, the mother of Mohamed Bouazizi, said the election was a victory for dignity and freedom.
"Now I am happy that my son's death has given the chance to get beyond fear and injustice," Manoubia Bouazizi said. "I'm an optimist, I wish success for my country."