Turkish fighters have been accused of massacring over 400 innocent people in the Syrian city of Al-Bab.
The Mediterranean country shares its southern border with Syria, but refrained from directly entering the conflict until August last year, instead opting to arm and supply opposition forces.
Now, however, in its first major offensive in alliance with the Free Syrian Army (FSA), the Turkish military has attempted to capture Al-Bab, which lies along the strategic corridor between government-held Aleppo and Manbij, held by Syrian Kurds.
On Tuesday (14 February), Turkish Prime Minister Binali Yildirim said the city was largely controlled by its forces and taken from Islamic State (Isis), but it appears that has come at a high human cost.
According to the British-based Syrian Observatory for Human Rights (SOHR), at least 419 civilians have been killed by Turkish troops – 51 of which were women and 88 were children.
The monitor says a further 328 people, including 47 women and 79 children, were killed in the city's outskirts.
On Thursday (16 February) alone, at least 24 people were reportedly killed, according to SOHR.
The numbers could not be independently verified, but comparable casualty rates have been reported in the state-controlled Syrian Arab News Agency.
The United Nations and its envoy to Syria, Staffan de Mistura have yet to comment on any casualty rates in Al-Bab, but the organisation is under pressure not to disclose death rates.
However at a press conference in January, the spokesman for the Secretary-General Stéphane Dujarric said: "I can tell you that we obviously remain very concerned for the situation of civilians impacted by the anti-Daesh [IS] operations in and around Al-Bab.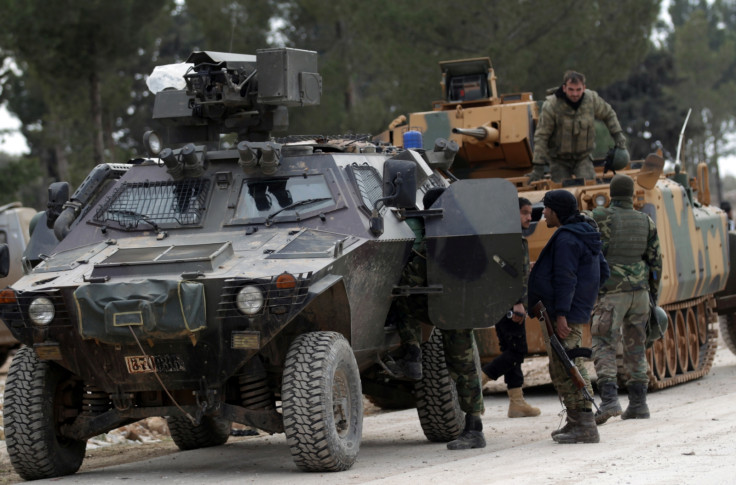 "Reports continue to be received of deaths and displacement as a result of fighting, which reportedly intensified last month. It is estimated that about 30,000 civilians have fled Al-Bab city and surroundings since then, heading mainly towards Azaz, Jarabulus and Menbij districts.
"An estimated 5,000 to 8,000 civilians are still in Al-Bab city, facing difficult conditions under Daesh control, including severe restrictions on movements.
"The UN and partners are providing assistance to those who are displaced, including through setting up reception and transit centres to receive and provide basic assistance to all those who need it."
President Bashar Al-Assad has continually derided Turkey for entering Syria, stating that the country has breached its sovereignty under international law.